BOILER ROOM SCAMMING BRIT FAILS TO BUY THAILAND'S FAMOUS SEX STREET
BANGKOK'S PATPONG DEAL COLLAPES BUT 'P.J.H' CONSOLIDATES IN 'THE WORLD'S LARGEST ADULT PLAYGROUND' WITH FICO CORPORATION BOSS SRICHAWLA
Also known as 'Paul Hilton' and 'Hong Kong' or 'Bangkok Paul', Brummie boiler room scammer PJH (#PaulHayward) is the subject of another scoop by 'Stickboy', or rather 'Sickboy', the Glaswegian Bangkok blogger who makes a living out of Thailand's tourist sex trade.
He announced in a recent blog: 'It's almost three years since I scooped the first ever interview with Paul the man who owns Thailand's largest nightlife group that owns countless bars, restaurants, and clubs across Bangkok and beyond'.
Its not really a scoop but a paid for 'ad'  as 'Sickboy', aka Michael Mackay, gets most of his income from PJH, who made his money on boiler room scams and has thousands of victims in the UK, Europe and Australia.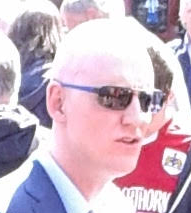 Nobody has been chasing this camera-shy fraudster, who once claimed that he was so famous that he was even accosted when he went out to buy a loaf of bread.
And certainly Thai police won't be chasing him. He employs many of them.But Sickboy is right about PJH owning 'countless' venues.Nobody can count them. PJH's name does not appear in the directorships of any of them.
It's all been about nominees.PJH controls the master-lease on the Nana Entertainment Plaza and interestingly announces he has been taking over places in Patpong 1 and 2, once Thailand's most famous sex streets of shame.But, not surprisingly, he admits he failed to come to terms with the Patpongpanit family to jointly run them on a 50-50 basis hence giving him half the leverage on Thailand's alternative ping pong ball shooting gallery. PJH, who also now has some Amsterdam investments, also talks about putting in security measures in Nana Plaza for example finger-print scanners for staff.
He's already got surveillance equipment in there, so the potential for more earnings for someone with short a deficiency in integrity could be limitless.But wait: Here's Paul talking from the high moral plain. The fingerprint scanners are there because, he says:
'We do not want under-age people in Nana Plaza. Our tenants feel the same. This is the Nana Plaza belief system.'

"If anyone reading is looking for that kind of thing you are not welcome in Nana Plaza. Please go and jump of a bridge."
He could have added: 'On the other hand if you want to see a naked Thai woman with a broom handle inserted into her anus on a revolving stage then step right in. No cover charge!', which I understand is much closer to the Nana 'belief system'.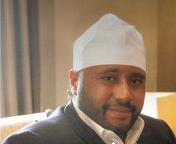 What's interesting about this interview are his references to the FICO Corporation – the Indian Thai conglomerate which actually owns Nana, it's boss Krit Srichawla, and also PJH's marketer and publicist Benjamin Baskins.Stickboy's predecessor Stickman, a much better educated New Zealander, was also a bit of an authority on the boiler room fraudsters taking over Thailand's sex trade.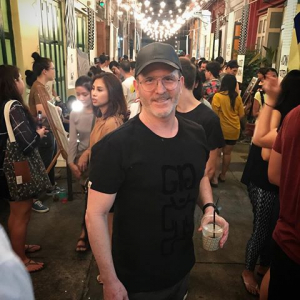 After I left Thailand in 2015 I agreed to an interview with him which he published.The interview (linked here and below) was online for just a day.The background was that Stickman had also been reliant on advertising from nightlife venues in Bangkok and after he left Thailand the Srichawla family continued to pay him.
Immediately the word came down through PJH and Benjamin Baskins to lose the story immediately.I had many conversations with Stickman, now back in New Zealand. Interestingly he also had had a request from PJH for a favour.  As his site had been running for such a long time the particular request was to edit some of his earlier articles or by adding stories showing PJH was in the entertainment business back from 2001 to 2007.
This was when PJH was at his peak as a boiler room scammer, depriving pensioners of their pensions by selling bogus them shares 'because if anybody is stupid enough to hand over cash to a person they have only spoken to on a VOIP phone line they deserve to lose it'.
PJH came to Thailand as a pimply lad in his early twenties and his first job was with  the International Asset Management boiler room run out of 'Q' House in Soi Convent, Bangkok. After I.A.M. was raided P.J.H. seized the day and started his own boiler rooms Jackson Cole and Smith Fairchild defrauding people in Britain and Australia.
At any rate Stickman declined to insert the 'fake news in his blog so P.J.H. has got Stickboy to do it for him.
'You've been in the entertainment industry for 20 years or so, surely you have some regrets,' he asks.
Stickman has been offline since last August 2017, but he posted one rather fawning article two months ago about the future of Nana Plaza which has now been covered by a roof.   Guests might have been complaining from the Landmark Hotel which towers above it.
He now plans to close off the entrance and make the front look pretty (as Thailand does with its prisons, massage parlours etc. What you initially see is not what you get).  Stickman says that the military want the sex trade to be hidden Thai style.
As for Krit Srichawala the Thailand Tatler recently did a profile of him. There was no mention of his foray into the world of sex entertainment.  FICO have always refused to comment about their association with PJH.
The Bangkok Post has recently published two stories quoting Thai police as saying (a) they are now on top of telephone sales scams (b) they are cracking down on Thailand's sex trade to improve the image of the country.
When police say they are on top of the scammers, I believe they mean they are on top of organizing the appropriate dues to their own funds to allow these scammers to base themselves in Thailand and ply their trade.
(They come and go between the Thailand, Philippines, Indonesia, and Malaysia depending on the 'climate')The Thai sex trade has been increasing in leaps and bounds, Pattaya being the prime example.
The police and army thrive on the payments from Thailand's sex trade and all boiler room scammers must pay large sums to men in uniform.
But just how high up do the payments go? There was some shock when British boiler room scammer Tony Kenway was gunned down in Pattaya in an internal feud and a photo later emerged of Kenway having an audience with the current King of Thailand…. Better access it seems than the British Ambassador.
Of course the chances are the King did not know who on earth Kenway was. But somebody near to him must have,

WHO IS PJH?
https://fraudrecoveryblog.files.wordpress.com/2014/06/paul-john-hayward
https://www.stickboybkk.com/news/king-clubs-talks-long-leases-nana-tenants/
Top Picture of Nana 'the world's largest adult playground' courtesy of Stickman.