BRITISH RAPE VICTIM WAS WORSE THEN A WHORE – THAI 'POLICE'
'SHE WANT SEX FROM THAI MAN'
AND BRIT WHO RUNS THAI SEX & NIGHTLIFE EMPIRE 'CANNOT BE CRIMINAL BECAUSE HE HAS NEVER BEEN CHARGED!'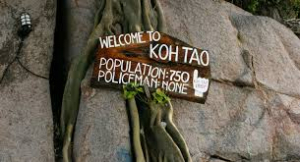 The 19-year-old British woman, who claimed she was raped on the island of Koh Tao, was nothing worse than a prostitute, it has been claimed.
And it's 'fake news' that  a British businessman who arrived in Thailand with nothing, and who now calls himself the 'King of Clubs' owning the lease on the sex area of Nana Plaza, made his cash from boiler room fraud.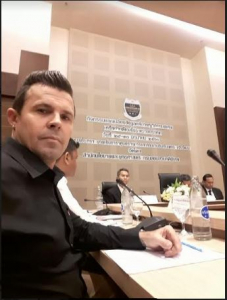 These claims are now being made by Thai foreign police assistant Thierry Perenon,  who has already warned Todd Ruiz, the editor of the online newspaper Khao Sod English. He claims that he is indeed a true policeman working for the CSD and DSI (Crime Suppression Division and Department of Special Investigations).
The DSI promised an investigation into his conduct. But in the absence of an investigation and lack of statements from the DSI and CSD we must assume, either these organisations are dysfunctional, or Perenon is voicing their views, though I lean to the former.
Now he has been striking at the heart of this website with unveiled threats and a Trumpesque rhetoric about fake news.
Thierry Perenon even sent pictures of himself in police uniform at meetings with the police – so we know who he is.
"You must remove the fake news you make about Paul Hayward and Koh Tao island. Since you slander them on the internet.

"If you do nothing to remove the slanderous fake news and since I am a real police officer for DSI and CSD and not a volunteer I will add your name directly to the permanent Immigration blacklist also you know Paul has connections in UK and his fingers can touch you and your children. Care about your family and some of your close friends in Thailan

d," he wrote.
I replied:
"Hello Thierry,
"So nice to hear from you. Your reputation precedes you. I am indeed so honoured to receive such an email from so famous a policeman. Please let me know what it is that is inaccurate that I have said of Paul Hayward the boss of the Panthera Group, and which story on Koh Tao offends you, and I will try to give it my best attention.

If you can give me Paul Hayward's whereabouts and telephone number perhaps I could apologise in person. I must watch those long fingers. Meanwhile I am asking my friends in Thailand to tool up."
He continued.
"You kicked out of Thailand for your lies. Now you make fake stories about Paul. Why you get jealous? You just want attention or extra viewers to your website.

 

Paul Hayward, 'The King of Clubs'.

"Your prostitute girl and her mom say it was rape? She only report theft? She is not scared to go to the police for report theft but afraid to report rape?

She is poor backpack tourist that drink and want sex from Thai man and she is afraid her boyfriend know she is worst than a prostitute, just a few drinks and her legs are open.

This is Thailand a country you will never be able to enter again.

"You think some people do not know where your children go to school? You think your Thai friends you can protect from me? I am real csd police not the volunteer. You should take care of your family and care for their safety."
I pointed out that I was certainly not kicked out of Thailand and why would an honest businessman want to know where my children went to school?
Thierry then sent me two pictures of himself with police and as a policeman. Actually, he sent these messages from a gmail which had the letters d.s.i in it (Department of Special Investigations)
"Hey, I am Police not a criminal? How can I wear a real csd badge and a real uniform of Thai Police? Paul is well known in the motor cross motorbike champion class. You know what you write is fake.

"You try to make fake news about Koh Tao why the girl is not scared to make a police report about theif? (sic)  She try to scam the insurance company and run from Thailand.

She feared troubles back home about the insurance scam so when she come back to UK she cry rape to cover her crime and your UK police have no power in Thailand.

If Paul was such a big criminal as you claim why is he not arrested? Why is he never arrested in the UK?
Well, he's right about foreign police having no power in Thailand which is exactly why foreign police forces have not been able to crack down on boiler room fraudsters, which his how Hayward got his cash for his current pub and club empire. In all of the Thai police raids on foreign run Bangkok boiler rooms since 2001 not one boiler room boss has been charged with fraud. Successful criminals don't get charged, or if they do, they often get off.
Anyway, I replied that Hayward had not been arrested specifically because foreign police had no powers in Thailand, and come to that Cambodia, Indonesia, Malaysia and the Philippines where the boiler rooms operate.
"Some of the biggest criminals in Thailand get their pictures taken with Thai police Thierry. You are ill informed and not supported by the DSI from what I am reading. Also, you haven't explained what the fake news on Paul Hayward. 
Well, of course, there is no point in reasoning with Thierry. He's quite mad, but unfortunately a little dangerous. As for the CSD uniforms, anyone who has been to the Crime Suppression Division will know there is a huge shop there full of uniforms, handcuffs, medals, ribbons, holsters etc.
I liked his statement: 'I am a policeman not a criminal."  I do admit sometime not being able to tell the difference in Thailand.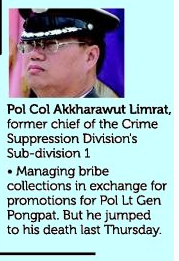 In 2014 the Central Investigation Branch and Crime Suppression Division were the subject of massive police raids in which 80 per cent of the officers were purged.
This was not however a clean up campaign, more of an 'all change'.
While they were accused of everything from oil smuggling and bribery to human trafficking, oil trafficking, and wildlife trafficking etc., their problem was that they had been appointed because they were friends and family of the wife of Thailand's then Crown Prince – and his wife had fallen from grace.
Left: Did he jump? One of the casualties of the purge (Bangkok Post).
You can find Perenon's previous threats to the editor of the Khao Sod here. The DSI chief said he would investigate. It seems like one of those Thai police investigations.
Thierry was clearly getting wound up. His last message was: 'Fuck you! Fake news man'.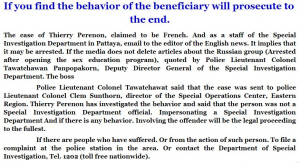 I'm in favour of legal proceedings to the fullest.
LINKS
http://www.khaosodenglish.com/news/crimecourtscalamity/2018/03/05/dsi-investigates-foreign-agent-threats-reporters/
http://www.khaosodenglish.com/featured/2018/03/03/foreign-dsi-agent-threatens-editor-remove-story-russian-whistleblowers/