PAUL HAYWARD: "IF YOU'RE NOT A BOILER ROOM FRAUDSTER" – SUE!
TIME FOR A SHOWDOWN.  COURT CHALLENGE TO BANGKOK'S 'KING OF CLUBS'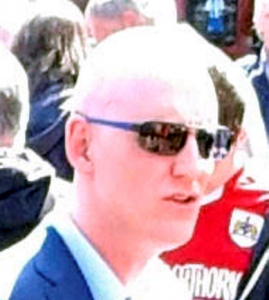 On Tuesday November 13th, 2018 I made a presentation to the Offshore Alert (Europe) conference in the City of London. The topic was 'Inside southeast Asia's boiler rooms' the one story I never completed before leaving Thailand in 2015. I left with my three children after veiled threats from a mouthpiece for a Briton called Paul John Hayward, a Briton, born in Nottingham on 20th March 1975.
Paul Hayward arrived in Thailand in the late 90s and was recruited by the American run boiler room International Asset Management. He fled the country during the raids on boiler rooms in Bangkok in 2001 which had been prompted by the Australian Federal Police and was one of a group of four people who handed over U$100,000 police at the airport to be allowed to board a plane to Zurich.
But he returned shortly afterwards and rose through the fraud industry to become the top man in Bangkok. Witnesses, former employees, say that even in the early days he was paying the following agencies a total between the range of US$600,000 to US$700,000 a month – Immigration Police Division, Metropolitan Police, Crime Suppression Division, and Economic Crime Division.  A Thai woman has also been named who allegedly dealt with officers at the Anti-Money Laundering Office (AMLO)
According to the satirical magazine 'Private Eye' that is more than twice the annual budget of the National Crime Agency's international corruption unit 'which goes after wealthy foreign launderers' (£4million p.a.) and more than half the money allocated to H.M. Revenue & Customs for similar investigations (£10million).
Hayward is now a millionaire 100 times over, but of course not on paper. He has over 100 companies in Thailand and other countries all in the hands of nominees, both Thai and relatives and friends and employees of his. The Thai nominees include lawyers and policemen.
Currently he has the strongest grip on Thailand's sex tourism and nightlife industry including the ownership of Nana Entertainment Plaza – billed as the largest adult entertainment complex in the world – and several nightclubs in the Sukhumvit 11 area of Bangkok.
After the Brinton raids he had three major partners who co-operated with him in setting up boiler rooms in Thailand, Malaysia, the Philippines and Cambodia. Their victims came from Britain, Australia and all over Europe. His partners, Paul Richard Bell, Glendon Bullard, and Mark Hutcherson are now all dead. Bullard in his 40s, the Hutcherson in his 50s within three months of each other in 2015. Paul Richard Bell died earlier of a heart complaint.
Both the Fraud Recovery Group, a group of victims who lost US$20million and I have passed information on to law enforcement in the U.K. and Europe. That information included lists of victims, the false products he was selling, the fake companies he had started, and his banker-money couriers and of course witnesses. I have also provided information to AMLO and the DSI in Bangkok.
The Economic Crime Unit of the City Police ran an investigation into Paul Hayward, also known as Paul John Hilton over ten years ago. That investigation was passed on to the Panama Papers Task Force in 2016 where it appears to be gathering dust, after the investigation chief Det. Inspector Nigel Howard retired.
But prior to that Detective  Chief Inspector Steve Berry of the Hong Kong Police, who was handling the Asian end had himself left to become Head of Financial Crime Threat Mitigation at HSBC, Hong Kong, ironically one of the major receiving banks for  Hayward's boiler room fraud cash.
Hayward has a website for his 'assets' in Thailand which now on the web, if not in practice, he has gathered together under the company the Panthera Group.
As expected the website does not show 'the team' and the owners but refers extensively to ownerships grouped under the headings, the (1) Panthera Security Team, black-shirted off duty cops and army (2) WCKD which covers his nightclubs 'Insanity', 'Sugar' and 'Levels'; Yumbite covering food outlets and bars, and Panthera Property covering his real estate including 'Nana Plaza'.
The website states that 'Panthera Group' operated or consulted on more than 70 projects in the last 25 years as far afield as Hong Kong, Thailand, China, UK, USA, Taiwan, Malaysia and Singapore. Over the past 12 years the focus has been on Thailand.'
This is not true. Panthera Group is a recent start-up. He started buying up stuff in Thailand from 2001.  Twenty-five years ago, he was 18 years old!  Nothing was under the name Panthera. But associates of his and his boiler room companies show up on the Panama Papers.
Hayward has attempted to re-invent his past by asking 'Stickboy's' predecessor 'Stickman' to insert his name in entertainment blogs dating the stories prior to 2001. This he did not do.
Paul Hayward has also told me that he will not be caught because he does not have a bank account and puts nothing in his name.  I guess he will have now. Boiler room minions, the telephone qualifiers and loaders of course all use false names.
Hayward (Hilton) has issued statements through a nightlife blogger 'Stickboy' in Bangkok claiming that a journalist in Bangkok has demanded US$20,000 and he wants to sue for libel, but the journalist will not provide his address.
As I am the only person writing about Hayward apart from the pseudo journalist 'Stickboy' who writes in a very grovelling fashion, I assume therefore he is talking about me.
Due the violent history connected to boiler rooms in Asia I am of course not willingly providing my address, but on the other hand I am not in hiding.
However, as I am now settled in the U.K., and have my children happily in schools etc I am now inviting Mr. Hayward to present his writ in person to me in public at Heathrow airport on his next trip to the United Kingdom.
In the coming days I will be publishing the presentation I made to the Offshore Alert Conference 2018 and will now be lobbying Members of Parliament to ensure the government takes more realistic action to prevent 'fraud from abroad' as recent reports suggest that on average some £90,000 was taken from each victim's recently released pension pot.