BANGKOK BOILER ROOM BOYS AT THE OFFSHORE CRIME CONFERENCE – part 1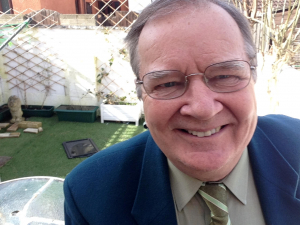 Here follows the first part of the script for my presentation at the Offshore Alert Conference in London. There were changes in delivery and some was omitted due to time constraints.
Part 1 – A reporter flees with his kids, a murder and a fiasco in Bangkok
I am not a financial industry expert. I am not a financial journalist. I was just a foreign correspondent based in southeast Asia who took on financial scammers and boiler room fraudsters. I knew I could not win in a Thai situation.
I was, if you will, a journalistic Don Quixote tilting at windmills and in the end, because I had young children, I had to beat a tactical retreat.
Now untouched by any real international police effort and protected by corruption and bank secrecy, they are part of the establishment in Thailand and the most powerful movers in Thailand's sex tourism industry. (2) For example, they own this Nana Plaza in Bangkok, billed as the 'World's Largest Adult Playground' and hundreds of companies, and expensive, yachts, cars.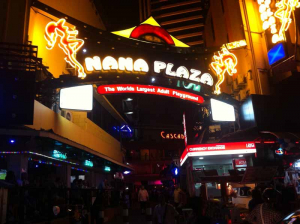 They're targeting Europe and the English-speaking world from all over southeast Asia, from cities, towns and places you may never heard of.
In early 2015 following their final threat I decided to leave. I may sound like a wuss. I'd had had many threats before, even had guns pulled on me in Thailand. But these guys were very playing at gangsters in a comparatively lawless environment and somebody had thrown an Uzi into the playpen.
With three kids, it would be crazy to stay. And I had prepared. So, I walked them across the Thai-Cambodian border (3) making a small bypass of passport control. No big deal.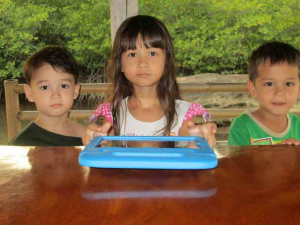 (4) As a foreign correspondent, I'd done a lot of that; crossing the Cambodian border when the Khmer Rouge were still active and the Burma border to meet with rebel army leaders and heroin warlords.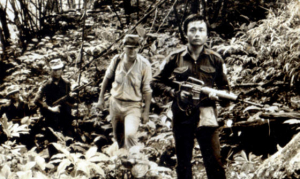 (5) Cambodian Interpol saw us through to Vietnam. Our departure made the national media in Australia, Thailand and the UK.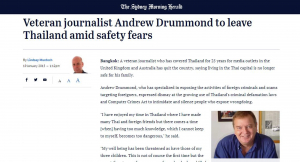 Foreign criminals in Thailand? Who'd 'av' thunk it? (6) But it was a good time to go. I had many other reasons, but no time to go into them now. The military junta did not like journalists. Boiler rooms had police in their pocket. Thailand was getting a little ugly and there was little the people could do.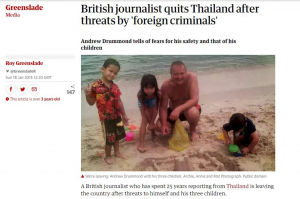 Many of you will have been there. Warm and friendly people. Paradise beaches, maybe some a bit jaded now from mass tourism. But it certainly lifted my soul whenever I returned from trips back here to the city. But, just as the whitewashed walls and manicured gardens of its prisons veil the degradation and inhumanity inside, there is another side to Thailand.
The police, army and politicians, tend to run the rackets or, when not, are paid by those who do. The country has become a good place to go to if you're up to no good and for fraudsters and boiler room boys it's Nirvana. It's just a matter of paying the right commissions. Using the system, boiler room fraudsters now have the financial clout to even use police to bang up their enemies on false charges, which they've done – in the Philippines too. Or they can simply take out contracts for as little as US$1500.
Murders involving them are not seriously investigated. But then nothing they do seems to be. They consume and import copious amounts of drugs, as in the film 'Wolf of Wall Street' which now it appears was made from the proceeds of fraud, and they remain untouched. But don't they hang them or give them life for drugs in south east Asia; or just shoot them in drug wars? Yes, they do, I've had to interview Britons before they went to the gallows in Malaysia. It just doesn't tend to happen to the rich and influential.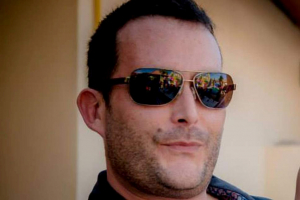 Last year boiler room boys ditched the traditional hired assassins keeping the business in the family.
This is British boiler-room boss Tony Kenway; (8) gunned down in the resort city of Pattaya. It was over in seconds; three shots through the open door of his Porsche.
Footage shows moment South African man murders a British in Thailand
The shooter and getaway motorcyclist were identified quickly as South African (9) Abel Bonita and Briton Miles Turner. Hard to believe, but when they hired their getaway bike, they left their passports as security in the hire shop. That's what I meant by playing at gangsters.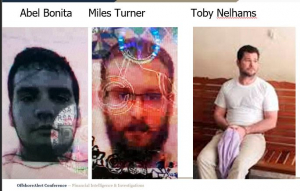 Their boss was named as Toby Nelhams, another British boiler room operator, based in the Cambodian capital Phnom Penh. Kenway had allegedly stolen US$250,000 from him. He has been arrested in Malaga on an international warrant and it's going to be interesting to see what actually happens.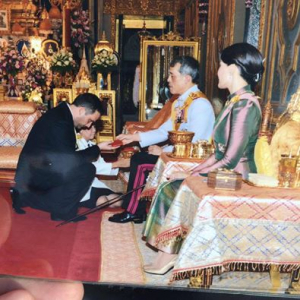 The victim Tony Kenway had (10) a picture up on Facebook of himself at an audience with Crown Prince Vajiralongkorn, now the King of Thailand. It meant 'I'm untouchable'.
He wasn't. His killers seem to be though. They'd fled to Cambodia. Thai police did not apply for extraditions. 'Foreigners shooting foreigners. Not our problem' perhaps.'
It started for me in early 2001 when two Brits from Bolton told me how they'd been recruited in Manchester for tele-sales jobs and ended up locked in an in office in Bangkok selling shares in a superbly duff company – New York Harbor Petroleum. The room boss was continually shouting 'Get them to the fucking bank'. The reward for salesman of the week was a magnum of champagne and two Thai prostitutes.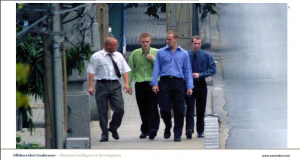 (12-13) This was the boiler room Foreign Currency International and with my photographer colleague I watched the scammers leave work and asked them how proud they were robbing pensions.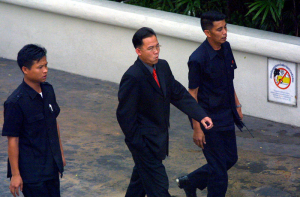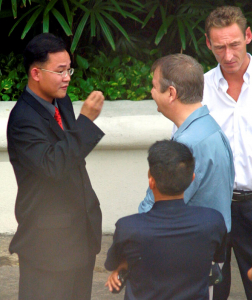 Their security chief called (14) Jalit Sanitchon strode up saying: 'We know who you are and where you live' reading out my name and where I had registered my car. It was a fake address, obviously.
(15) Then he warned. Did I really want to take on the police, army and even the Royal Palace? Nothing happened. But he was right on at least two counts.
Then I was called to a one-on-one briefing by an Australian diplomat who complained that Aussies had been taken for AUS$200m. I subsequently watched as Thai Police, accompanied by Australian Federal Police and FBI officials took down several major boiler rooms in Bangkok.
(16 -20) The major target was the Brinton Group and associated companies. I was puzzled. How could so many people, some quite young, be lured into fraud? However having returned to Britain I am less surprised. I was shocked to find how society had changed. Gambling and pay day loans on TV. This appeared to me to racketeering at the expense of the poor parts of society. Yet it seems to have been accepted as the norm.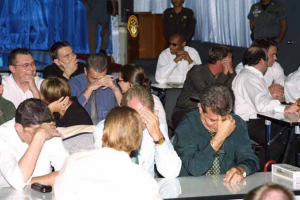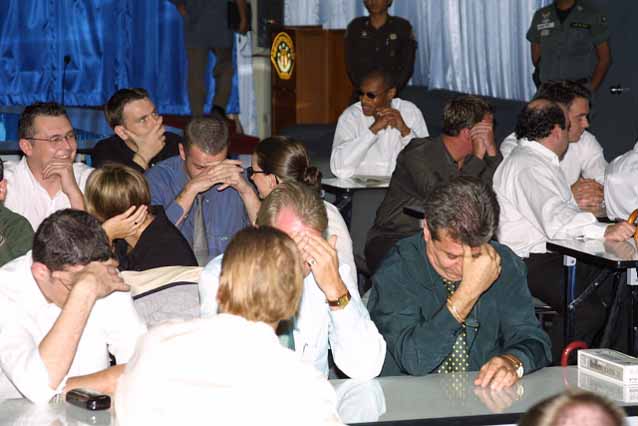 Another boiler room to go down was the American run International Asset Management. Four of these guys were so spooked they (22) handed over piles of cash, over US$100,000 at the airport to board a plane to Zurich.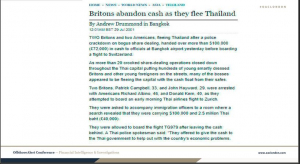 I noted one of them a 29-year old Briton referred to as John Hayward. The boiler room raids were described as a 'triumph of international police co-operation'
Those words plus 'long arm of the law', 'nowhere to run, nowhere to hide' now make me flinch a little.
I was the Times correspondent so I did a splash and spread for them (23) and followed the story with some amazement as the rank and file scammers were simply fined for working illegally and deported – but not back home. Most chose neighbouring Malaysia, and they were back by the weekend with new visas, and their tickets and fines paid for by their bosses.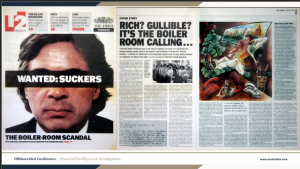 Then came the news that all charges of fraud against the bosses at Brinton were dropped. They were fined just US$15,000 each for breaching Thai SEC rules.
The Brinton victims in Australia, who had lost nearer AUS$400m were apoplectic. They'd been counting on the Federal Police and the Australian Securities and Investment Commission. Now they were begging 'Don't let the banks unfreeze the assets!' The banks were the Hong Kong and Standard Chartered Banks. ASIC replied they could do nothing.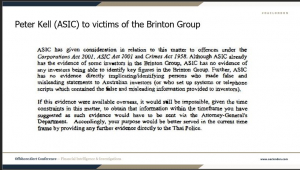 (24) The commission's Peter Kell told them to go to the Thais. He said there was no evidence of any investors being able to identify key figures in the Brinton Group. But had not key figures in the Brinton Group admitted who they were when they pleaded guilty to breaking Thai SEC regulations?
Peter Kell didn't see the irony in trumpeting (25) ASIC's one achievement. Proof, he said, of ASIC's determination to pursue boiler rooms. This was the conviction in Brisbane in November 2001 of American Paul Richard Bell a fraudster from International Asset Management.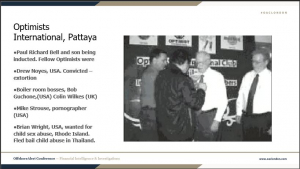 I knew this guy. (26) Bell had been fined US$100,000 and lost his registration under the US Commodities and Exchange Act a long time ago. He must have been singing 'Waltzing Matilda' after being given a suspended sentence and fined just AUS$12000 on 21 boiler room related charges.
Back in Thailand he joined other boiler room scammers in a local branch of 'Optimists International', together with a man wanted for child abuse, a pornographer in Thailand with tax breaks from the Thai Board of Investment (but that's another story) and a convicted extortionist. (Here's a tip for investigators. If you are looking for rich foreign crooks in Thailand scour the Rotary Clubs, Lions Clubs, and charities etc.)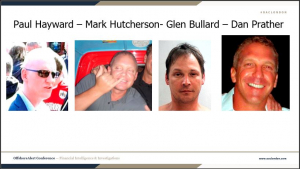 After Brinton, boiler room activity went ballistic as Bell joined the group known as the 'Bangkok Five'.
(27) The others in the 'Bangkok 5' were Paul Hayward, the 'John Hayward' spooked at Bangkok airport, and American Mark Hutcherson.
Hayward and 'Hutch' had been colleagues with Bell in International Asset Management where Hayward had used the name Hilton. There were two other Americans, Glen Bullard, whom I also knew, and Dan Prather. The Americans all had had problems with financial authorities in the U.S. Now they all had their own scams and joint projects with rooms in Spain, Romania, and right across southeast Asia – Bangkok, Kuala Lumpur, Jakarta and Manila.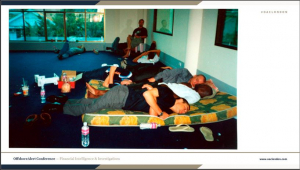 There were hiccups, of course.(28) Hayward had tried to set up in Cambodia, but was shut down by police before he'd even bought the furniture.
His boys were caught snoozing and accused of conspiracy to cheat Cambodians out of international phone charges then released for a local payment.
Meanwhile in Bangkok there had been a murder.
The second part of this presentation will follow tomorrow.