BANGKOK BOILER ROOM BOYS AT THE OFFSHORE CRIME CONFERENCE PART 2
 KIDNAPS, PAY-OFFS, CAR LOADS OF $$$, AND ANOTHER MURDER IN THE BOILER ROOMS OF BANGKOK
(This is the second part of the script for the presentation by Andrew Drummond to the Offshore Alert Conference (Europe) in the City of London on November 13th 2018.* )
Then there was a murder in Bangkok…….
(29 New Zealander Ian Travis had broken away from Foreign Currency International to set up his own boiler room Platinum Asia, infuriating boss American James Muller.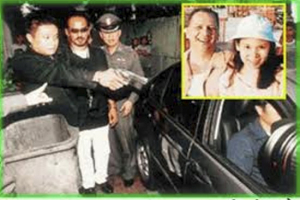 Within a week he was gunned down in his BMW in the city centre. The gunmen were caught and made to re-enact the crime for cameras. Then warrants for conspiracy to murder were issued against Muller, his Thai wife and Jalit Sanitchon, the man who'd checked out my car, when I followed the FCI workers earlier. Muller was happily extradited by a court in Atlanta. But after his return all murder related charges were dismissed.
Then came the kidnappings.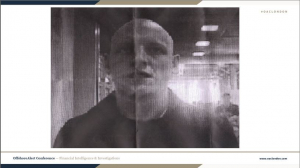 First (30) Paul Hayward was kidnapped by Thai Police and taken to an office where cops played a Thai card game called hi-lo while he arranged to pay US$800,000 for his release. Piece of cake! And so, this was followed by the kidnapping of (31) Mark Hutcherson also by police.
Hutcherson, who was described an oil company executive, had paid US$400 000 before his wife raised the alarm through the U.S. Embassy.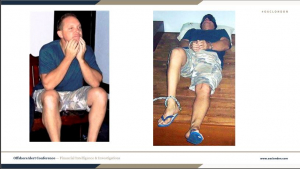 Through his marriage, Hutcherson was brother-in-law to a former governor of Bangkok. That together with the Embassy involvement may explain why arrests had to be made.
Three sergeants from Crime Suppression and Metropolitan Police Divisions were charged, and a warrant was issued for the Colonel in the Crime Suppression Division, who got away with the cash. Two Thai-American brothers (32) James and John McCleary were also picked up elsewhere.
The Thai media were fed a story that the McClearys were professional American kidnappers with a long criminal history. In court, they admitted they had been employed by Hayward and Hutcherson but were now teaching English and produced documentation showing they had no previous convictions in the U.S.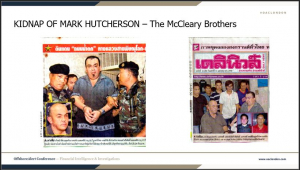 They claimed they'd never met the strangers beside them in the dock.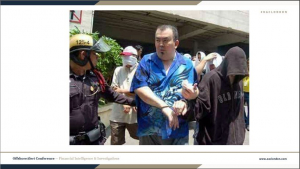 But the McClearys got 18 years and the police only 12, and the police defendants had their heads covered as they walked with (33) John McCleary from the court.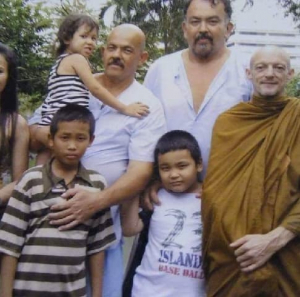 John McCleary started writing to me from prison through a Buddhist monk (34) who had a Scottish accent and American passport. Monks were very useful because when they visited prisons they were allowed to visit prisoners in isolation.
—————————–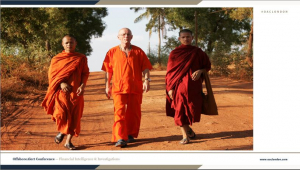 (35) I should have said 'when looking for foreign crooks in Thailand also investigate the monkhood and police'.
 Lockie Campbell, who also visited prisons, is a former Scots post office robber and member of the Glasgow gang, the Tongs. Sadly, he didn't reform and is now doing time in Barlinnie for drugs dealing.
(36) Niels Colov is a long-term head of foreign police volunteers in Thailand. He's a former underworld figure from Copenhagen who's done time for pimping and coercion. To impress the Thais, he even awarded himself a UNESCO Cross. There's no such thing. But the Thais didn't realise You can't beat Thailand for Star Wars bars.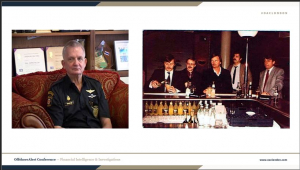 ——————————-
McCleary wrote from jail that had he been set up by Hayward after resigning as his bag-man after a violent row over the death of Hayward's American accountant from a heroin overdose.
I can't go into this. But it's basically another allegation of murder. McCleary claimed that he spoke to the people who forcibly injected the heroin. I can't verify apart from the fact that the man died from an overdose.
But, saying that Hayward was vengeful, John McCleary took documents with him for insurance.
After his arrest, he said, he had been (39) tortured by police with a hammer for those documents. Subsequently he had to have seven toes amputated.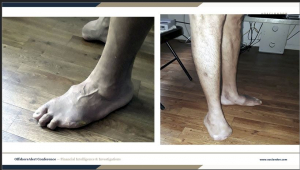 As bag-man, McCleary said each month he was accompanied by an armed escort and paid out between  US$600,000 and US$700,000 to the Immigration, the Metropolitan, Crime Suppression and the Economic Crime Police Divisions. The last payment is a bit like paying off the City Fraud Squad.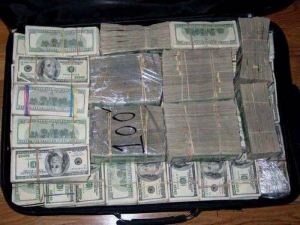 Meanwhile the stolen files were delivered to me by our man in saffron robes.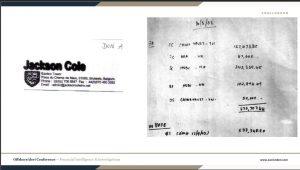 They included accounts, load cards, lists of British victims from scams carried out under the fake company (41) Jackson Cole, handwritten details of bank transfers to HSBC and the China Trust in Hong Kong and details of (42) seller's commissions and Jackson Cole's terms, signed by Hayward/Hilton (P.H).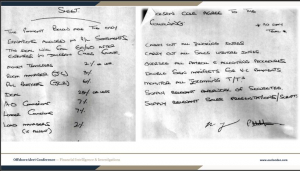 (43) McCleary, incidentally, was released on a Kings Pardon in late 2016 and talks to me from Florida where he has armed himself with an automatic.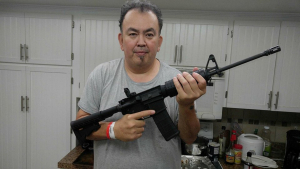 Time has passed and now together with a group known as the FRG – Fraud Recover Group, composed of 90 victims who had lost US$20 million to the Bangkok 5, I had a good handle on Paul Hayward.
We had the details of all his (44) fake companies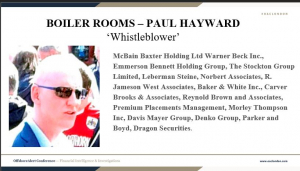 What products they sold.(45)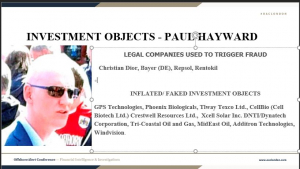 What banks they used (46)

And we knew the banker couriers, who would set up the accounts and dormant companies and pick up the cash. (47).

We also had print-outs of their air-travel and destinations which linked to where they had set up fake companies and bank accounts. The man, David Strudwicke, I knew. He had a pub in Chiang Mai, (Thailand's northern capital) called the Bear's Den. In Taiwan, and Singapore he was worth millions!
Michael Lee Port had been arrested in Singapore where he was actually successfully prosecuted and jailed. He had named his boss as Paul Jan Hilton. But it was clear from internal police messages that Britain's city fraud squad did not realise that Hilton was Hayward's pseudonym. So for a while they were chasing a photographer called Paul Hilton.

Then I obtained a list of Hayward's acquisitions in Thailand. Jaw-dropping stuff. Over 100 companies. Hayward's name was not on any but members of his family were.
But the list came with diagrams and charts explaining Hayward's control, through his wife, lawyers, policeman, friends, and associates, or through holding companies etc. Something odd was obviously happening in the Land Office.
Hayward was massively circumventing Thai ownership laws put in place to stop foreigners like Russians, buying up the whole country. – just like we do here! (joke).
He'd also have to prove he brought cash into the country to buy bars, clubs, restaurants, principally in Bangkok, but also all over Thailand with money, much of which was coming over the Malaysian border, according to McCleary, organised by a woman called Sumali,  in cases of US$100 bills.
I passed all this on to the Serious Organised Crime Agency in Bangkok, AMLO, the Anti-Money-Laundering Office, and the Department of Special Investigations.
The Thais said they wanted to act. The DSI even offered me a desk. But I saw their eyes glaze over. I  could see the problem. I could not spend my days with them and they needed specialist advice, preferably from our fraud police. SOCA, as far as I can tell, lost all the files, when they became the National Crime Agency.
Other journalists were noticing something was odd. (48) The banks in Hong Kong were being rightly blamed for aiding the money laundering operations by flouting Know Your Customer codes, as a colleague Benjamin Robertson wrote in the South China Post.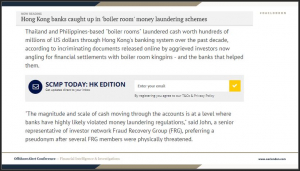 The Guardian's consumer champion (49) Tony Levene also warned in his column – beware the man posing as Paul Hilton.
Jackson Cole and Legacy Global Wealth were boiler rooms, he warned, the latter trading out of the Pacific Star Building in Manila.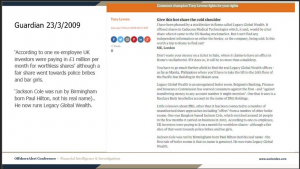 (50) I also learned later that Hayward was known to fans of Crawley Town Football Club in Sussex as 'Hong Kong Paul and was ploughing the start of £5 million the club's way through (51) 'Eclipse Management', a successor to a company called 'Hospitality Venture Group' set up in his mother's name.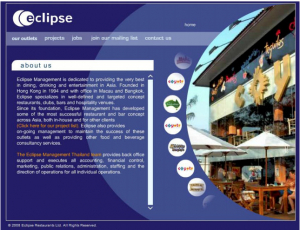 Again, Hayward's investments were held in the names of directors. It smacked of money laundering but he sold out when I wrote the story.
Without notice, he called me. He was very friendly. We didn't need to be enemies, he said, while enthusing about his purchase of  Nana Plaza. For instance he was insisting he was going to clean the place up and get rid of the Thai lady boys. I remember thinking that's the last place the sex tourists wanted cleaning up.  Finally he asked if he could assist me, perhaps by funding.
I declined and asked, 'Don't you think you'll ever be caught.' 'No', he said, 'I don't even have a bank account'. Then I told him I had friend who needed to leave the country by passing immigration. No problem, he said, 'I can give him a 'walk through' at Bangkok airport, or car over the Malaysian border. '
I knew he could. and I had had other reports of British criminals getting 'walk-throughs' at Bangkok airport.  I never called back to give him the name of my fictitious friend.
Part 3 will be published tomorrow
During presentation there were some deviations from the script and some abbreviation due to time constraints.