BOILER ROOM BOYS AT THE OFFSHORE CRIME CONFERENCE PART 3
WHISTLE-BLOWERS FLEE AND A POLICE COLONEL FLIES FROM A HIGH BUILDING
(This is part 3 from the script of a presentation to the Offshore Alert (Europe) conference in the City of London on November 13 2018.)
Ten to 12 years after the Brinton raids Thai Police were still making the occasional raids on 'call centres' under pressure from embassies or when whistle-blowers made statements. They knew there was always money there.
It was a familiar pattern.
Rooms raided. Rank and file scammers deported.Bosses 'talked to'. Whistle-blower runs for his life. Scammers return.
The scammers were even (53) allowed to hide their faces at press conferences before being deported. This was unusual in Thailand. There are rules in place banning this form of 'perp walk' but they are ignored. Now being a whistle-blower in Bangkok was even more dangerous than the UK.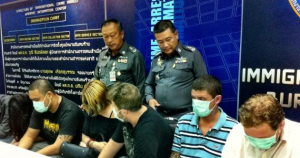 One of those raids was on a Hayward room in (54) a detached house in Thonglor Soi 25, Bangkok.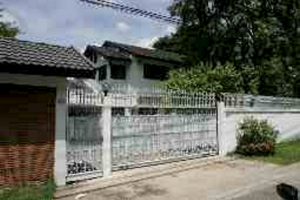 The whistler-blower was Canadian Stephen Sharpe (55) who had been deported after the Brinton Group raid and had worked for many boiler rooms since.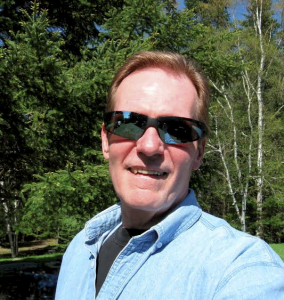 Recently he worked for Hayward, whom he hated. But after he went to police it wasn't Paul Hayward who was on the run but Sharpe. And he came to me panic-stricken and leaving a computer file. I put him in a hotel but the next we spoke (56) Sharpe was crying down the phone from Manila, the worst place in the world to have run to.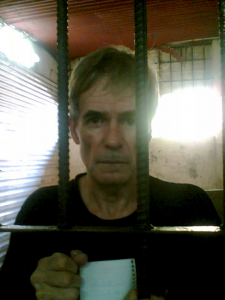 It was boiler room central and home-turf for Hayward where he had an operation in the Pacific Star building, according to the Guardian. Worse, Sharpe had been banged up for drugs possession and the rape of a minor after being spotted at the LA Café in Ermita, a hangout for boiler room boys and prostitutes.
Now he was in a police station where (Senior Sergeant) SPO4 Carlos Cabrera had demanded to know what he had given to police in Bangkok.
For three years, he languished in jail supported by me morally and the FRG with money to buy food until the (57) Philippines Human Rights Commission investigated and found the 'minor' was a 27-year-old prostitute who'd never met Sharpe and had been paid to make it all up and I.D. him at the police station.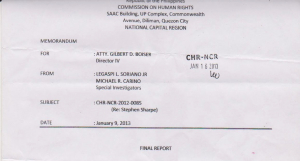 All charges were dropped (58) and their report called for the prosecution of Cabrera and five other Manila policemen.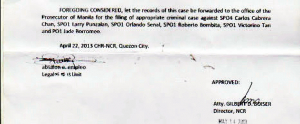 Then in 2014 another angry but terrified young Texan called me (59) Philip Bean said he was being held against his will in a boiler room run by a Canadian in a private house in near Bangkok airport.
The place was full of drugs and his passport had been seized. The boiler room was run by a Canadian called (60) Frank Giannini. I'd read about him. Giannini should've been in jail.
He'd run down and killed two Thais, one a woman, in the Thai resort of Pattaya a year before. Police said they had also found drugs paraphernalia in his car. But the case had simply vanished as they often do. (Even child abusers complain about the cost of dropping charges in this city).
I told Philip to run and I'd pick him up outside Bangkok airport and meanwhile phoned a contact in the US DEA to act as go-between with the Thai police. It was a nightmare. He wrongly picked the Crime Suppression Division without telling me. I'd assumed he'd go for the Narcotics Suppression Division who'd let us see any computers or documents.
So, although the house was raided and Giannini and one other were charged with Ice and Heroin offences, the officer in charge, a moody Lt. Colonel Akkharawut Limrut wanted to charge Philip as well and locked the DEA out of the room (legal, but unusual) also refusing DEA access to Giannini's computers.
Both the DEA and I were puzzled at the Colonel's attitude. He had got a free arrest for which would be rewarded financially. But of course, as it became clear later, this was peanuts compared to what he was getting elsewhere.
Thankfully the DEA man stood his ground insisting that Philip was an informant not a suspect. Other officers were apologetic. One even reach into his pocket and gave him a 1000 baht note (about US$30)
I took Philip straight to the airport, but as he was leaving, he was searched, and police took that and all his remaining cash, calling it a charge for the inconvenience, and he was warned not to return to Thailand. (another reason I would not be departing Thailand through the airport with cash from my bank)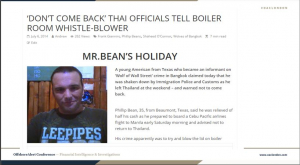 (61) I subsequently put up the story on my website, which, as my role as foreign correspondent had morphed into crime correspondent, had become a compendium of foreign crooks in Thailand. It was bit like Offshore Alert, but I also included property fraudsters, and resident wanted villains.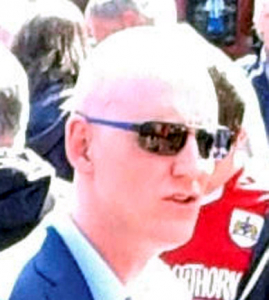 I also put up stories naming the scams Philip had been told to work on.
Then came a call from Hayward's go-between. The message was: "This is your get out of jail free card. Sell us your website."
As if that was not enough, this was followed by a call from the assistant to Colonel Akkharawut. The Colonel regretted we had got off to a bad start. A misunderstanding. Could I go in and help him with his investigations into call centres.
I could scarcely believe my ears. The DEA told me to stay away. That was rather my intention.
The next I heard about Colonel Akkharawut was that he'd fallen to his death during an investigation ordered by the Crown Prince of Thailand on the Central Investigation Bureau which included the Crime Suppression Division.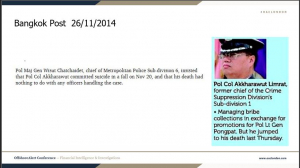 Police Colonel Akkharawut had been the boyfriend of the CIB chief General Pongpat Chyapan the most villified person in the affair so it was clear he had something coming to him. The CIB and CSD were the Prince's fiefdom.
Although a picture of the King was displayed prominently, as per Thai custom, pictures of the Crown Prince were up in most offices.
This was billed as a corruption crackdown. They were corrupt, naturally. Officers were accused of pretty much all the rackets in Thailand from human to wild life trafficking, to running illegal gambling dens and taking bribes. Houses full of loot had been found. All were jailed or disappeared after a one-day trial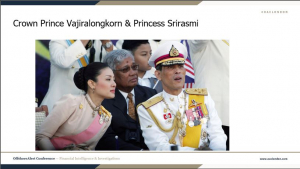 But it was not a corruption crackdown. The Prince, now King,  was merely doing some housekeeping. Out with the old. In with the new. Akkharawut and many others had got their positions through the Prince's latest wife, Princess Srirasmi.  General Pongpat was her uncle. Now the Crown Prince had banished her from the palace and arrested her parents for insulting the Monarchy.
Hayward is the sole survivor of the Bangkok 5. Prather left, his remaining colleagues are all dead, Bell of a heart attack I'm told. Bullard of a drugs overdose in 2015 two weeks after his wedding. Then Hutcherson, who left Thailand after Bullard's death, died in Plano, Texas three months later. I don't know how. Probably a coincidence, but of course all the deaths are rife with rumours.
Hayward is the sole survivor and his Eclipse Group is now called (61) the Panthera Group which, per its website, says with no sense of irony that it takes its social responsibility seriously. But, like many of the boiler-room websites, uses generic pictures and does not list 'the team' or directors.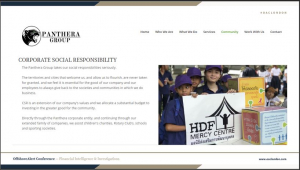 Many years have passed since my first boiler room story and I should say that all this time of course, I've had to do my real job in countries from Turkmenistan to Fiji. There had been many murders, the 2004 Tsunami. Two coups in Thailand, drugs wars, bombings in Bali, repression in Burma, I'd stood on the podium for the Great Turkmenbashi's birthday bash in Ashgabat and had tracked down Gary Glitter and exposed his activities in Vietnam, (the latter for a newspaper, which has since died of shame) not forgetting Angelina Jolie and Brad Pitt collecting children there and in Vietnam.
Today boiler rooms in southeast Asia are run like franchises with the operators paying for the websites, products, and scripts. (63) Recently I've have named a couple more in Cambodia. But in 20 years nobody has been able to put an end to the scams.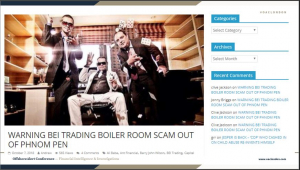 The City Fraud Squad has passed on its enquiry to the Panama Papers Task Force which was formed in a fanfare in 2016.  Apart from a short burst of publicity it has done nothing since to garner much media attention. I'm willing to be converted but I do not have the feeling that U.K. Law Enforcement is on top of cyber crime at all – and why nowadays would any British fraudster worth his salt defraud Britons from Britain, or Australian from Australia, when he can do it with impunity from abroad?
But all is not lost. Ken Gamble, who understands southeast Asia well has had some remarkable success, successfully banging up these people and getting cash back from Philippines based boiler rooms. Ken/handover
(NB Ken Gamble runs IFW.)   You can see one of his operations at this aljazeera link.  This was two months ago and the main men are still banged up.