Inside the foreign police who set up an Australian for death row in Thailand
THE TRUTH ABOUT THAILAND'S FOREIGN POLICE VOLUNTEERS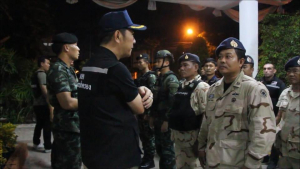 The Thai police transnational crime unit accused of framing Australian chef Luke Cook sentenced to death on a 'Hell's Angels' drugs trafficking charge, had so little knowledge of foreign criminals that it had to resort to tips from its 'foreign volunteers'. 
But those 'tips' were limited to rivals in crime they themselves were involved in and gossip from their 'friends' – mainly in the Thai sex resort of Pattaya. 
Although it functioned under the name  Transnational Crime Co-ordination Centre, the unit, run by Police Lt Col Dullayapat Techaphonchayasin, failed to penetrate any of the more than twenty major foreign criminal groups in Thailand identified by the Thailand Institute of Justice in 2014.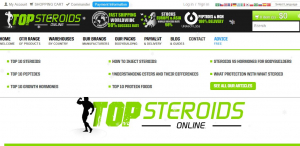 Instead by 2018 the unit helped to create one major world-wide trafficking group in steroids ('Top-Steroids-Online') run by its own volunteers selling drugs featured in inquests worldwide.
When the unit was not using its own 'steroid' drugs dealers rat out others, it was was employed in breaking up foreign sex parties in the Thai sex resort of Pattaya and a medley of minor offences that crime syndicates would turn up their noses at, because, they knew nothing of real foreign crime.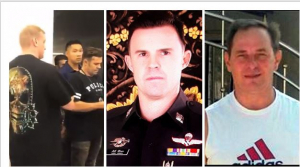 Australians Craig Smith and Douglas Shoebridge, were the main witnesses at the trial of Luke Cook, also set up other Australians in Pattaya. Both were offshore-workers or FIFO (Fly in Fly Out) workers, though Shoebridge had been let go from a job recently for selling steroids aboard a vessel.

Notable among these raids was was a raids was one on a 'booze and sex cruise' organised by Australian Stephen Carpenter which made headlines around the world because of its titillating nature. Australian Craig Smith was the police volunteer who entrapped Carpenter by messages on his mobile phone while making a booking.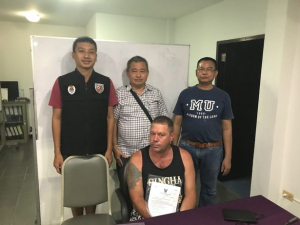 But when the headlines died down. The defendants paid themselves off charges 'of mutual consent to satisfy the lust of others, engaging women in obscene acts with men or women, and taking away people to commit acts of prostitution, even if the person was consenting'


And the same happened to Briton Damon Wait, then 42, in 2017, described by the London 'Sun' as a 'horse farm owner', when he decided to hold a birthday party in the Ponderosa Resort in Pattaya, with a number of friends, girls, and a stash of the sex enhancement drug Kamagra, cannabis, and a small packet of heroin.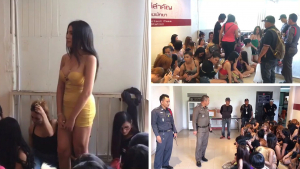 Police and military arrived in force for the 'sex and drugs party' – and again the media had a field day. But it turned out Wait did not have heroin at all. Or if he did, the 400,000 Thai baht (US$12,862) in 'police bail' seemed to have sorted it. Because he never went to jail.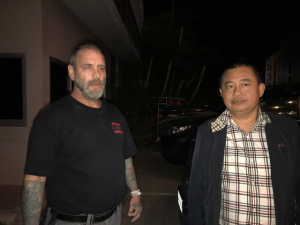 Last year, on information from Shoebridge, the same unit arrested Damon Wait again – this time billing him as a member of the 'Hell's Angels' and went all the way to Nakhon Sawan 200 miles north of Bangkok where they arrested him to overstaying his visa.


According to the Bangkok Post:
'Pol Lt Col Dullayapat Techapornyasin of the Special Branch said police have had the gang under surveillance since December as they potentially posed a threat to peace and security.'
But Wait was never a Hell's Angel. It was just hype again.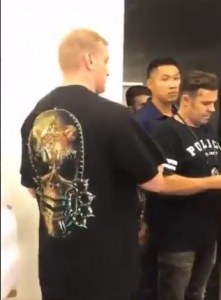 Shoebridge and another volunteer Thierry Perenon (left) were out again this year when with Lt. Colonel Dullayapat they arrested self-styled sex guru Russian Aleksandr Kirillov, model Anastasiya Vashukievich and eight others for allegedly taking part in a sex party in Pattaya.
There was no evidence of partying but a 'sex seminar' was taking place.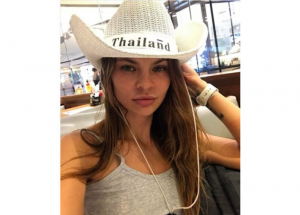 Known on Instagram as Nastya Rybka, Anastasia was famous for her affair with a married Russian oligarch and Putin ally mixed up in the investigation into alleged Russian meddling in US elections.
This was a request from the Russian Embassy and although the 'eight others' have been released Alex and Nastya still remain behind bars and will stand trial shortly for being involved in prostitution and being members of a 'secret society'. (A remarkable, but ignored, human rights case there)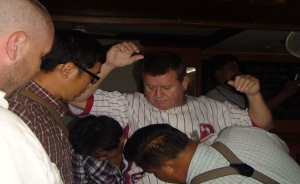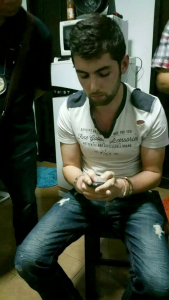 Other unit triumphs include the arrest of Briton Anthony James MacNolly, 57, for allowing people to gamble on football in his 'Maggie May's' bar in Pattaya and 23-year-old Irishman Kieran Barry (left) in the northern capital of Chiang Mai who sold a kilo of cannabis to one of its volunteers. But the penalty, a possible 50 years in jail far, exceeded the crime.
At the time of both these cases Lt. Col Dullayapat went under the name Lieutenant Kwanphichai Manochulemsup as in the arrest below. (Police often change their names in Thailand for good karma).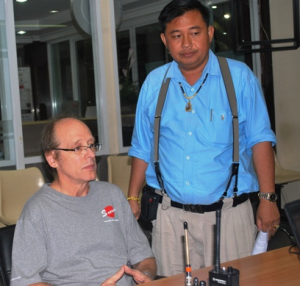 A typical grudge arrest was that of the manger of a bar called 'Secrets' in Pattaya which was raided by the unit on a tip that it employed under-aged girls for sex with customers.
The tip came from a notorious American 'flim-flam' man called Drew Noyes, who has repeatedly been exposed on this site for property fraud and extortion. Noyes hated another Brit called Howard Miller, who was a friend of the owners of Secrets.
He ran a 'so called 'newspaper, now defunct,  called the Pattaya Times, and gloatingly gave the story top billing.  Miller ran Pattaya One news, was also the 'Corresponding British Consul', and best friends with the owner of Secrets.
Mackey posed as a naïve tourist asking the bar manager how he could take out a girl.
'There weren't any under-aged girls in the bar and as the rest of the police were outside I had to give them something," said Mackey, who admits he could have done the same in any of 1000 bars in Pattaya.
For the purposes of the media, Grayhart was charged with "procuring and luring a woman to commit an obscene act for others to reach completion and Ms. Chuchai, faced a charge of "wandering and mingling in area of prostitution."
But again this affair was settled with a financial payment at the local police station.
It is rare for a foreigner to employ under-aged girls in bars in Thailand. They can, however, traditionally be found in Thai massage houses which have arrangements with police.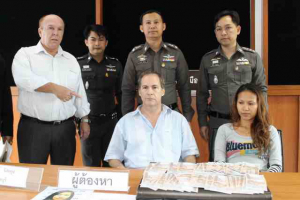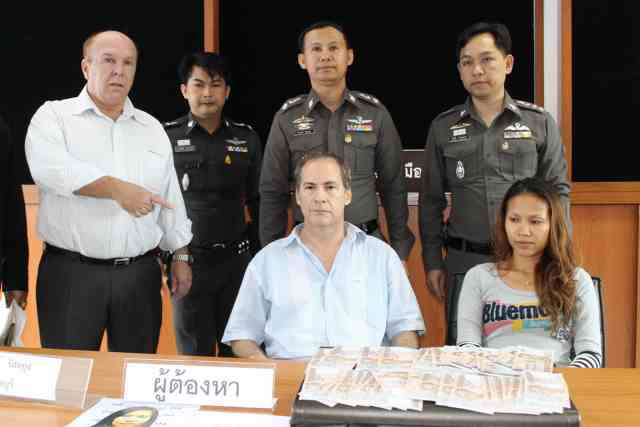 Noyes eventually fled Thailand while on bail and appealing a conviction and three-year jail term for extortion. He had got the bit between his teeth and had threatened a police raid on a beauty clinic, where 'illegal substances would be found' unless the owner coughed up 7 million Thai baht (US$225,000). Unfortunately for him the Thai partner in the business had other police friends.
But as revealed on this site earlier this week two of the Thai volunteers drew the line at setting up someone on charge for which the automatic sentence is death.
Russian volunteer Boris Klimov told how Douglas Shoebridge had admitted setting up Luke Cook and his wife on a drugs trafficking charge, because Luke Cook's wife had cheated him out of nearly US$5000. And Klimov further described how Shoebridge rehearsed another ' witness' what to say in support of him in court.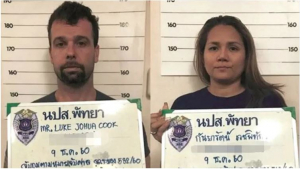 Unfortunately this information came too late to save Luke Cook, his wife,Kanyarat (ABOVE) and American Gerard Tyler from death sentences.
SEE: AUSTRALIAN CHEF WAS FRAMED ON DRUG SENTENCE DRUG CHARGE
And Mackey drew the line at allowing volunteers to run massive world-wide steroid dealing operations, while putting their opposition dealers in jail.
ORIENTAL CHICANERY – STEROIDS AND THREE PEOPLE ON DEATH ROW
Other links.
https://www.thesun.co.uk/news/6577966/inside-thailands-booze-fuelled-luxury-yacht-hooker-orgies-where-anything-goes-as-aussie-organiser-is-arrested/
https://www.mirror.co.uk/news/world-news/inside-thailands-booze-fuelled-prostitute-12759536
https://www.thesun.co.uk/news/3725075/brit-sex-drugs-party-pattaya-police/
https://www.mirror.co.uk/news/world-news/young-traveller-faces-50-years-6712993
https://www.bangkokpost.com/news/crime/1408474/another-hells-angels-members-caught
http://www.khaosodenglish.com/featured/2018/03/03/foreign-dsi-agent-threatens-editor-remove-story-russian-whistleblowers/
https://www.thaivisa.com/forum/topic/563443-secrets-bar-hotel-raid-leads-to-american-managers-arrest-pattaya/