BEHIND THE REVENGE WEBSITE OF AUSSIE 'VOLUNTEER POLICEMAN' IN THAILAND
AUSTRALIAN WHOSE EVIDENCE LED TO DEATH SENTENCE OF 'MATE' EVEN SET UP A WEBSITE TO ATTACK THE MAN BEFORE HE WENT INTO THE DOCK. AND COLLEAGUES SAY HE FRAMED HIS VICTIM TOO.
WARNING: THIS STORY CONTAINS EDITED ADULT IMAGES AND UNEDITED FOUL LANGUAGE NECESSARY TO ILLUSTRATE A POINT.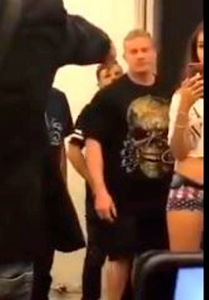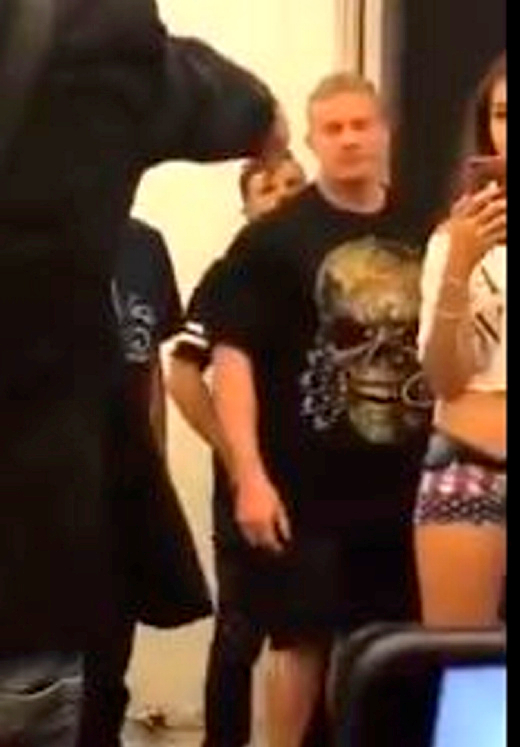 This is Australian Douglas Shoebridge in action with Thailand's Transnational Crime Co-ordination Centre (TCCC) raiding a Russian sex seminar held by Anastasia Vashukevich in Pattaya.
While he was waiting to give evidence which led to the death sentences of fellow Australian Luke Cook, his Thai wife Kanyarat Wechatipak (Kookai), and 23-year-old American Tyler Gerard for drugs trafficking, he put in time helping arrest Anastasia and her colleagues on politically trumped up charges of  being members of a secret society and soliticing.
But what is most concerning is what he DID NOT tell the court.
Below is the vicious website he set up the site in February 2018 just as the three defendants in the death sentence case were waiting to go to trial.
When Shoebridge got to the court and was asked if there was any animosity between him and the defendants he replied 'No'.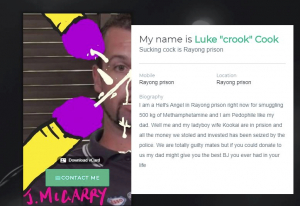 That was clearly a lie. They had all once been 'mates' but Cook's Thai wife 'Kookai' 'cheated' him on a business deal, as she is alleged to have cheated others.  And he wasn't taking it on the chin.
On the site, as you can see, he has a tacky image of Cook being sprayed by cartoon phalluses admitting he is a Hell's Angel with the statement 'We are totally guilty mates'. He's goes on to say that 'Kookai' is a lady boy and that Cook's father is a 'pedofile', allegations which, of course, are not true.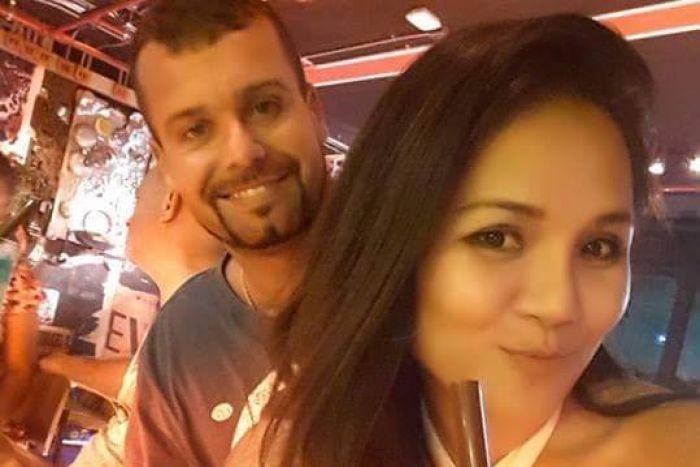 It's also untrue to say the Luke Cook was a member of a biker gang working for notorious Australian Hell's Angel Wayne Schneider, before Schneider was murdered by Antonio Bagnato and his gang in Pattaya at the end of November 2015.
But then again, Shoebridge also denied to the court that he himself dealt in unregistered steroids and growth hormone drugs of his own making. This denial did not work when he was working for an Australian vessel and sacked for doing just that and cuts no mustard with many people in Pattaya, including buyers of his 'Atlas' brand, and colleagues offshore, let alone with his colleagues on the TCCC team.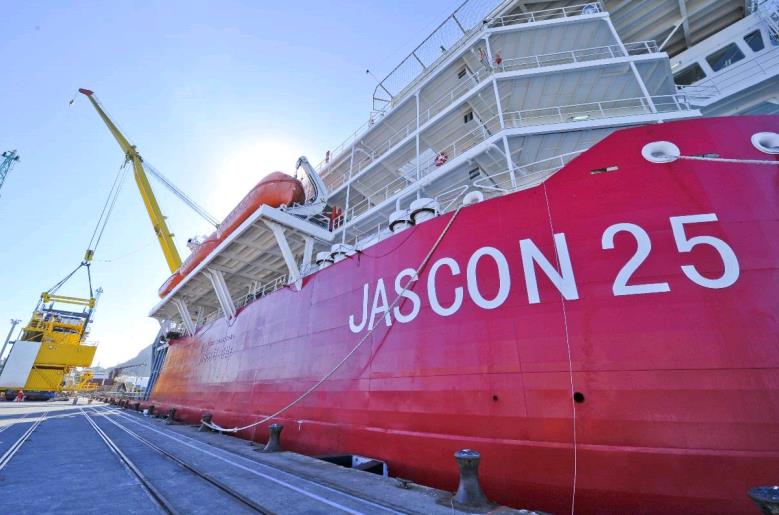 Luke Cook was arrested in November 17, 2017 on return from working offshore as a catering manager aboard the Jacson 25 a flotel and crane ship operating in a gas field 200 miles off Broome, N.West Australia.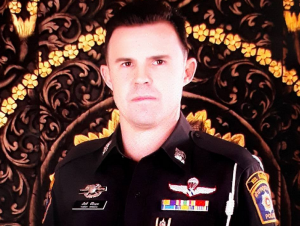 He was described by police as man of wealth far beyond his means (presumably, we were led to believe, as a result of his drugs trafficking) but when police raided his home, contrary to reports, they found nothing of value and even his house was mortgaged to money lenders.
The inconvenient discovery meant nothing to the Transnational Crime Coordination Centre, a Thai police team working with some very dubious foreign volunteers (three of the team investigating Luke Cook dealt in steroids including the notorious Thierry Perenon) and nor did the fact that police could not find the US$10 million Schneider allegedly gave Luke Cook to pay for and bring in the drugs.
Indeed people might find that it odd that a patched Hell's Angel wanted for drugs offences in Australia would hand over US$10 for such a cause to a man with no previous criminal convictions.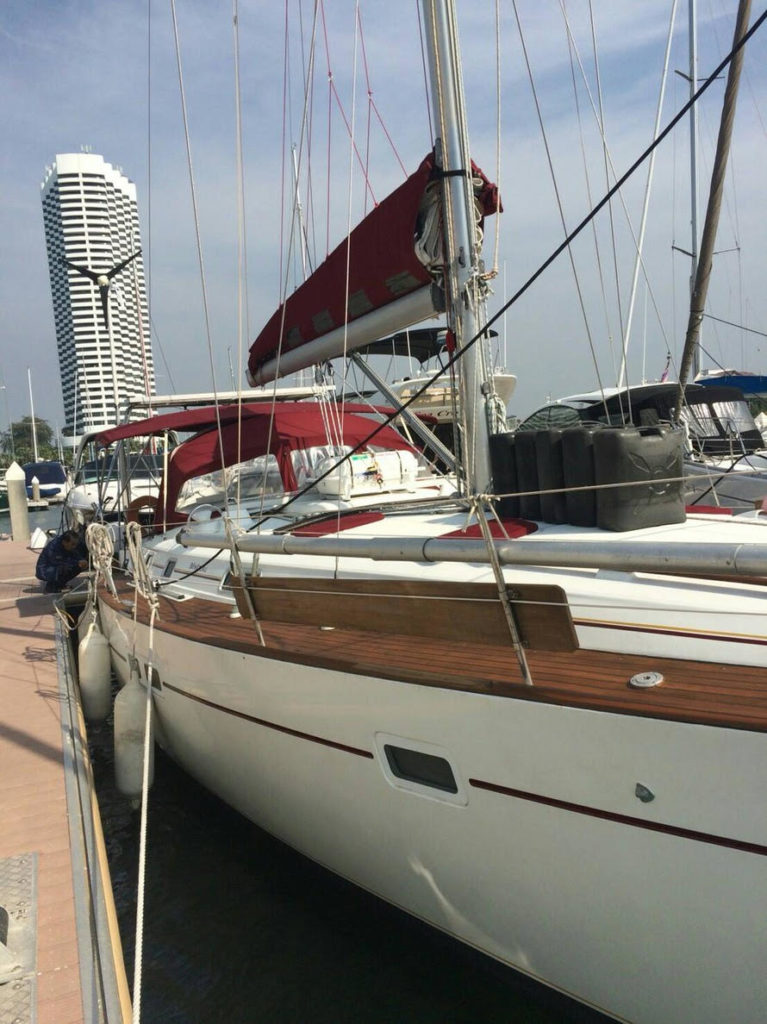 Luke Cook's yacht Jomanday, claimed Thai Police, was caught in the searchlight of a naval patrol vessel in June 2015. The crew were seen dumping packages in the sea. A 50.45-kilogram package of 'Ice' was later found washed up on a beach in Rayong Province.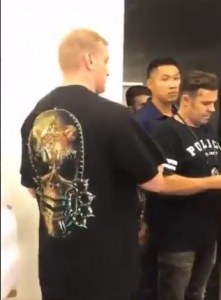 Why didn't the naval vessel stop and investigate? We'll never know. Investigators crucially were not able to find the Captain of any such vessel to bring to court – if there was such a vessel.
There could well have been one, because the point at which Shoebridge claimed the drugs were dropped was just a few miles outside Thailand's main naval base at Sattahip –   an unlikely 'preferred' route for drugs traffickers. 
For his evidence (he made a statement saying Luke Cook had confessed all to him) Shoebridge was given a job on the TCCC team and was soon involved in raiding foreign sex parties in Pattaya, and rival steroid dealers.
And together with Thierry Perenon and the unit's Colonel Dullayapat Techapornyasin he also raided a 'sex seminar' and nabbed Anastasia Vashukevich, who was detained for over 9 months before being deported to Russia.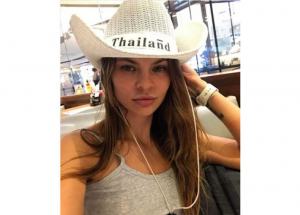 Meanwhile another member of the TCCC investigation team, had spoken from the safety of Tel Aviv, claiming that Shoebridge had made up the allegations against the Cooks because Cook's wife had cheated him out of 150,000 (US$4750) which he had paid her to obtain a pharmacy licence for him.
Boris Klimov, 43, a Russian-Israeli, said he was compelled to make a complaint, because of the consequences of Shoebridge's accusations.
Klimov, who said he had been recruited into the TCCC after being arrested for steroid dealing himself and paying out 2 million baht,  was deported before Cook's arrest for overstaying his visa. He believes he was 'ratted out'.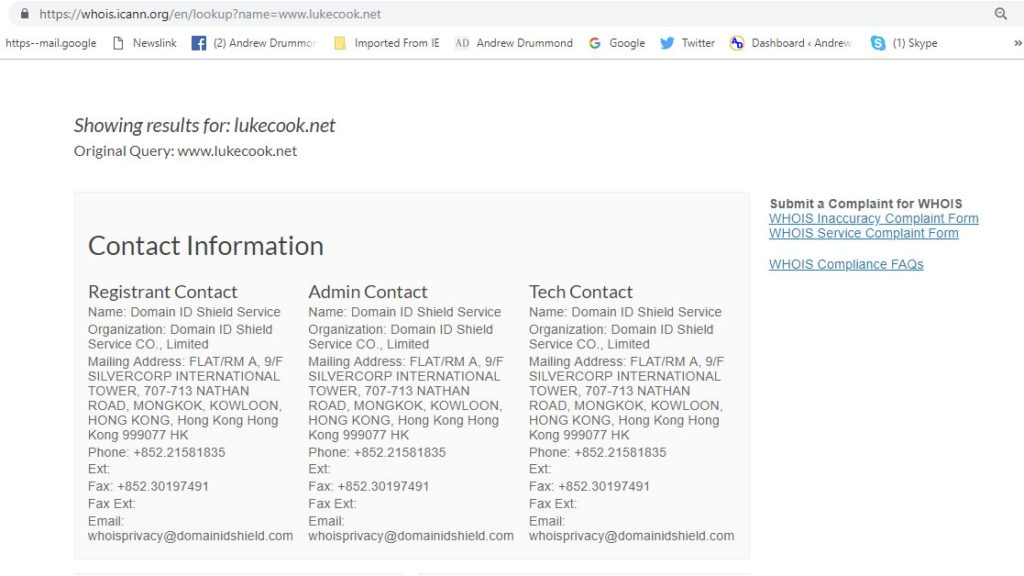 Should there be any doubt about Shoebridge's intentions I have been monitoring the site during which a complaint was initiated about it. When the site was first taken down after the complaint Shoebriadge was revealed as the real owner beneath the Hong Kong based Domain ID Shield Service. And Shoebridge gave his address as 522/163 Soi Songprang, Asoke-Din Daeng, Bangkok.
This is an address for a block of flats called 'Meechai Mansions' home to a number of  'exotic' service girls and expats.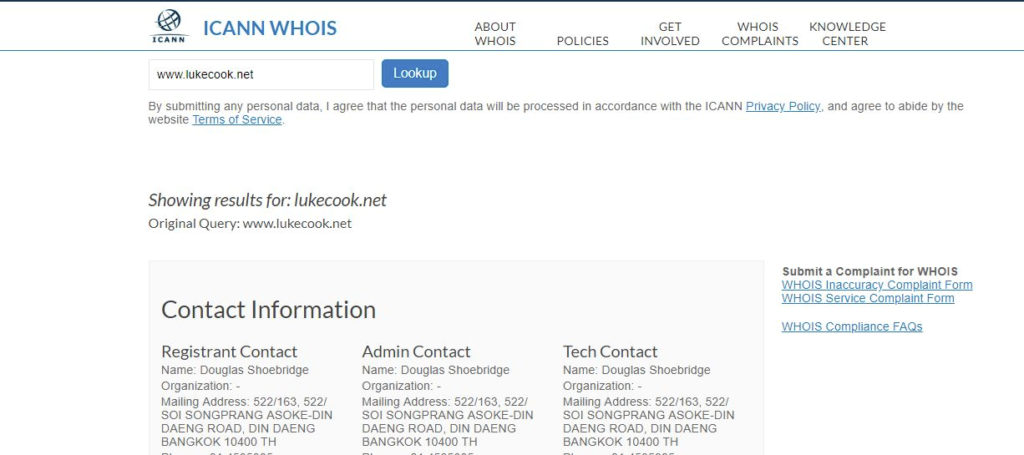 Described as 'always one to have the last laugh' Shoebridge set the website up again finding another service to shield him. It's not necessary to search for the owner here. It's a one-page smutty picture site again. Photo software establishes that the picture was edited on a laptop owned by Douglas Shoebridge using Adobe Photoshop. It even gives the latitude and longitude where it was edited.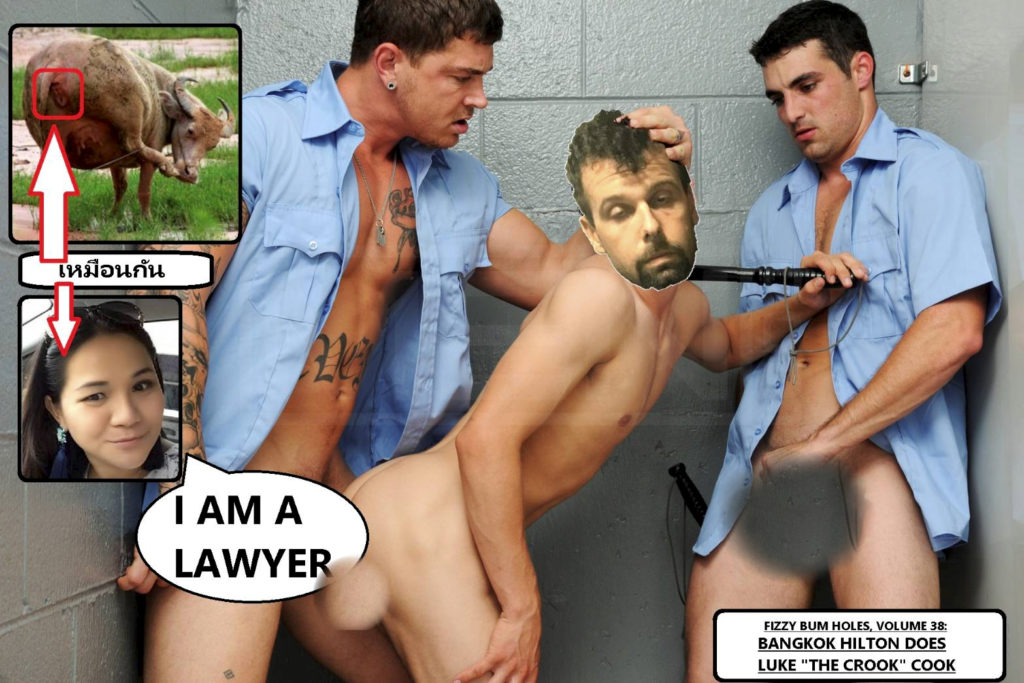 This time he has put up a photo-shopped picture of Cook being sexually assaulted in prison. A cartoon bubble coming out of the mouth of 'Kookai' says: 'I am a lawyer' and Kookai's picture is linked to a picture of the rear end of a buffalo with the Thai for 'same same'. On the right of the picture is a caption hardly worth repeating.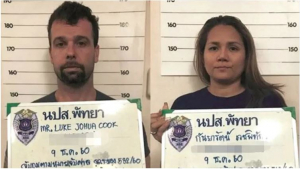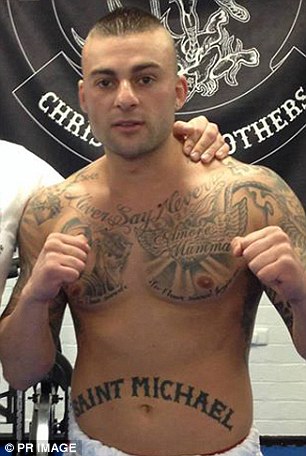 Douglas Shoebridge was named in an inquest held in New South Wales on December 7th 2017 (two days before Luke Cook's arrest) as the man who facilitated two cars Antonio Bagnato used for the kidnap and murder of patched Hell's Angel Wayne Schneider and the disposal of Schneider boy in a shallow grave. And Shoebridge paid the deposit for the rent of the house on Pratamnak Soi 6, Pattaya, where Schneider was murdered by Bagnato and his gang.
Detective Sergeant Paul Rose, of the NSW Gangs Unit, who visited Pattaya told the inquest that witnesses has described Shoebridge and Bagnato as 'extremely close'.
The words Murder and murdered are in italics  because the appeal court in Thailand quashed a death sentence and conviction for murder for Bagnato, who is also wanted in connection with a murder in Sydney, and gave him three years on assault charges instead. This is contrary to evidence presented to the inquest in Sydney and the Coroners's verdict which was, of course,  'homicide'.
Bagnato was re-arrested on his release and is being held in military detention. The charges relate to a semi-automatic rifle with laser sight, a handgun, and lots of ammunition in the Isuzu DMax, which was registered in the name Sirphat Saimart, the mother of one of Shoebridge's children. Siriphat and Shoebridge went to collect the car from the police compound after the trial.
Now there's a real link to a criminal. So much for Thailand's elite transnational crime coordination farce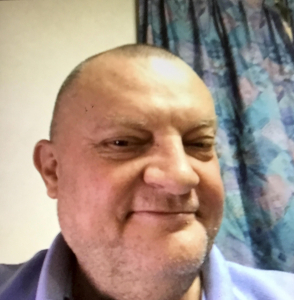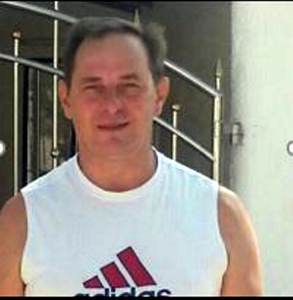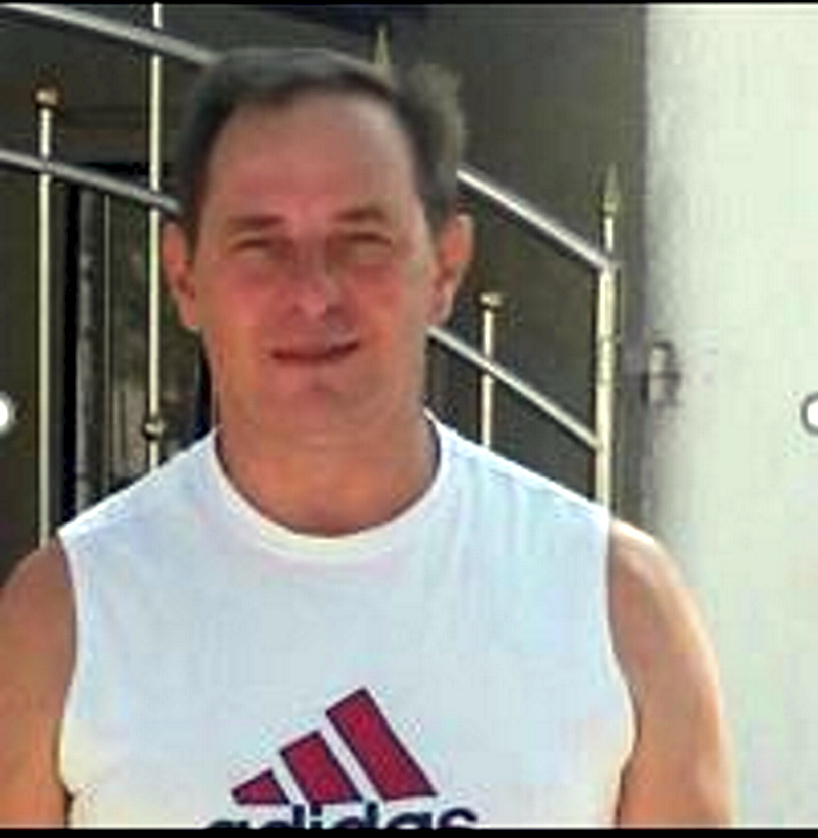 FOOTNOTE: A second Aussie offshore worker who also was alleged to have been cheated by Kookai refused to give evidence after being briefed by Shoebridge. 
His place was replaced at the trial by Craig Smith a third Australian offshore worker, who admitted to the court that Kookai had handled his divorce from his Thai wife and it had been more expensive than he had expected.
He also said he had no animosity. This too has been contested. He told the court that Kookai offered to supply young Laotian girls for the Pattaya Hell's Angels.