BRITISH, AUSSIE AND EURO PENSION FUNDS FED TO VEGAS SLOT MACHINES
What goes on in Las Vegas stays in Las Vegas including the savings of people who lost them over the phone!
BRITISH FRAUDSTERS IN THAILAND NOW RICHER THAN GANGLAND BOSSES BACK HOME
THAT'S BRILL SAY FRAUDSTERS AS THAI COPS ARE
'STUPID IS AS STUPID DOES!'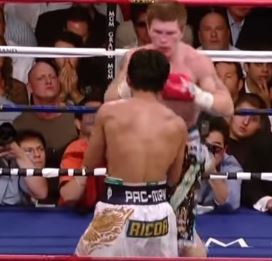 A British crime gang operating innocuous sounding ' call centres' is now reported to have topped over US$600 million in its fraud operations based out of Bangkok and operating throughout Asia. 
This is triple the estimated worth of Britain's notorious Adams Family members, aka the 'Clerkenwell Mob', who in their heyday were believed to have amassed some US$200million  before police finally closed their operations.
And, contrary to police claims, they have thrived under Thailand's military government by paying police and military officials for their licence to defraud – providing they did not target Thai nationals – thus bolstering Thailand's reputation as the major 'international fraud hub'.
The situation is unlikely to change after this year's elections in Thailand as corruption has no political divide.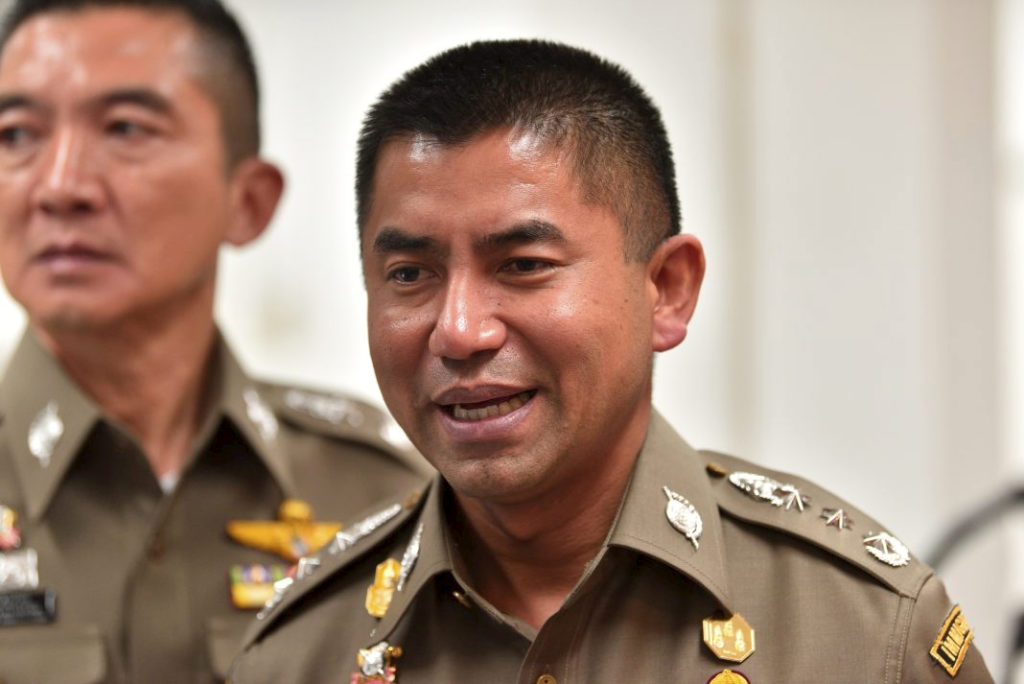 And while Thailand's new 'anti-corruption' super cop Surachate Hakparn, nicknamed 'Big Joke', continues to publicise his achievements against foreign criminals under the slogan 'Bad guys out Good guys in'and 'Operation X-Ray Foreigners' the real money earners, the joke is on him.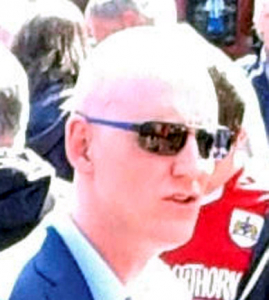 The richest of the new elite criminals is Briton Paul John Hayward boss of the 'Panthera Group' which has now control 0ver the largest sector of go-go bars, clubs and restaurants in the country and notably Nana Plaza 'the world's biggest adult playground'.  
Hayward continues to remain untouched while posing as a long-term legitimate businessman and allying himself with a legitimate Thai-Indian conglomerate which hides its sex trade connections under subsidiary companies (Fena Asset Co.)
Hayward styles himself as the 'King of the Clubs' in Thailand but his real cash comes from boiler room fraud – ripping off people worldwide by convincing people to put their pension pots into shares in well known legitimate and soaring companies (the companies are legit the but shares never are) and feel-good green and environmental projects.
But the cash only goes into his pocket and those of his minions – a rag-tag army of predominantly young Brits playing 'The Wolf of Wall Street'.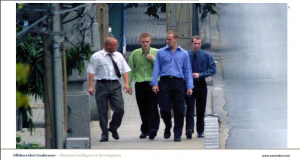 Paul Hayward (8:43 in this video link and it took me hours to find) was at the ring-side at the MGM Grand in Las Vegas in 2009 for the world title fight between Briton Ricky Hatton and Filipino Manny Pacquiao.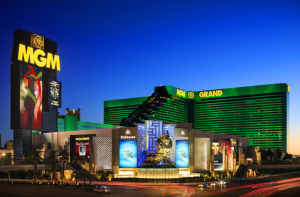 He travelled to Vegas with a bunch of over 20 of his internet fraudsters including his favourite 'Twitchy' and over US$100,000 in cash to play the slots. There was not one straight businessman in his group.
Hayward bought a seat just two rows from the ringside. Seats there could have cost anything from US$16,000 to US$32,000. This must have been a bit sad for Hayward.
For 'Hitman Hatton' went down in the second round. That would have cost Hayward, aka Hilton, a cool US$3000+ to US$6000+ a minute to see his fellow Brit lose his world championship title.  But in Thailand he is must more frugal paying many of his Thai serving staff under the minimum wage.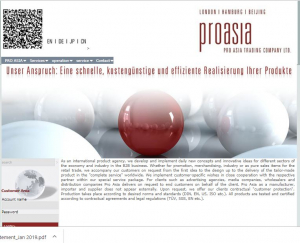 In the last six months Hayward has accumulated some US$20 million more from scams many using the company Pro-Asia claiming to be a top notch investment business.
Most of these bad guys should show up under any scrutiny by Hakparn's Royal Thai Immigration Police. The rub is that they could not exist in Thailand were Thailand's immigration cops not on the take.
In Bangkok's boiler rooms, referred to by Thai police as the rather harmless sounding 'call-centres', there is a Forrest Gump expression doing the rounds. It is – 'Stupid Is As Stupid Does'. The joke is on 'Big Joke'.
This refers to the Thai police in relation to the comparatively low amounts of money allegedly spread around Immigration, Crime Suppression Division, Economic Crime, and Metropolitan, District and AMLO offices to enable boiler rooms run by Briton Paul John Hayward to carry on unhindered bringing in millions.
That may be a little unfair because rival boiler room operators, who have since left the market, complained that Hayward had raised the stakes considerably in 2001 by offering much 'too much silly money' to Thai police.
In the early days 20,000 baht a month and a dinner would would be more than enough for a police district colonel, but top brass joined in a long time ago.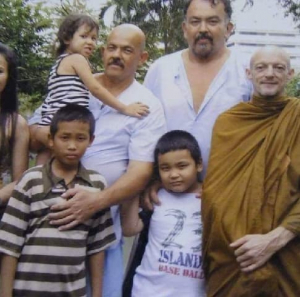 Americans John W. McCleary and James McCleary, who used to be the bagmen for the Panthera Group when it was known as 'Eclipse', stated in interviews from Florida, U.S. that by 2005 Hayward and his then partners Mark Hutcherson and Don 'Kameron' Kern were paying out in excess of US$600,000 per month to the amalgamation of law enforcement agencies.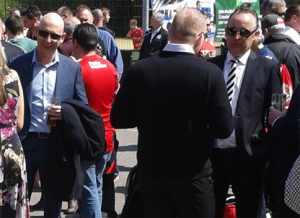 Hayward's wealth in Thailand  is spread around nominees technically holding companies bought in the main with holdalls full of cash and often at way above market value.
He has also recently made investments in the Novotel in Silom, Bangkok and here below are a few of his other investments in Thailand for readers who are discerning about where they rave, get their sexual service, linguini or a  pint and a burger.
+++++++++++++++++++++++++++++++++++++++++++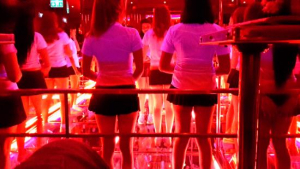 Levels night club, Insanity Night Club, V8 diner, Sugars night club, Aussie pub, Thai Spice, all in Sukhumvit Soi 11, Bangkok, Rossano's Italian Cuisine, Asoke Soi 2, Bangkok, Scruffy Murphy's Irish Pub Sukhumvit Soi 23, and Phuket, the Baccara no underwear glass ceiling dance floor bars, in Soi Cowboy, Bangkok, and Pattaya, Suzie Wong's, in Soi Cowboy, Whisgars, Soi Cowboy, Molly Malones, Phuket.
In a couple of the above he has 'partnerships. He also, of course, owns Sunbelt Asia. Then there's Tropical Murphy's on Koh Samui and the latest acquisition Birds Rotisserie. etc. etc.
++++++++++++++++++++++++++++++++++++++++++++++++
While his principal 'holding company' or rather presence on the net is the 'Panthera Group', its website is like the websites he puts up for the phoney companies he creates to sell shares; generic pictures, noo mention of directors (other than Hayward as CEO). The difference is that Panthera has a real address rather than a serviced 'office' – and that's where Hayward hangs up his picture of the Ricky Hatton fight.
Having paid for his new acquisitions companies are set up in the names of nominees, who are paid for the use of their names – and know that any attempt to actually control the companies themselves could have serious consequences. These directors can include Thai lawyers, wives, girlfriends, and even former boiler room fraudsters themselves investing their own cash.
Prominent among investors is the poker playing former Miami-Israeli businessman Isaac Galazan, former boss of the Dreyfus Capital Group, who has invested in a few of the Hayward projects.
And then again Hayward has spread his cash heavily offshore and loves the British Virgin Islands in particular where numerous linked companies feed into a holding company have continued to be created and dissolved since 2001.
The Panthera-Group describes itself as 'one of the fastest growing private companies in Thailand'.
And so it should be. But this should also make Paul Hayward very famous.
But where are the internet profiles of this famously successful businessman? He claimed in one of the only two interviews he has ever given that he was so famous that it was difficult to go out and buy a loaf of bread!
There are none in any mainstream media. The only mention of the Panthera Group in the English language media and online are paid for business blurbs, or handouts, relating to the acquisitions of Whisgars and Sunbelt Asia.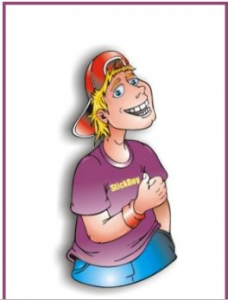 The only person to interview him has been a clown (hence the bread quote) who depicts himself as a kid in a candy shop running a site (Stickboy) for foreigners checking up on what's on in Thailand's sex venues.
Hayward's own blurb reprinted downpage in the business sections of the Bangkok Post and elsewhere states:
"The recently rebranded (Panthera) Group was formed over 17 years ago as an amalgamation of various Food & Beverage, nightlife, Hotel, Property, Investment and Management companies."

As the article was dated last year that would make it 2001 when the first company was formed. No, there were no hotels then, or nightclubs, but Hayward had just put some of his first earnings into the bar business while fleeing the country in terror.
This is how it really started. Beginning on July 26th, 2001 with Australian Federal Police and FBI accompanying them the Royal Thai Police made some 20 raids on 'boiler rooms' in Bangkok, most notable of which was the Brinton Group, led by Irishman Jon Kealy, who had fled in anticipation (as had most bosses).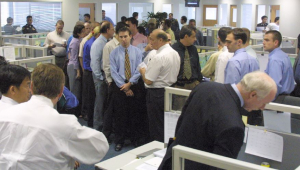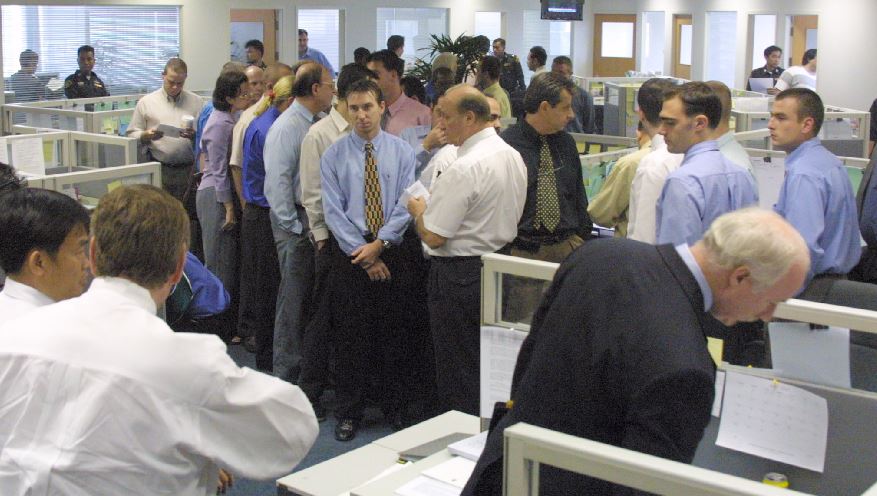 Hayward had been recruited from his home town in Birmingham in the U.K. in the late 90's and secured work as an 'opener' with International Asset Management run by Americans Danny Sterk and Robert Casciola in 'Q House' Convent Road, Bangkok.
In July 2001 everyone who could do so was fleeing with their cash or finding somewhere to hide it. Hayward, who had risen to becoming a 'star loader' was doing both. On the very same day (July 26) Hayward, then a friend an associate of Jon Kealy, created the company Hospitality Venture Group and  on the 28th he was heading to the airport.
Once there, Hayward w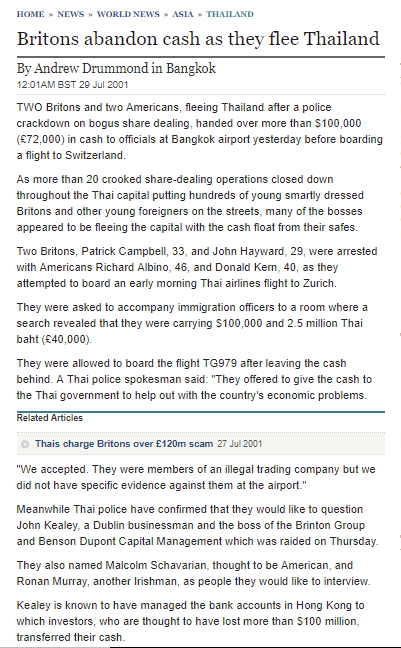 as stopped together with colleagues from I.A.M. American Donald Kern, 40, Richard Albino, 43, and Briton Patrick Campbell, 33, trying to board flight TG969 to Zurich carrying with them US$100,000 in cash together with 2.5 million baht, then about US$40,000. They 'donated' the cash to the Thai police 'to help with the country's economic recovery.'
Paul John Hayward's name was given in press reports as plain John Hayward, but that's a common Thai police mistake. Officers often get foreign first names mixed up with middle names and even surnames.
International Asset Management was not raided until August 7 but Hayward had already made the decision to quit and start up on his own.
He had had two failed companies in the UK and while he was away his last one Saturn Computer Training Company was dissolved and struck off the UK business registry.
He returned, when the heat had died, and cleaned out International Asset Management 'slops and all'.
(Slopping – – To run a 'Slop Shop' or to otherwise engage specifically in "rescuing" clients from a previous fraud by using a second fraud 'to get clients money back')
Hospitality Ventures became Eclipse, then later PAM Consultants (Paul and Micky Consultants) and several other companies before it rose like a phoenix last year as the Panthera Group.
In the first years Hayward was spreading his cash through go-go bars, Irish, Aussie and Kiwi theme pubs and restaurants – one of his most spectacular failures was a group of restaurants called 'Coyote' – then moving finally on to clubs and his major goal Nana Plaza – the joint venture with the Indian-Thai FICO Corporation.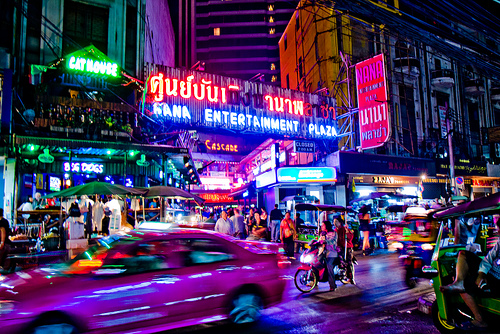 Nana Plaza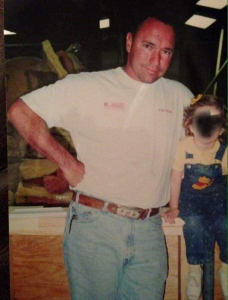 Former Hong Kong bar manager, Irishman Micky Doherty, had become the conduit through which he managed his 'entertainment venues' and the 'wife' in the partnership.
Now Panthera's investment arm 'Milestone Ventures'  is also used in washing boiler room cash 'loaning' its Hayward controlled companies the cash to be used in buying up stuff in Scotland (a hotel) and Holland and elsewhere.
(Not many other people want to use a Thai based investment company but some of the loaders give their cash to Milestone to invest)
Donald 'Kameron' Kern who was stopped at Bangkok airport with Hayward was dead within a year.
His body was found in July 2002 at his 4th floor apartment in Omni Tower in Bangkok's Sukhumvit Soi 4 and according to his obituary he had a massive heart attack at the age of 41.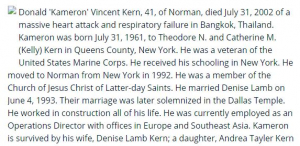 He had become Hayward's 'Operations Manager' and partner in many of the scams, some carried out under the name Jackson Cole.
The McCleary brothers insist that the death was not self-inflicted. John McCleary claims that 'Kameron', as he was known as, died of a massive and forced overdose of heroin, carried out by hired off-duty military men. It is unlikely to be proven either way.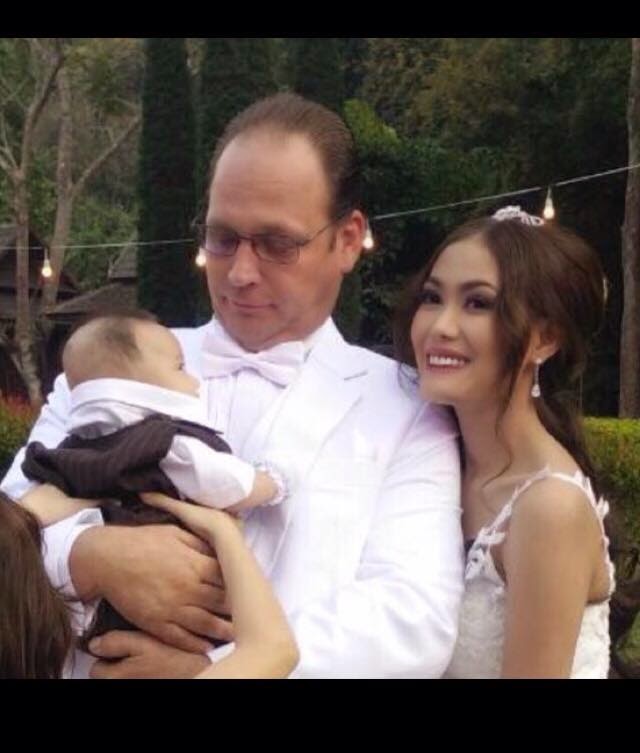 The late Glen Bullard with wife and baby
Two other former high-profile partners of Hayward have also died prematurely. Glendon Bullard, a known cocaine user, died of an overdose in Pai, northern Thailand, while on honeymoon and celebrating the birth of a baby son in 2015 and a few months later Mark Hutcherson, Hayward's partner in many boiler rooms across Asia, including Malaysia and the Philippines, died aged 54 in Plano Texas.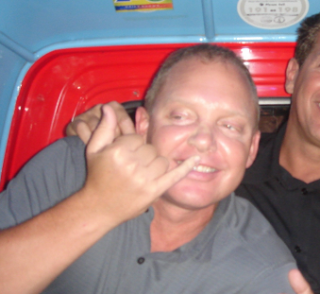 There is no evidence to suggest Hayward was involved in these deaths.
Nevertheless Hayward retains full time bodyguards drawn from the military and police.
As we have repeatedly shown on this site, and by the Confederation of Defrauded Victims Paul Hayward, using the name Paul Hilton continued his boiler rooms for years and to this day has not stopped despite his current wealth.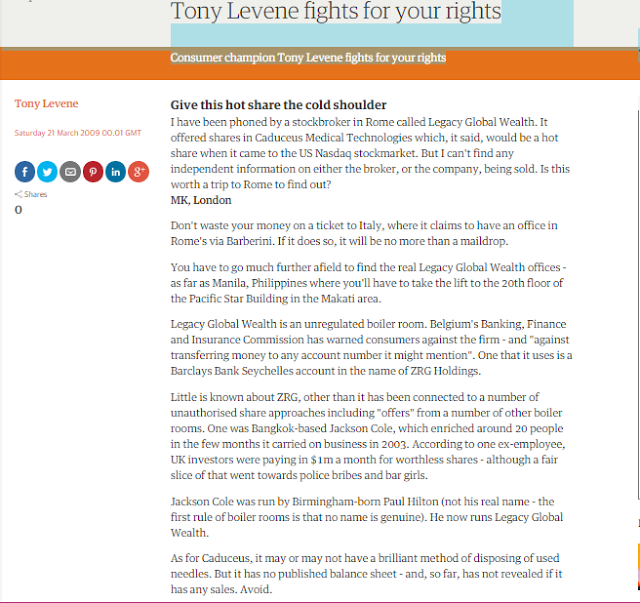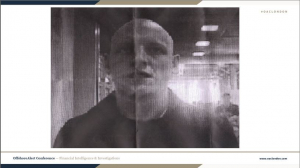 Only a few people knew Paul Hilton's real name, but he had to use it on the numerous times he visited clone operations in Manila, Kuala Lumpur etc and of course when he travelled to Vegas.
While it is true that Thai Police have had some success in stopping Chinese boiler rooms. That is in the main because the Chinese authorities have 'zero tolerance' and when it comes to fraud of their own citizens and have a greater influence over Thai affairs as they are the current major source of the tourist dollar or yen.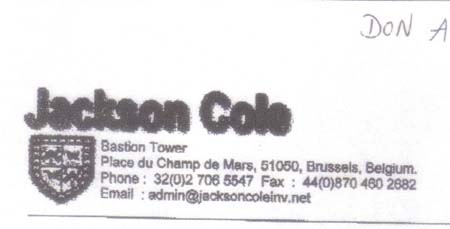 But even though Hayward took down hundreds of Britons for millions in his scams under the phoney Brussels based company Jackson Cole, British law enforcement has been far from aggressive.
Despite having success in Europe, through Europol, Thai police have been intransigent claiming as the victims are not in Thailand nothing can be done. British police have their arms tied behind their backs unable to be critical due to the chilling effects of increased police lack of cooperation, which of course adds a smile to the faces of boiler room operators.
Thus British and Australian anti-boiler room policy is mainly restricted to public service and television announcements warning people not to get conned by internet fraudsters. But British law enforcement agencies may further not want to upset the apple cart as major British banks have been among the receiving banks. The world of offshore cash is very much a British creation and the last vestige of an empire which does not exist anymore – but Britain still controls some 30 per cent of offshore wealth.
Fraud agencies also know their chances of finding the cash for the victims are slim and their rightful targets have more cash to spend to thwart them.
One Hong Kong based Economic Crime Unit officer employed in an early Hayward investigation, later joined HSBC Hong Kong (used by Hayward as a receiving bank for boiler room fraud money) as head of fraud security.
Nevertheless the name Hayward is known well to law enforcement in Britain, Europe, and the United States and he has been the subject of several abandoned investigations. A notable one was when the Eclipse Group bought Crawley Town Football Club.
Hayward has at his disposal more cash than Britain allocates to offshore crime.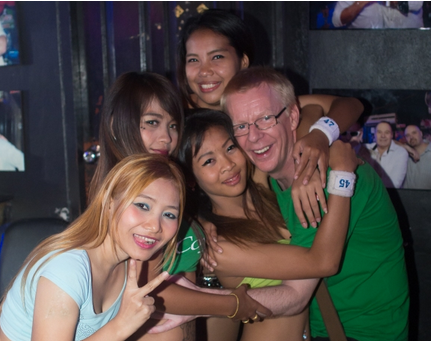 Mike Mackay, Hayward's clown publicist, who hovers around and writes about Thailand's sex entertainment industry, in between writing questionable headlines about foreigners committing suicide from high buildings, has done two crawling interviews with Hayward on his 'Stickboy' blog.
The first 'exclusive' appeared to concentrate on an unnamed blogger who was allegedly libelling him and the second was his plans for Nana Plaza. Neither interviews carried a picture of Hayward/Hilton.
In fact, if Hayward sees someone taking a snap of him with their smart phones he will instruct his 'security' to make sure the image is deleted.
A recent defector said: "Paul just pays Mike enough to take care of his bar life, not a penny more."
Part of Mackay's spiel is to congratulate Hayward repeatedly on his 20 years in the bar and entertainment business. But of course 20 years ago all Hayward knew about the bar business was 'Make mine a Jack Coke' and that is pretty much the same as today. But he knows how to make a dishonest dime.