SCHOOLCHILDREN IN THAILAND TO PROMOTE BIRMINGHAM SEX TOURISM KING WITH LINKS TO INTERNATIONAL FRAUD OPS.
FROM 'PLAYSKOOL' TO PLAYGROUND?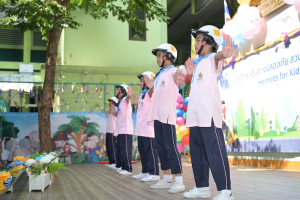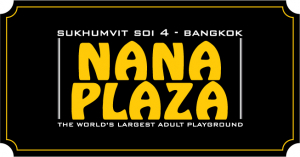 From Andrew Drummond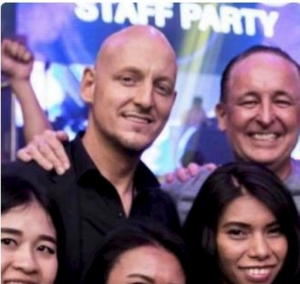 Schoolchildren in Thailand have been given free crash helmets advertising a British run company group which controls the biggest single share of Thailand's tourism sex industry.
The helmets promote the Panthera Group which controls an empire of tourism sex venues including Bangkok's Nana Plaza, and which it bills as the 'world's biggest adult playground'.
Controlling bars, where young women dance on glass ceilings dressed in school uniforms but with no underwear and others called 'Playskool', 'Spanky's' and 'Lollipop', the secretive owner Paul John Hayward, 48, from Birmingham, describes the gift of 1000 helmets as part of the company's social responsibility programme.

Midas-pr

In a statement issued though Midas-Pr Mr. Michael T Doherty said: "We recognize the importance of saving every single young life. The number of road fatalities in Thailand (66 a day) is truly inexcusable, at some of the highest rates in the world."
Some people might think this is a crisis management move as Hayward has yet to explain his vast riches, and not appropriate that he should he should have the Panthera logo in front of Thai children on a daily basis.
Hayward arrived in Bangkok in his twenties to work in a call centre 'International Asset Management'.
By 2011 after he had built up an empire of nightclubs, go-go bars, and restaurants he acquired the master-lease of Nana Plaza in Bangkok, which had overtaken Bangkok's infamous Patpong Road as the capital's red-light area.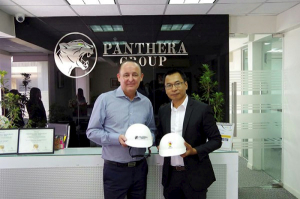 An all-in-one complex, Nana contains some 70 units of go-go bars, lady-boy bars, and short-time hotels. In the bars the young women must be paid out of the bars by a set number of clients a month, or their pay can be docked.
Following his policy that sex-tourists should pay 'the reasonable commercial rate' he has profited from the rising costs of commercial sex tourism as did many Thai authorities.
Although boasting to be the 'King of the Clubs' Hayward is camera shy and very little has been written about him in the main-stream media, despite his 'Midas' touch and wealth estimated to be over US$700 million.
His repeated claims that he planned to float 'Panthera' on the Stock Market have not come to fruition.
This maybe because the Panthera Group is the new cover for more than 150 private companies originally formed under the  broad umbrellas of the Hospitality Venture Group and Eclipse Management, many of them linked to offshore holding companies, according to a report commission by the U.S. State Department seen by the author. Shareholders included police, lawyers, friends and relatives.
On the net there are widespread claims that Hayward made his cash in boiler room 'Wolf of Wall Street' scams and an organisation calling itself the Confederation of Defrauded Victims says it is chasing him for US$20 million.
On its Fraud Recovery website the group, which has invited Hayward to sue, provides a 'snapshot' of 'boiler rooms' it alleges he has been involved in or controlled.
Hayward has always denied that he was a 'Wolf of Wall Street' fraudster despite numerous claims by previous employees, who have all fled Thailand. But it has not stopped expatriots frequently telling Thai staff about his 'alleged' other staff.
Midas-PR the agency which promoted the gift of the helmets to the Bangkok schools through the AIP Foundation 'Safe Roads for Life' programme did not return messages or calls.
But Midas-P.R. state in its release dated October 4th stated: "The Panthera Group is one of the fastest growing, privately owned companies in Thailand, with operations in Bangkok, Phuket, Pattaya and Koh Samui. The recently rebranded Group was formed over 17 years ago as an amalgamation of various Food & Beverage, nightlife, Hotel, Property, Investment and Management companies. Since then the company has evolved into a diversified group with dozens of outlets throughout Thailand. The Panthera Group operates according to a set of established values and beliefs enabling it to achieve and maintain excellence in their relevant business sectors, whilst generating strong consistent returns for their investors and stakeholders."
What has been printed in the mainstream media is that on July 2001, Hayward, from Birmingham, together with three members of International Asset Management (IAM)was stopped by police at Bangkok International airport. This followed a series of raids in the city on boiler room fraud operations, prompted by the FBI and Australian Federal Police. I.A.M turned out to be more than just a call centre. It too was engaged in selling fraudulent shares with fake websites, brokers and shares.
The Bangkok Post reported that Hayward and his colleagues handed over US$100,000 and 4.2 million Thai baht (US$40,000 at today's rates) before they could continue their journey.
"They offered to give the cash to the Thai government to help out with its economic problems. They were members of an illegal trading company, but we did not have evidence at the airport to arrest them," police told the Bangkok Post reporter.
Whistle-blowers further claim that Hayward has been 'helping Thai authorities' ever since and had subsequently also run boiler room operations out of Bucharest, Kuala Lumpur, Phnom Penh, Jakarta, and Manila.
John McCleary, who claims to be a former bagman for Hayward,  has made statements to U.S. authorities claiming that on behalf of Hayward he distributed large amounts of cash around officers in the Metropolitan, Immigration and Crime Suppression Police in Bangkok and the country's Anti-Money Laundering Office.
Hayward was the 'Paul Hilton' identified by the Guardian's Consumer Champion Tony Levene as the man behind the Manila based 'Legacy Global Wealth' boiler-room and who also controlled the 'Jackson Cole' boiler room scam which ripped off tens of millions of pounds from British victims.
An investigation was begun in 2006 and resumed in 2015 by the Economic Crime Unit of the London City Police (City Fraud Squad) into Hayward's activities including the purchase in 2010 of Crawley Town Football Club, through his company Eclipse Management – the forerunner to Panthera.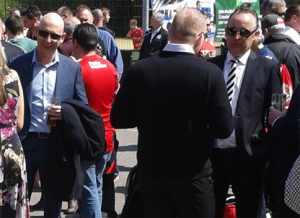 But Hayward sold the club to a Turkish businessman and the investigation was wound up by Detective Inspector Nigel Howard (now retired)  and handed over to the Panama Papers Committee.
Hayward is regarded by many as one of the lucky survivors of a turbulent and sometimes violent period of foreign boiler room activity in Thailand. There were mysterious deaths.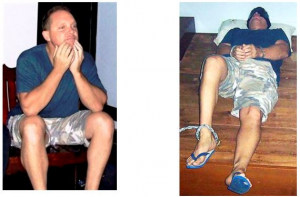 Former colleague Glendon Bullard from Georgia, U.S. died of a 'drugs overdose' in Pai, Northern Thailand in 2014. Hayward's long-term partner Mark Hutcherson died of 'gunshot woods' in Plano, Texas the same year. (Hutcherson had been the victim of a kidnap in Bangkok in 2008 paying over US$400,000 for his release.)
Hayward's accountant' Donald 'Cameron' Kern died of a 'heroin overdose' in Omni Towers, Bangkok in 2003. 'Cameron' was one of Hayward's colleagues from I.A.M. arrested at Bangkok airport in 2001 and more recently his 'money man'.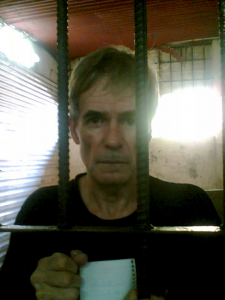 Canadian whistle-blower Stephen Sharpe was banged up in the Philippines for three years on drugs and sex with a minor charges.  He was not interrogated about the offences, only what information he had taken from Bangkok,  and was only released after an investigation by the Human Rights Commission of the Philippines. The commission had spoken to the minor who was 27-year-old and admitted she had been paid to make the allegation.
There were no drugs.  Sharpe had named Hayward and Hutcherson as the bosses of a boiler room in Thonglor, Bangkok which was raided by police. The Nation reported that the boss 'Paul' was never found.
Probably the most spectacular boiler room death, which like the previous was never pursued by the Thai police was the assassination of Briton Tony Kenway from Southampton, who was shot in the driving seat of his Porsche outside a fitness club in the Thai resort of Pattaya in 2017.
Hayward's empire is continually morphing as companies are bought and sold and names are changed. More recently has also sold off many of his go-go bar interests and bought an Italian restaurant and opened a men's clinic specialising in erectile dysfunction.
Hayward also been a well publicised donor to Father Joe Maier's Human Development Foundation, in Bangkok taking over that role from John Kealy former boss of the 'Brinton Group' of boiler rooms which were taken down by police in 2001. Kealy remained in Thailand until his case reached the Supreme Court then he moved to Hong Kong.
https://www.aip-foundation.org/panthera-group-distributes-1000-high-quality-helmets-to-students-in-thailand/
Panthera Group: https://www.panthera-group.com/what-we-do/
https://dokumen.tips/documents/the-disappearance-of-the-eclipse-website-disappearance-of-the-eclipse-website.html
https://fraudrecoveryblog.files.wordpress.com/2014/06/paul-john-hayward-2014-09-171.pdf
https://www.aip-foundation.org/panthera-group-distributes-1000-high-quality-helmets-to-students-in-thailand/