'DON'T COME BACK' THAI OFFICIALS TELL BOILER ROOM WHISTLE-BLOWER
MR.BEAN'S HOLIDAY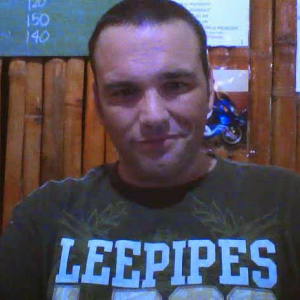 A young American from Texas who became an informant on 'Wolf of Wall Street' crime in Bangkok claimed today that he was shaken down by Immigration Police and Customs as he left Thailand at the weekend – and warned not to come back.

Phillip Bean, 35, from Beaumont, Texas, said he was relieved of half his cash as he prepared to board a Cebu Pacific airlines flight to Manila early Saturday morning and advised not to return to Thailand.
His crime apparently was to try and blow the lid on boiler room scammers in Bangkok and assist Thai Crime Suppression Division police and U.S. officials.
Mr. Bean said he had arrived in Bangkok last month to answer an advert for what he thought was a legal telephone sales job only to find that he had been put into one of the city's famous 'boiler room' cold calling centres – 'Wolves of Wall Street' operations, glamourised by the Hollywood film starring Leonardo di Caprio, which are stealing multi-millions off dollars from people worldwide in share scams.
He fled one boiler room off Bangkok's Sukhumvit Road when he realised what was going on and then on to what he was promised was a 'genuine business'. But the business in a private house in Lat Krabang in a Bangkok suburb was little more than a drugs den also operating as boiler room.
(Mr. Bean spent over ten years in telephone sales, including raising funds among others for the Texas Children's Foundation before stating his own company 'American Coins and Collectibles' which he closed in 2013 to travel to meet a girlfriend in the Philippines)
He fled the Lat Krabang operation on Tuesday night last week out of disgust, he said, at what was going on. He had not yet made any calls.
He fled without his passport while his colleagues were out on the town, but had to force his way past guards on the estate who told him he could not leave at the instructions of his new boss.
"I was broke. I spent my money getting to the job and hanging around, but I was not going to make a living stealing from people," he said. "Now I have found out the nature of these people I have  absolutely no regrets. They are nothing but slime."
Later after contacting tourist police he was taken to the Crime Suppression Division.
Mr.Bean with girlfriend Tuesday in the Philippines
As a result of his information two men Francoise 'Frank' Giannini, 50, a Lebanese born Canadian from Toronto, and Shaheed O'Connor, 29, an Irish passport holder, are now in jail on remand on drugs charges. Both heroin and 'ice' were allegedly found in the raid on the house in Klang Mueang Estate, Lat Krabang – sufficient to be charged with trafficking.
'Boiler room Lat Krabang- depraved addicts'
Giannini was arrested in 2010 after he drove his pick-up into a local bus at the Dolphin Roundabout in north Pattaya on Thailand's eastern seaboard killing the driver and a woman passenger and injuring several others.  Police at the time said they found paraphernalia for smoking 'ice' – and that he was under the influence of drugs or alcohol.
But it appears he did no time for the offence and the file may have been 'lost'.
What the CSD giveth – The taxman taketh away
CSD officials had finished interviewing Bean and thanked him on Saturday afternoon shortly after the two men were remanded to prison.
One CSD police officer had even dug into his own pocket to help the American, who was cash strapped after a totally wasted trip, and handed over a 1000 baht note (US$30)
But as Phillip Bean left he said he was turned back by Immigration Police at Suvarnabhumi airport who passed him onto Customs who said they were looking for drugs. He was due to board a flight to Manila.
Giannini – not much like
Leonardo
The shakedown took place after Immigration official checked his passport and said he needed to buy a return ticket to the Philippines as it was Philippines Immigration law. But in fact Phillip Bean had a Philippines ACRI card (Alien Certificate of Registration Identity) and did not need to.
Mr. Bean said  police refused to listen and escorted him to the Cebu Pacific desk where a Customs officer was waiting.
He said he argued again with a Customs Official:
"He told me 'You can buy the return ticket or you can be escorted out of the airport.'
"The Cebu Pacific Thai ticket sales woman looked like a deer caught in the headlights. 
" I said 'Just give me the cheapest ticket to anywhere'.
"The officer spoke in Thai to her and then she told me I needed to pay 6,800 (US$210) for a ticket to on to Indonesia. I handed her the cash and she gave me a print out. It looked like a flight itinerary at first." 
But when he later checked all he in fact got was a receipt for 868 baht (listed as extra luggage charges)
Printed at the bottom of the ticket now was:
pax tkt created for phl imm purpose pax onboard flt 5j932/5july14 0704 2358 bkkassut50
Passenger ticket created for Philippines Immigration Purpose. Passenger on board Fklt5j932 July 5th.
"Then they took me to a room and said I looked high and nervous and asked what I was smuggling out of Thailand and that they were going to test my blood and if it was positive then that would be same charge as smuggling. 
"I said no I wouldn't take any test until I talked to a US Embassy rep, then they backed off the test thing but turned my bags inside out and my blue Nike bag went missing mysteriously then they charged me 1,500 baht for what they called a Customs search.
"I asked why since nothing was found. The officer replied. 'Its a fine for wasting our time'.
"When everything was done they stamped my passport and as I made my way to the boarding lounge an officer who was not involved said:'Thailand not good place for you maybe you shouldn't come again. You seem like nice guy." 
He added: "Regretfully about all I saw of Thailand was degenerate drug addicts and people stealing from others but I would like to come back to see the other side."
Bean's Alien Certification off Registration Card
While Phillip Bean has no witnesses a US Embassy law enforcement official, however, who met with Mr .Bean said he would be contacting the Royal Thai Police.
As a result of Mr. Bean's assistance files have come available detailing activities, and victims of Bangkok boiler rooms dating back ten years.
A 'victims of boiler rooms' support group which has started naming the 'Wolves of Bangkok' on the internet has claimed that these operations continue in Bangkok with police support. Dissenters or potential 'talkers' are escorted to the airport and forced out of the country – on their way officials have been known to make it clear they are not welcome back.
Lucky
Stephen – back home now
Canadian Stephen Sharpe, aka Burt, who went to police to expose a boiler room a few years ago in Bangkok, was subsequently setup for drugs and rape after he fled to in Manila. The Philippines Human Rights Commission investigated the case and he is now back in Canada after spending nearly three years in jail.
The victims group has threatened to name the police and army officers it says are involved in protecting the 'Wolves'. The group claims that 'The Wolves of Bangkok' now control major parts of Thailand's tourist sex trade.
Neither customer service or public relations officials of Budget carrier Cebu-Pacific have replied to requests for information.
COMMENT: It was semi-anticipated that a move would be made on Phillip Bean by Immigration Police in the light of claims by the Victims Group. So I accompanied Mr.Bean to the airport at his request. I also checked all his bags to verify that he was carrying nothing unlawful and his visa was valid. Everything was in order. He was not bleary eyed. And had not even had a beer prior to his arrival at the airport. He was cheerful and looking forward to re-uniting with his girlfriend. He had picked up his passport from Crime Suppression Division officers who had retrieved it from a safe at the house at Lat Krabang, where he had been being held a virtual captive. After he picked up his passport he spent the early evening visiting me and playing with my children. Nobody could have anticipated the action he has described.