'THE SERPENT' SPARKS CONTROVERSY OVER BRITONS MURDERED ABROAD
'WHAT DO I NEED TO DO TO GET MY GOVERNMENT'S SUPPORT ?
MOTHER'S PLEAD IN BARRISTER DEATH CASE LINKED TO THAI PRIME MINISTER'S OFFICE
'The Foreign Office told me not to go to the media. They did little else. ' – Mrs. Samantha Simmonds
The BBC's drama series 'The Serpent', based on serial killer Charles Sobhraj, has inflamed a long standing controversy over corruption abroad and how Britain cares for its citizens in trouble. And the answer appears to be 'not a lot' in the case of a British barrister named Steven Granville.
His elderly mother, who says her son died after taking a beating for 'untouchables' in Thailand linked to police, judiciary, the Cabinet and even the Thai Prime Minster, has told how she has been reliving a nightmare watching episodes of the drama, sparking renewed accusations of Foreign Office indifference.
In her case the corruption has been so appalling that even Thailand's All Party Anti-Corruption Committee, which has confirmed the links, has tried to raise it in a Parliamentary 'No Confidence' debate against the government. The best she says she has received from the British government are a couple of notes of concern and instructions not to go to the media.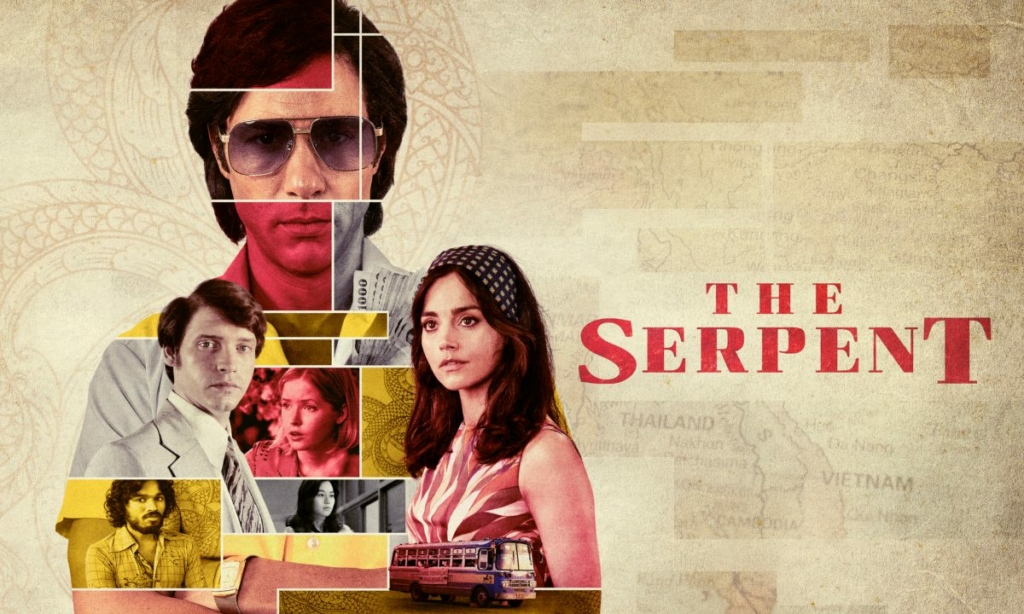 The BBC drama, which concluded last tonight but will shortly hit Netflix, follows a theme illustrating a cocktail of corruption in Asia and the apathy of Embassies to their own citizens. And the mother, from Wincle, Cheshire, said that, just like the mothers of Sobhraj's five victims in Thailand, the people who killed her son would never get justice for those crimes. Her own drama is how 'untouchable' people staged a road accident for her barrister son so they could acquire his £74 million resort project for nothing.
"If people are shocked by this series, which shows just how difficult it is to get justice, or even help from the Foreign Office then they have a right to know that this is just the tip of the iceberg."
And her voice has been echoed by relatives of other victims of murder abroad.
Mrs. Simmonds, 76, from Wincle, Cheshire and now retired in Cornwall, has been fighting for eight years for justice for her son barrister Steven, 46, who, says, and hospitals concur, died from a series of blows to the back of his head in 2013 and were not consistent with the motorcycle accident police had claimed.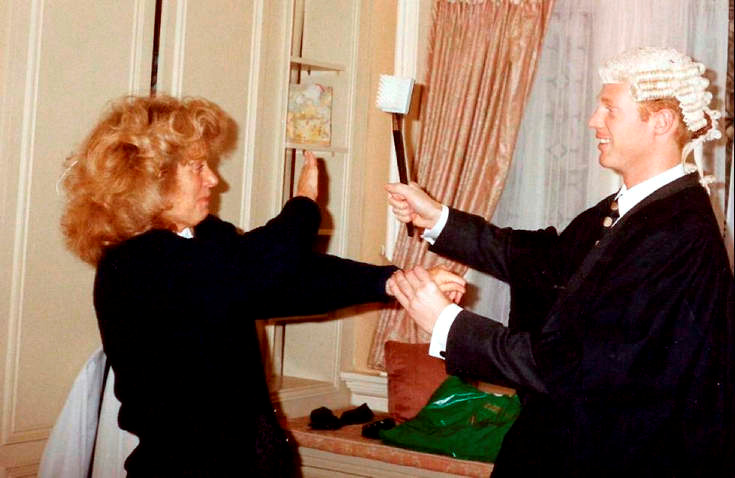 As a result he was robbed of his £74 million resort project – pocketed by Thai government advisors and politicians. The seizure of assets is in the courts. There is no hope of a prosecution for murder. No forensics were taken at the scene. The officers concerned were all dispersed.
Setting up a murder as a road traffic accident is not as strange as it sounds. As well as drive-by shootings by motorcycle hit-men, favourite ways to get rid of adversaries by both mafia figures and even politicians in Thailand are also dumping at sea to fake a drowning, or staging traffic accidents. In a connected case, a Deputy Prime Minister is on trial for exactly that. He had a 'friend' beaten to death then put in a car which was then run off the road. His friend's share assets which exceeded £7million were then allegedly transferred to his nominees.
Faced with 'Thailand's Untouchables' Mrs, the only people Mrs. Simmonds could turn to were at the British Embassy. But that, she says, became a new nightmare.
"The circumstances are different, but the playing fields are the same. The truth is the first casualty. The parents of whoever is murdered in Thailand will have to deal with the same diplomatic evasion and justice system that we have been seeing on a Sunday night for the last two months. And the writers of this series are spot on."
Mrs. Simmonds, whose son died of brain trauma in hospital in Barnstaple Hospital, Devon, after being medi-vacced back to Britain, has taken over the fight from from her husband Trevor, 84, who succumbed to cancer last year.
In the story of Charles Sobhraj, a serial killer who preyed on backpackers, killing and robbing over 20 of them in India, Nepal and Thailand, ironically it is a young Dutch Embassy official Herman Knippenberg, and his wife Angela Kane, who unravelled the truth and took the story to the media.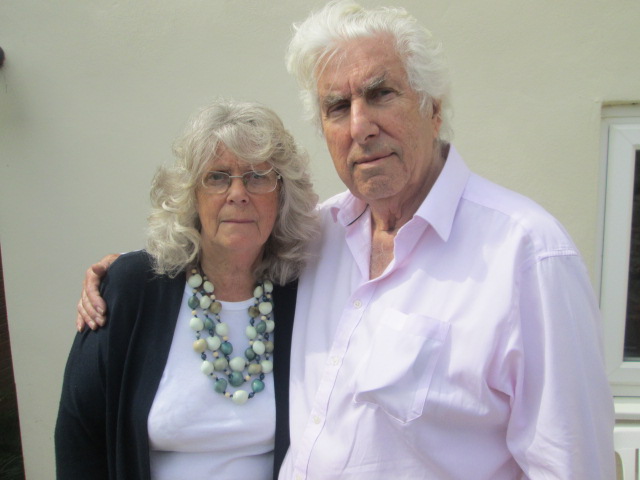 But he faced anger and a threat of being sent home from his own Ambassador both in real life and and in the drama where his Ambassador tells him a diplomat's job is to influence quietly
"It's not a diplomat's job to go looking for long-haired bums."
Charles Sobhraj and his mistress Marie-Andre played by Tahar Rahim and Jenna Coleman
Diplomats from other Embassies who have citizens missing who turn out later to have been murdered, also show a lack of interest as Sobhraj and his junior partner Ajay Chowdhury, assisted by Sobhraj's French-Canadian partner Marie-Andree Leclerc carry on their killing spree.  An Australian diplomat tells Knippenberg not to bother with the missing backpackers. '
They're work-shy hobos. They're probably living on an island smoking dope and eating fish heads and rice'.
In one dramatic scene in a building almost identical to the former British Ambassador's mansion in Wireless Road, Bangkok, Knippenberg rails at a British diplomat, who took information from a whistle-blower about the murders of two Dutch citizens and did nothing about it.
"What is it that we are here for as human beings, I don't mean our work, if it is not to have a care for one another what is it?"
The British diplomat pauses for a while and as Knippenberg storms out sheepishly says :'Er, sorry!'
"Even though the conversation, as the author states, is imagined. This is all so true to life," said Mrs. Simmonds.
Herman Knippenberg and his wife Angela Kane, portrayed here by Billy Howle and Ellie Bamber. BBC
And Herman Knippenberg agrees. Now retired and living in New Zealand he said on the daytime British TV show 'Loose Women' " that Billy Howle, the actor who plays his role, had done a 'fantastic job'.
"It was so real that at times that it came dangerously close to what actually happened."

Herman Knippenberg 2020
In the case of Steven Granville, the Foreign Office did issue two 'Notes Verbale' expressing concern to the Thai ministry of Foreign Affairs, but said Samantha:
'They had no effect whatsoever. One sympathetic ear we got was from Heather Wheeler (former Under Secretary of State for Asia and the Pacific). She showed real concern but insisted we did not go to the media. So, we didn't. Then nothing happened at all the Foreign Office. Later her advisors came out with their usual fall back. 'We do not interfere in the justice systems of other countries'.

"This, of course, flies in the face of representations to Iran on behalf of Nazanin Zaghari Ratcliffe and to the United States on behalf of schoolboy Harry Dunn, (killed in a road accident involving American Anne Sacoolas, who has invoked diplomatic immunity.) "But to get action out of the government or Foreign Office, I guess they have to be shamed publicly."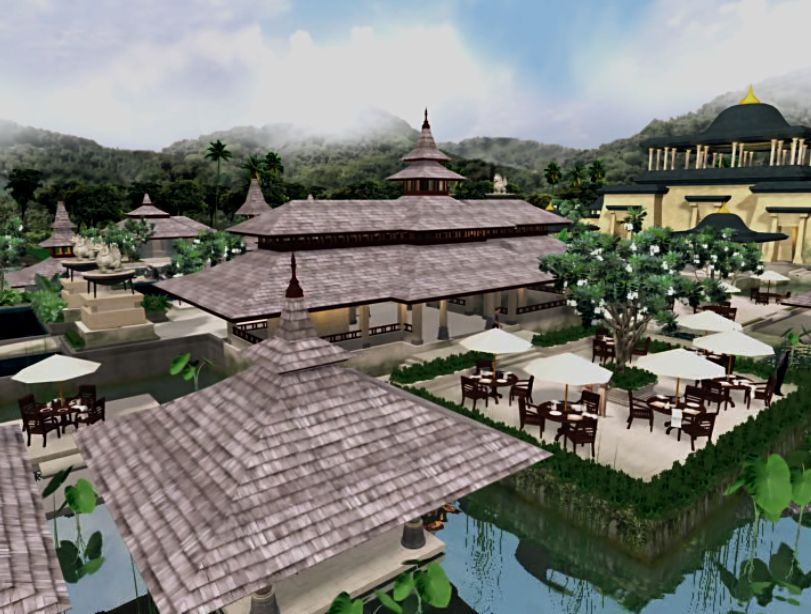 The circumstances surrounding the death of Steven Granville could have come out of a crime novel and are best described by Vincent McGowan, 52, Granville's junior colleague and Sales & Marketing Director in the Puravana Resort, a massive pool-villa project valued pre-Covid at £74 million, who has been campaigning for justice in the local media in Thailand.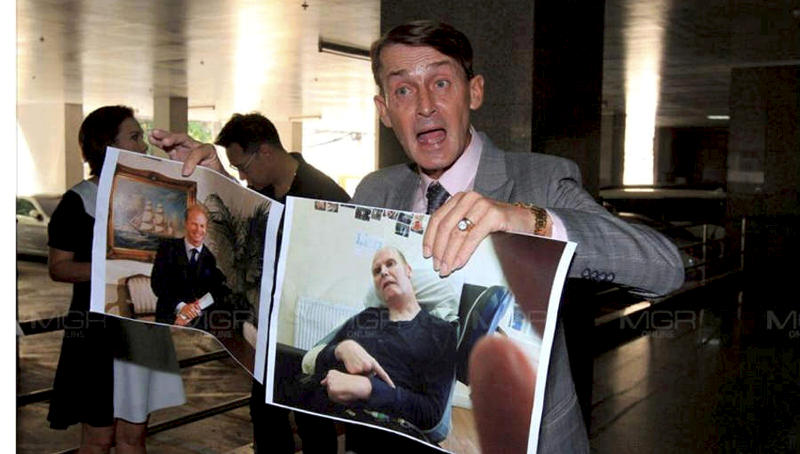 The company had to put a halt to development when a major Spanish investor was forced to pull out. Faced by over 100 angry buyers Granville struck a deal with three Thai 'businessmen'. On condition of him handing over all the shares, the businessmen would fund the project to completion. If they did not invest within a specified time – all the shares would be returned.
Granville's own lawyer Marcus Collins, a former partner in Allen & Overy, who now runs his own international legal company was not present when the deal was signed but after meeting Granville's new Thai partners said:
" I knew quickly these people were not going to give the assets back. It is possible to get justice in Thailand, but in a case like this, very problematic."
McGowan was shocked when he found out who the businessmen really were. Not only were they highly politically connected but in business they were ruthless and known as as strongmen 'nak reng' (strong men). Just a few days before he was attacked Granville said to his mother:
"I think I've done a deal with the mafia."
The first, 'Nat', was an M.P. and advisor to Thailand's Prime Minister, who had a court order out in Australia for bouncing nearly AUS$5 million in cheques at a Sydney casino. The second, his brother Pui was an anti-corruption commissioner, who owned a company accused of importing toxic waste to Thailand from China. And the third, the deal broker, was Praphol, was a business partner of Thailand's Deputy Prime MinisterWissan Krea-ngam. The two brothers, Nat and Pui. were also being investigated by the Parliamentary Anti-Corruption Committee for the destruction of mangrove forests on the island of Phuket.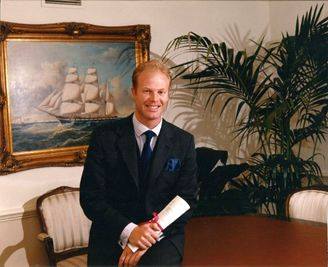 Said McGowan:
"I knew that he had expressed his concerns to his mother a day or so earlier but the day before his attack, he said to me: 'I am going to have to get out of Thailand or I will be killed.' Clearly the Thai businessmen were not going to invest or hand his company back. They just wanted the land.

"Steven's comatose body was found next to his motorcycle by the side of a road near his resort on March 13th, 2012. I went to the scene of the accident. But it was no accident and police on the scene agreed. There was no accident damage to the motorcycle. Steven had absolutely no other injuries apart from four blows to the back of his head and top of his spine – not even any abrasions. His white Chinos were immaculate.

"And when I went to the two Thai hospitals, where he was treated before being evacuated back to Britain, both confirmed that his injuries were 'not consistent' with him having been involved in a motorcycle accident. One of the hospitals also reported that the two brothers had contacted the hospital to ask for a condition check on Granville on the morning of the 'accident' long before police had arrived. But staff had refused.

"On the night before the attack messages on his smart phone showed that he had a midnight meeting with the boss of of the Viper Group, a security firm used by the brothers and to protect illegal gambling houses in Phuket. They agreed to meet outside Karon Police station in Phuket.

Karon police said they could not find Steven's girlfriend who was given the phone at the hospital. I can find her easily enough."
Worse was to come. McGowan was informed that one of the brothers 'Pui' was the 'to go to' person for police promotions in southern Thailand. (Police Promotions in Thailand are typically paid for but this has to go through a third party) and police in Phuket at senior level had ordered no investigation and that the attack on Granville be recorded as a motorcycle accident – one of the highest causes of death in southern Thailand.
Then in 2018 AEC a company run by 'Praphol' and Deputy Prime Minister Wissanu Krea-ngam on the board was named in a scandal in which the assets of another millionaire property developer named Chuwong Sae Tang were transferred to the names of their company employees, after his death was staged as road accident.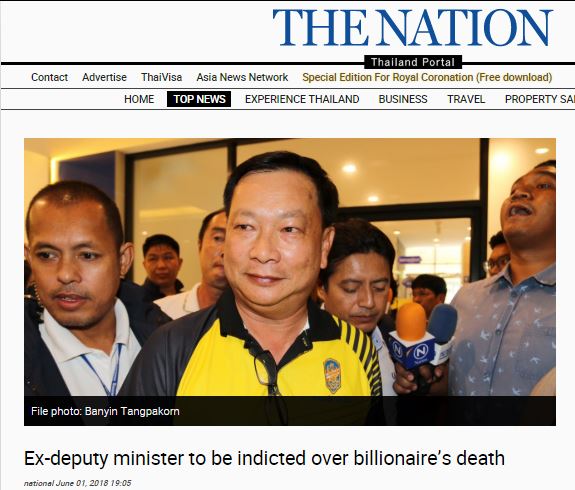 Police, in that case were forced to re-investigate and, not surprisingly to many, they found that Chuwong Sae Tang had been clubbed to death before being placed in his car, which was then run against a tree.
The alleged major plotter, another former Deputy Prime named Minister Banyin Tankaporn and police general, has been put on trial for murder but AEC, a company used by MPs to invest their assets, and its directors were unscathed.
And no independent investigation, though promised, has ever taken place into Granville's death.
"The only enquiry was that Karon Police in Phuket were ordered to investigate their own actions. They failed to locate six witnesses we provided saying these people did not have registered permanent addresses. They included two policemen and Steven's girlfriend who had his phone and computer.

"The Embassy and Foreign Office know all this. They have all the documents. They have the receipts for corruption, but what they have done has been worth diddly squat" 

Vincent McGowan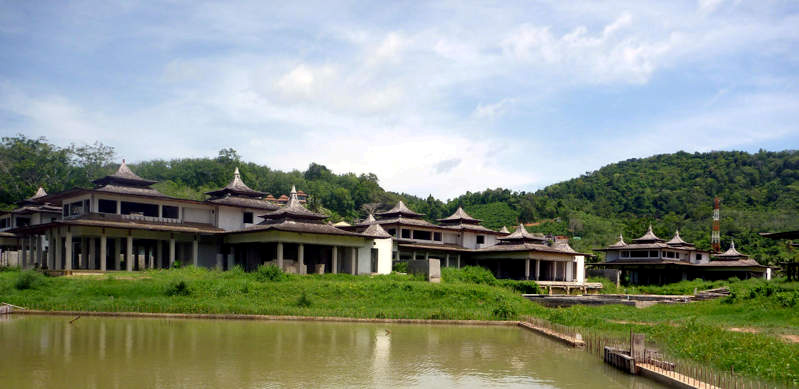 For years the family, with foreign investors, has been battling in the Thai courts to get regain the resort, which is now returning to the jungle. At each attempt, blocks have been put in their way. There have been allegations of last minute switching of judgments so the Thai businessmen can keep their loot.
Last year the All-Party Parliamentary Anti-Corruption Committee took up the case with documentary evidence of 'judgment switching' and had scheduled discussion about the death of Granville and 'odd goings on' to be raised during a No-Confidence Debate against General Prayuth's government.
But discussion was shelved after General Prayuth cut short the proceedings which he, not unexpectedly, won.
Opposition MPs had boycotted the vote in protest. And like Burma's (Myanmar's) military government Prayuth has ensured control, by arresting opposition leaders, re-writing the constitution, and altering the electoral system. And the chief architect of the constitution was Wissanu Krea-gnam.
Currently opposition parties have failed to unseat Thailand's Thammanat Phrompao, Deputy Minister of Agriculture even though he did jail time in Australia after being convicted of heroin trafficking there while in the Thai Army. And that may be why Samantha Simmonds describes her adversaries as Thailand's untouchables.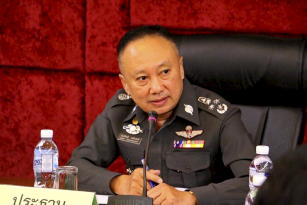 Police General Kolkiat Wongwarachart, former Assistant Commissioner of the Royal Thai Police who has supported the family in their fight for justice knows the odds are stacked against them.
He said by phone from Surat Thani, south Thailand where he has retired:
"I advised that the family should seek the help of the British Government. Have they helped?"
Brian Chandler, treasurer of Murdered-Abroad, which looks after the interests of victims of murder abroad said:
"Speaking personally I have been watching the series and the first thing that came to mind was how absolutely not like anyone in the Foreign Office was the diplomat (Knippenberg) who helped in this case and warned that murders were happening.

"The second was how foreign office officials advised against conducting the media. In my experience that is to protect themselves not the families, and it is the wrong advice.

"I have lost count of the number of times I have heard the 'We do not interfere in the justice systems of other countries' line.

"And when I read after other tragedies the FCO stating: 'We are providing consular assistance' I know how meaningless those words can be."
Brian is the step-grandfather of Liam, 6, and Mia Hogan, 2, who were pushed of the balcony of a hotel in Crete by their crazed father John Hogan.
Liam died in the fall. But even though British police found witnesses to the incident and sent their statements they were never called to the trial, where Hogan was acquitted of murder because of his unsound mind.
An inquest back home later found that Liam was unlawfully killed and that Hogan was of sound mind 'mens rea' – but no prosecution ever followed. Ends-
THE UNTOUCHABLES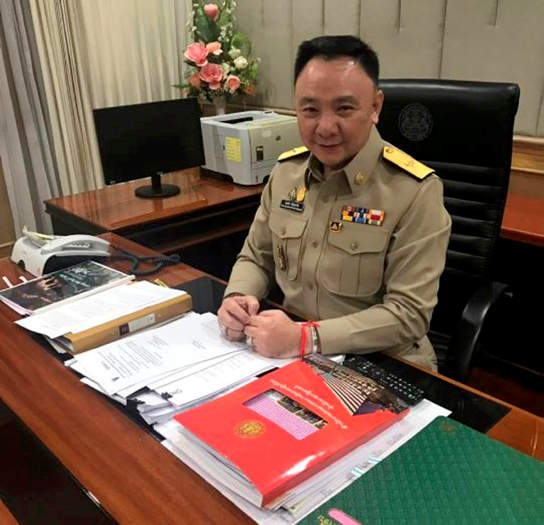 Nat's full name is Nattachai Srirungsukpanit (pictured right). He is Deputy leader of the Chart Pattana Party and political advisor to the office of Thai Prime Minister General Prayuth Chan-ocha who first seized power in a military coup in 2014.
In 2012 the New South Wales Supreme Court issued an order for him to pay back almost AUS$5 million part of some UUS$20 million his Thai group bounced at the Star Casino in Sydney.
He can be considered less of a politician, more an opportunist and was quick to transfer his allegiance from deposed Prime Minister Thaksin Shinawatra's party to the leader of the junta which ousted his party.
His brother Pui's full name is Peerasak Srirungsukjinda who runs a number of companies including the Jinda Group and Absolute Power World which 18 months ago police charged with illegally importing toxic waste from China. The case is 'in the system'.
He is a Commissioner to 'Investigate Corruption & Misconduct and Enhance Good Governance' but this title has nothing to do with Thailand's national anti-corruption commission.
Both brothers are accused in connection with the destruction of mangrove forests in Phuket.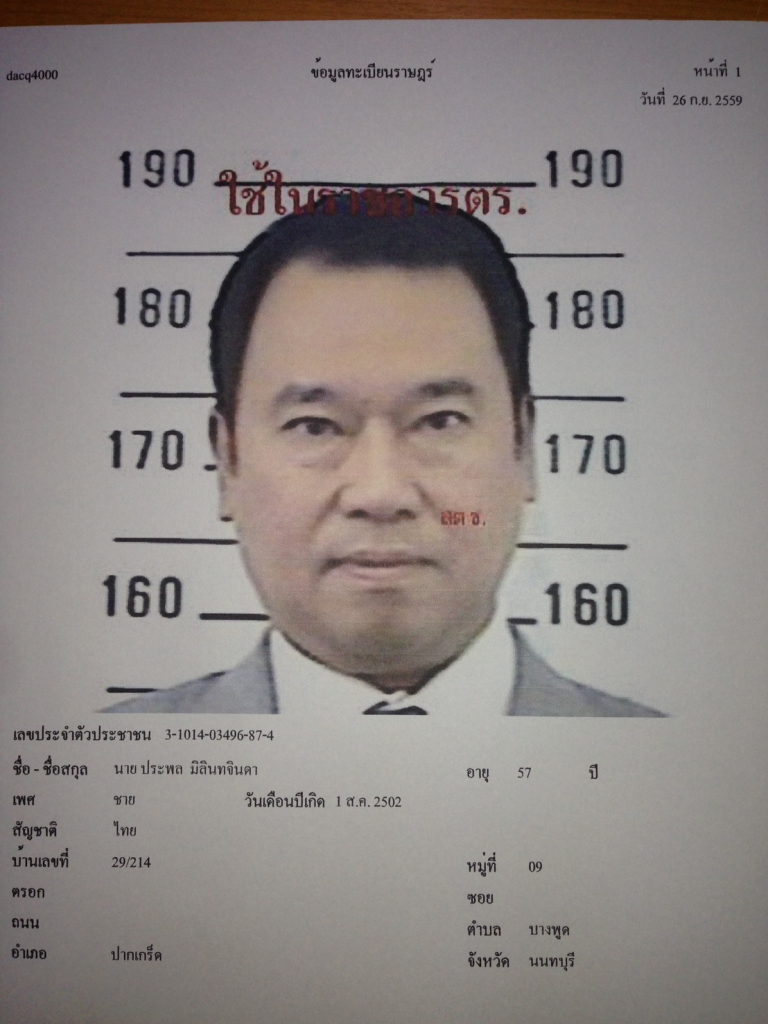 Praphol's full name is Praphol Milinthajinda. He's a former M.P. and political advisor to Deputy Prime Minister Wissanu. Their company AEC has been inactive since the Chuwong 'murder by road accident' scandal.  In the last court case, in which Praphol was the main defendant being sued for the return of the Puravan Resort company and land, the judgement was changed at the last minute from one in favour of Samantha Simmonds. As a result the Judge was unable to read the lengthy written judgement as it was for the wrong verdict. When the 'replacement' judgement arrived it stated that the case should not have happened in the first place as the plaintiff had not given notice of intention to sue.
In fact notice had been sent to all defendants and this was never challenged in court, or for that matter, even raised.  Information in the hands of the  All Party Anti-Corruption Commission indicates Deputy Prime Minister Wissanu Krea-ngam has been accused of making a phone call to the Chief Justice of the Southern Region to reverse the judgement the night before the case.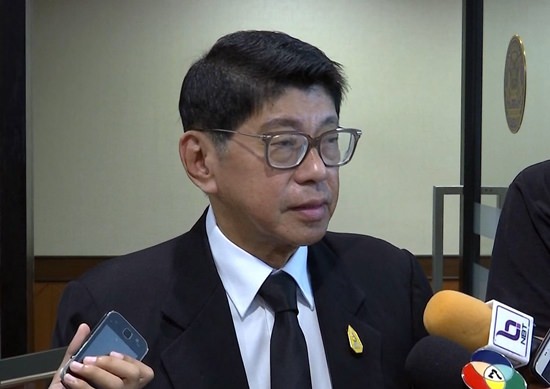 Wissanu defended Deputy Agricultural Minister Thammanat Prompao, when he was accused of being the same person who was convicted and jailed for heroin trafficking in Australia. He said there was no legal impediment to Prompao's position in the Thai Cabinet as he had not been convicted in Thailand. Prompao later boasted that he was key player in the formation of the present government. Like Nattachai he has served in elected governments and in governments formed by the military after coups.  In fact, as a lawyer, he has helped draft two post-coup constitutions of Thailand.
"I was the one who handled the gathering of the required votes to back General Prayut Chan-o-cha to be the prime minister. I fed the bananas to the monkeys'

Thammanat Prompao, referring to his marshalling of M.P.s of minor parties into Thailand's coalition government.
CHARLES SOBHRAJ'S THAI VICTIMS
Charles Sobhraj's Thai victims were Teresa Knowlton, 2, United States, Vital Hakim, Israel, Henk Bintanja, 29 and Cornelia Hemker, Holland, Charmayne Carrou, France and Avenie Jacob, Israel. In the TV drama the police officer, who originally arrested Sobhraj's on information from Knippenberg, is seen to be pocketing cash and jewellery. Other reports put it down to Thai police incompetence. Thai Police eventually put a case together after the case was handed to Thai Interpol and an international arrest warrant was issued. He was arrested but never returned to Thailand as he was on trial for murders in India. The Thai arrest warrant subsequently expired and was never re-issued.