VIDEOS AND TELEVISION
(PART ONE) The videos immediately below were just pieces put together while I was about my work and filmed on a jobbing Sony Semi Pro and edited without use of sound booth and bells and whistles.
(PART TWO)  I made numerous terrestrial television programme for, the BBC, Channel 4, ITN, Monitor World and even Fox, (see below) . The more notable ones are listed below but I do not hold the copyright for these films.
Part One
Influential People and Men In Suits
(Events leading up to the author's departure from Thailand)
Influential People and Men In Suits
ผู้ทรงอิทธิพลกับชายชุดสูท (the Thai version)
ผู้ทรงอิทธิพลกับชายชุดสูท
Thailand's Rotary Club Con Men
(A look at how foreign criminals re-invented themselves in Thailand in the 21 Century)
Thailand's Rotary Club Con Men
The Rat Pack
(My younger days with Princess Diana for Channel 4's Media Show)
The Greyman and The Akha
(A fake kidnap of children to raise a charity's profile)
Noyes' Arrest (arrest footage only)
This was the end for Drew Walter Noyes, whom I had exposed many times as a fake lawyer and property fraudster. He eventually fled Thailand while on bail and appealing a jail sentence for extortion.
Pattaya 105 Radio Interview
An interesting interview with DJ 'Tommy' of Pattaya 105  playing the concerned local journalist worried about the reputation of his city Pattaya. Pattaya 105 was part of  Pattaya One News run by a former British 'Corresponding Consul' who admitted taking cash to remove stories of criminals. The Pattaya Times referred to in the interview was owned by Drew Noyes.
 British Property Scammers – The Emerald Condo
A common property scam in Thailand. The buyers buy 'off plan' but when it comes to receiving their deeds they discover the developer has mortgaged them all to the bank. Thai banks, particularly the Kasikorn Bank showed they had no qualms about getting involved. In this scam a VP of Kasikorn Bank acquired one apartment for his 'mia noi' (minor wife) which had already been bought by a Northern Irish 'financial consultant'. Thai police will not as a rule investigate frauds by foreigners on other foreigners unless their palms are crossed. By this time the buyers have lost all their money.  The author of this scam Briton Richard Haughton originally ran Harlequin (Thailand). The boss of Harlequin UK is due to go on trial in Southwark Crown Court in January 2018 for defrauding pensioners out of 200,000 + million UK pounds.
Robbed of six properties by a Thai wife
This was also a common scam. The lure of gold can sometimes be too tempting for a few Thai wives. They are persuaded to get hold of the deeds of the properties their husband has (usually in company names) against which moneylenders will lend them cash.  But they never get the properties back.  The interest rates are exhorbitant and the properties are undervalued and police, lawyers and the courts all work against the victim.  Lawyers have also forged their clients' signatures to obtain control of the property. The victim here Irish millionaire Colin Vard campaigned relentlessly and even blocked traffic in Bangkok by staging a sit-in. He was promised a top level investigation. It never happened. He was eventually forced to leave for his own safety,   His daughter Jessie grew up to become a well known model and film star.  The only other victim was actually his wife who was not aware of the bigger scam. She did spend a period of time in jail.
Murder in the King's Resort
Briton Paul Ayling remained in a coma from which he never recovered. He died back in the U.K. making this a murder investigation. But police in Hua Hin, where the Thai King keeps his summer palace, seemed uninterested in investigating a local Thai businessman with whom Ayling was involved in a financial row.
Murder of a millionaire club owner
Millionaire Liverpool property and club tycoon was beaten to death in Bang Saray on Thailand's eastern seaboard. His killer was never found and never will be.  Several months after his death the police still had not had the results of his post mortem.  He had a young Thai wife 'Powder' who told the police that she suspected David's best foreign friend.  But when David Farrell's daughters Louise and Nicky arrived they discovered his will in a secret cupboard he had built into the back of a kitchen unit. It appears he was scared of his Thai wife. Inside the cupboard was a will cutting her out of everything and leaving everything to the daughter he had by Powder and appointing his own daughters Louise and Nicky trustees.
The murders of foreigners by Thai wives in Thailand was not uncommon. Two cases stick in my mind. The first was the murders of Toby Charnaud, a farmer from Chippenham, Wilts, who was beaten to death then his body bas barbecued, cut up, and scattered in Keng Krajang National Park in Thailand, which I covered for the Evening Standard, Times and most of the other British media.  The second was that of Ian Beeston, who went to bed every night with a stun gun fearing his own death.
Observer: Bar girl and the expat: A killing foretold
PART TWO
BROADCAST  TV
'No Man Wants to Die'
Twenty Twenty Television for Channel 4. Filmed in Penang, Malaysia, Tokyo,Japan, San Francisco, Phoenix, Arizona, and New York.
An investigation into drugs syndicate which sent Briton Derrick Gregory to Malaysia where he was sentenced to death and hanged.
Gregory had made a full conversation naming all the syndicate members he knew, and, after meeting him in jail in Penang, I picked up the document from his lawyer R.Rajasingham and took it to Twenty Twenty TV and Target Team Foxtrot of British Customs and Excise.
As a result we were able to track down other syndicate members in jail for later offences who co-operated. I named the missing head of the syndicate in the Observer.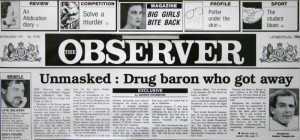 Credit: Investigation by.
'Burma's Forgotten War'
Twenty Twenty Television for BBC2 Everyman.  A documentary recording the plight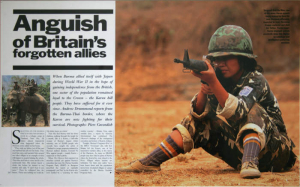 of the Karen minority in Burma filmed illegally in 'Kawthoolei' in Karen State of Burma.
During the making of this film we came under attack twice by the Burmese army one of those attacks was by mortar, perhaps a little self provoked.   While this was filmed in the Karen State we were able to return to Mae Sot in Thailand for the weekends. The harrowing stories told by the Karen are similar to the ones told by the Rohingya 30 years later!  (Aug 2018) I covered the plight of the Karen for the  'Observer' and the 'Observer Magazine'.
Credit: Reporter/writer
'Lord of the Golden Triangle'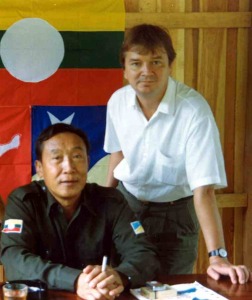 The launch film for the Observer Film Company, the film arm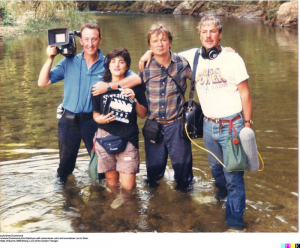 of the Observer newspaper.
newspaper in London, which the author set up with Kimis Zabhiyan filmed with heroin warlord Khun Sa (Chan Shi Fu) in the Shan States or Burma.
While Thailand was telling the world it was hunting the man who was allegedly the world's biggest heroin trafficker we filmed Thai authorities trading with him and the Thai military building a road to his camp for him. The film sold well on world syndication going out on PBS in the USA and ABC Four Corners in Australia.
Credits. Co-producer and 'Investigation by'
'A Right Turn'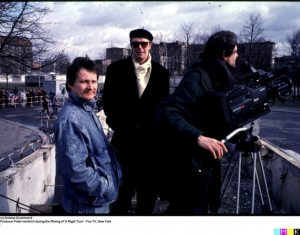 Segment of the Fox TV Stations series 'The Reporters' filmed with Peter Herdrich on the rise of the right wing in east and west Germany.
Most of the material and contacts for this film came from the days when I went under-cover as a Nazi for two years to be awarded the Maurice Ludmer Memorial Prize for Investigations inso Facsism and Racism.
Peter is now CEO of the Cultural Capital Group. (Aug 2018)
Credit: Field Producer
'Hell on Earth'
A segment for 'The Reporters' on Lurigancho prison in Lima, Peru, a prison effectively run by the prisoners containing many jailed members of 'The Shining Path' (Sendero Luminosa) guerrillas.
I researched the film while working in South America for the Sunday Independent.
Credit:  Field Producer. The reporter on this was Steve Dunleavy.
'The Sex Slave Trade'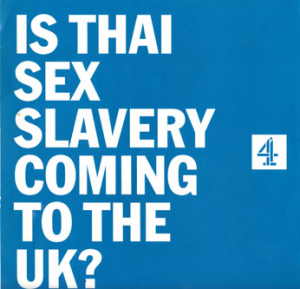 London Weekend Television for Channel 4. An investigation into the trafficking of women from Thailand.
Credit: Investigation in Thailand by.
(I had a dispute with the LWT producers over this programme and the identification of minors and consequently wrote a piece about it for the Times)