FREED! DEFENDANTS IN 'HELLS ANGEL' DRUG TRIAL ACQUITTED
'SHOULD NEVER HAVE GOT THIS FAR' – JUDGE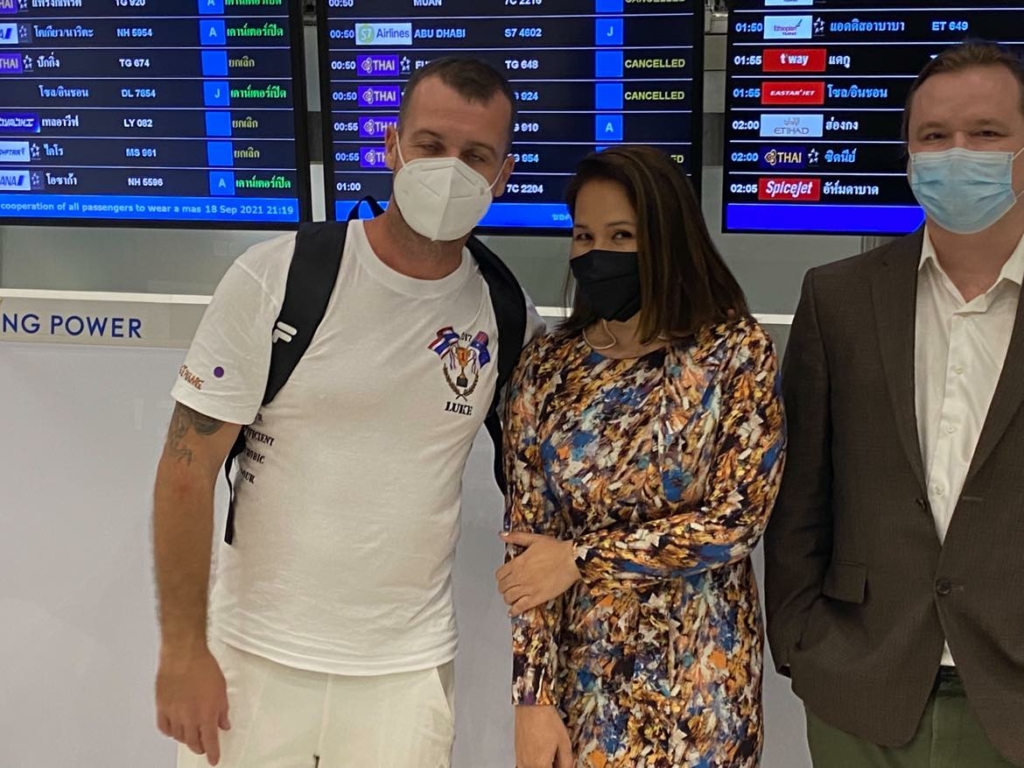 Australian offshore worker Luke Cook, who was wrongly convicted and sentenced to death in Thailand for trafficking a massive 500 kgs of 'Ice' for Hell's Angels, has flown home after being cleared of all charges.
Acquitted with him was his Thai wife Kanyarat Wetchatipak and American Tyler Gerard, who has also flown back home.
Cook, 37, a caterer, from Duncraig, WA, arrived back in Sydney today on Thai Airways flight TG 475 after being cleared at the Supreme Court in Bangkok by a judge who said she was puzzled how the case got so far. Kanyarat is awaiting the Australian visa process.
Cook had spent four years in jail, also losing a case at the Appeal Court, after being convicted on the evidence of the principal witness, an Australian known as 'Big Daddy'- a man now wanted on a warrant for sex trafficking.
Cook was accompanied to the departure gate in Bangkok by lawyers and Australian Embassy officials. After his arrival in Sydney he was first medically examined at the Royal St. Alfred's Hospital before starting a 14 day quarantine.
His father Paul Cook, a New Zealander, who campaigned tirelessly for his son's release was unable to fly to greet his son due to Covid restrictions, but was able to confirm his safe arrival through text messages.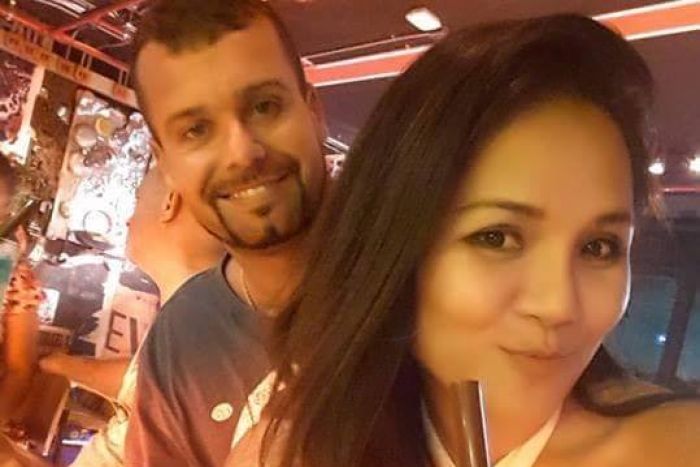 Defence lawyers, supported by the Melbourne based Capital Punishment Justice Project, had claimed that Cook and his fellow defendants were the victims of a frame-up by another FIFO (Fly in Fly Out) offshore worker, Douglas Shoebridge, who was an informer for a 'Combatting Foreign Crime Unit', the police unit which made the arrest. The Supreme Court agreed that Shoebridge was an unreliable witness. His evidence was hearsay, and 'had no preponderance'.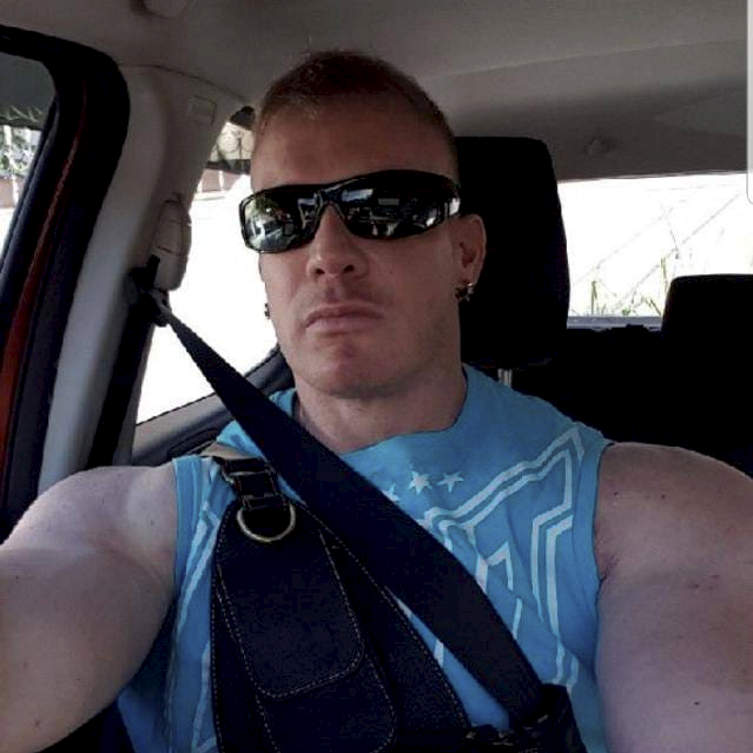 Shoebridge,38, a compass adjuster, from Perth also known as 'Big Daddy', testified that Cook had confessed his crime to him. But even other foreign members of the highly questionable arrest team said they were alarmed at the operation against Luke Cook.

Shoebridge fled Thailand in 2019 after warrants of arrest were issued by Bangkok Criminal Court to Lt. Colonel Nalinee Chiawnoy of the Anti-Human Trafficking Police against him and his mistress a Tanzanian woman Sara Musa Chitanda. It has not been explained how he was able to pass through Immigration control.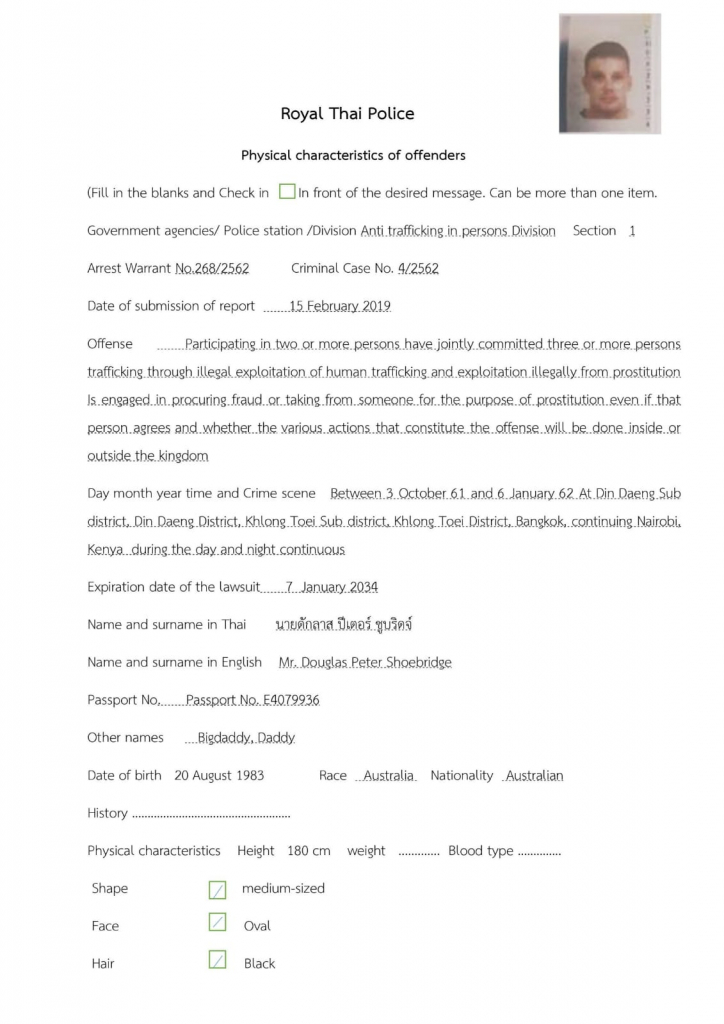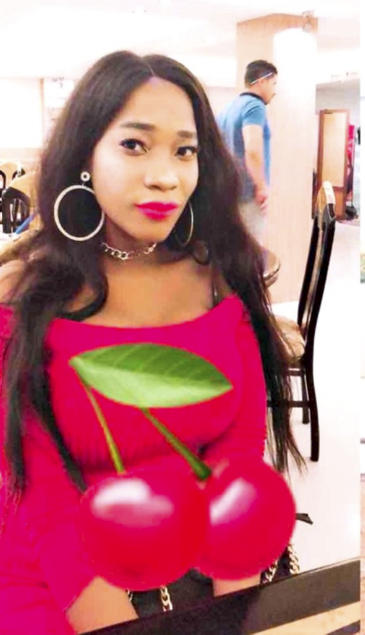 Both were accused of trafficking in women from East Africa to the sex trade in southeast Asia. The warrant remains valid for 15 years, but extradition has not been pursued. Chitanda was sentenced to four years in jail in Shoebridge's absence.

The drugs trial centred around an alleged consignment of 500 kgs of methamphetamine for which, Thai police claimed, Luke Cook had been paid by Australian Hell's Angel Wayne Schneider to pick up and bring into Thailand in 2015. It was alleged Cook sailed his yacht Jomandy to unload the drugs from a Chinese trawler in the Gulf of Thailand.

He, said police, panicked and dumped the cargo overboard when a Thai naval vessel spotted his yacht. A package of 50.4 kg was later found on a beach near the Thai naval base of Sattahip.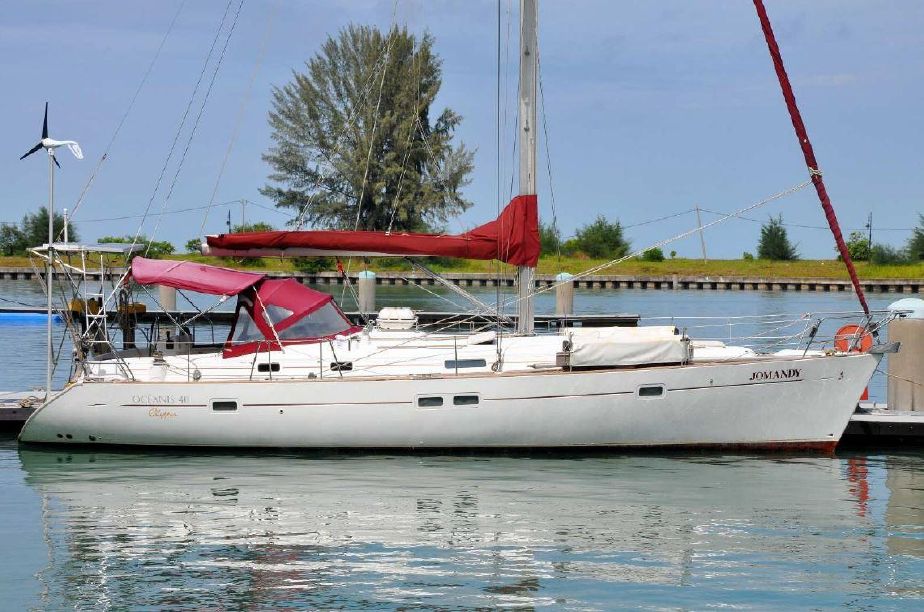 No evidence was presented of the presence of a Chinese trawler or Thai naval activity spotting any suspicious craft. The allegation that the full consignment of drugs was 500kgs was never substantiated.
And claims that Cook was living beyond his means were disputed. His house was mortgaged. His wife's BMW was leased.

Thai Police claimed that the subsequent sensational murder of Schneider in Pattaya was a gang feud over the missing drugs between Hell's Angel Wayne Schneider and Antonio Bagnato, a member of the St. Michael's Fight Club in Sydney and a man still wanted in connection with a murder in Sydney in 2014.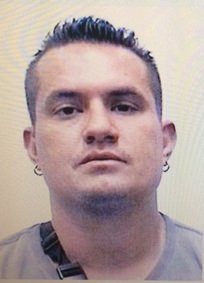 Who owned the 50,4 kg of 'Ice' had remained unexplained for two years during which time Antonio Bagnato was sentenced to death for the kidnap and murder of Schneider and American Gerard Tyler was jailed for aiding in the kidnap.(Bagnato was later acquitted of his murder charge but re-arrested on arms charges).
The court in Thailand heard how Bagnato led a team in two cars to Schneider's house in Pattaya where they kidnapped him, first driving Schneider to Bagnato's rented house nearby, where Schneider was first tortured, before being killed. Then his body was driven to wasteland where it was buried in a shallow grave.
Luke Cook, who ran the Jolly's Piss Stop Bar and guest house in Pattaya, where Bagnato rented a room, was later arrested and charged with aiding and abetting Bagnato's escape to Cambodia. But Luke said he knew nothing about the murder.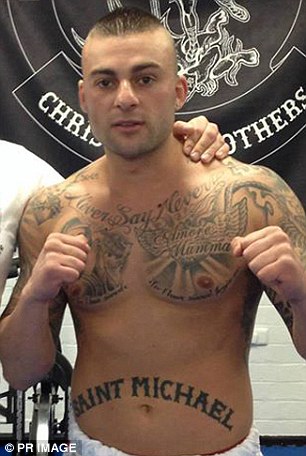 Bagnato, he said, had turned up back at 'Jolly's Piss Stop' demanding that he drive him to the Cambodian border. When he said he could not, Bagnato produced a gun.

On route, he said, he was terrified and slowed down several times to make the car's number plates visible to security cameras. Cook was sentenced to three years, but the sentence was suspended.
Gerard Tyler, who trained at the gym with Bagnato, said he went along because Bagnato needed some 'bodies' to help recover a debt, was jailed for three years for aiding and abetting in the kidnap and assault of Schneider.

Six months later Cooke was arrested together with his wife Kanyarat, nicknamed Kookai', and Tyler Gerard and all were accused of being a major drugs traffickers, after Shoebridge belatedly made his statement.

He testified that Luke Cook had hired him as a diver to come on three trips to look for gold which had been dumped offshore. On the third unsuccessful trip Luke, said Shoebridge, Cook drunkenly confessed that he was really looking for the drugs which he had jettisoned after being spotted by a Thai naval vessel.

But shortly after they were sentenced to death, a New South Wales inquest into Schneider's death heard a new story about Shoebridge from Detective Sergeant Roe, of the News South Wales Police Gangs Squad, who had flown to Thailand to liaise with Thai police. The story he gave painted Shoebridge in a different light.

He said that both cars used in the kidnap and murder of Schneider and the disposal of his body were rented to Bagnato by Shoebridge's partner Siriphan Saimart. One of the cars was in her name. The second vehicle she had rented from a car hire company.

Further, on Shoebridge's instructions and the 100,000 Thai baht deposit he gave her, she had also rented the house in the Pratamnak area of Pattaya which Bagnato used for the torture and murder of Schneider. Detective Sgt Roe said that Shoebridge and Bagnato were described as 'extremely close' and trained together at Tony's Gym in Pattaya.



Meanwhile I was getting calls from whistleblowing colleagues of Shoebridge in the Transnational Crime Co-ordination Centre, who painted a picture that Luke had been set up by Shoebridge and Craig Smith another Australian FIFO member of the team.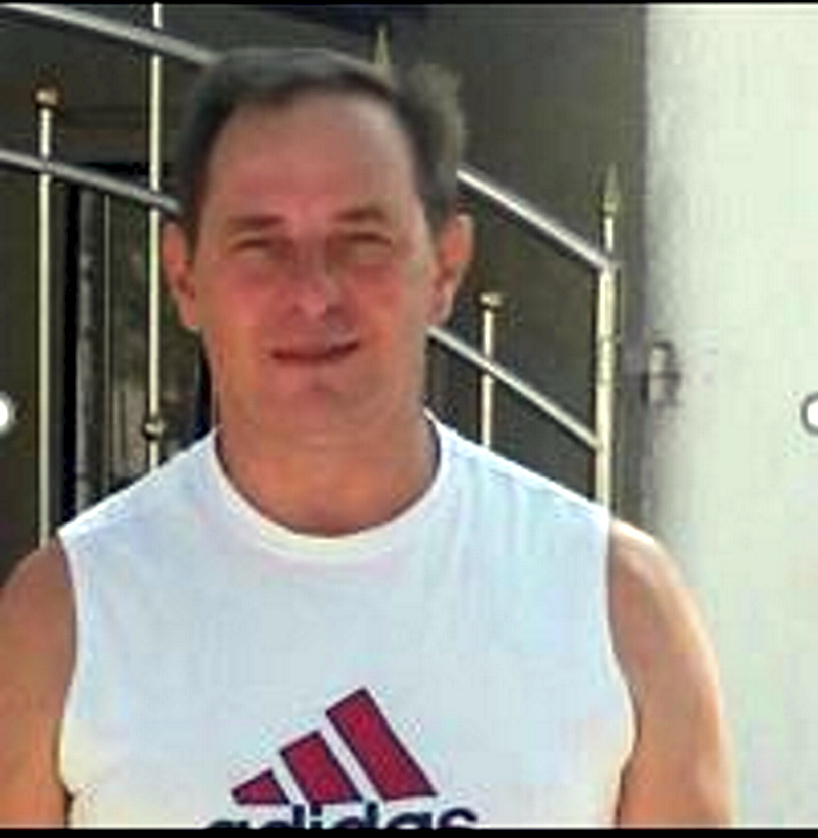 A third Australian FIFO worker, a ship's master had also been prepped as to what to say at Cook's trial, which was that Cook had offered him a large amount of money to master his yacht on the drugs assignment.
Not knowing Cook the 'witness' had to be shown photos of him, claimed the whistle-blowers. But that planned was abandoned because he seemed unable to remember the script.

Both Shoebridge and Smith had grudges against Luke Cook's wife 'Kookai' who offered quasi legal services to foreigners in Pattaya, said the whistle-blowers. Smith had used her services in his divorce from his Thai wife and Shoebridge had paid her to set up and register a pharmacy company in his name. Both, it was claimed, were extremely unhappy with her services and spoke abusively about her, said their colleagues.
Smith went into court to link 'Kookai' to the 'Hells Angels' by stating that she supplied them with Laotian women for sex services. In court both denied having any grudges. It is unlikely that Hells Angels in Pattaya would need a prostitution service.
Thailand's Transnational Crime Co-ordination Centre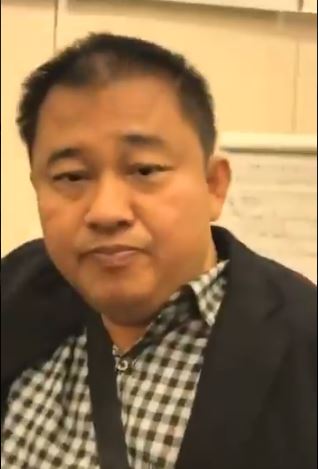 The Combatting Foreign Crime unit was formed by a former Special Branch desk officer Dulayaphat Techaphonchayasin. (formerly Detpornchaiyasin) operated from a house' in the Nong Plalai area of Pattaya. This unit was primarily a money making concern.
Dulayaphat's initial right-hand foreigner was an American called Joshua Pate, aka John Mackey, who with has wife had an illegal cannabis farm in northern Thailand (It can now be grown legally under medical licence) and also a pill making press. He said he had known Dulayphat for over 15 years. He also produced steroids.
One of its initial recruits was a well known foreign 'policeman' Frenchman Thierry Perenon who was well known as he liked to wear a full uniform with medals.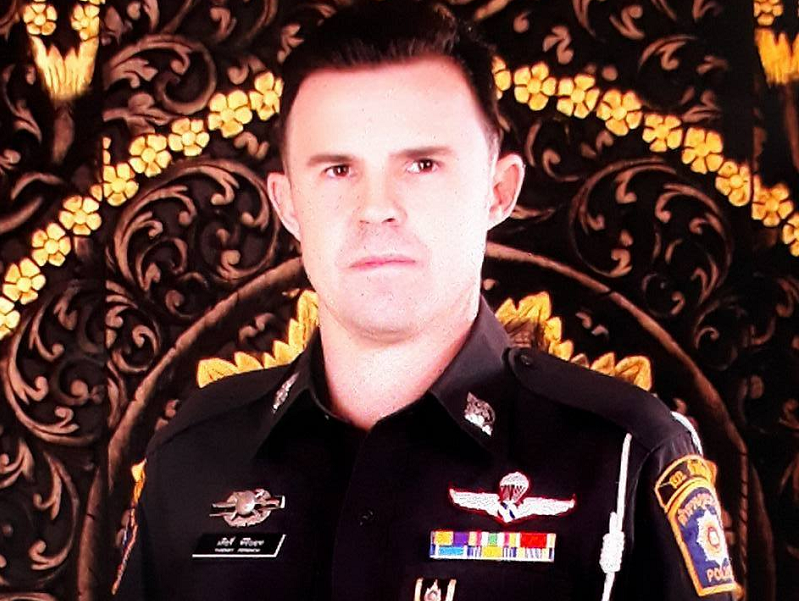 As Pattaya was the world steroid capital as well as a world sex capital, with their unique knowledge of 'rival' steroid dealers. The unit began arresting these people and raiding pharmacies who were making under the counter sales.
Although the arrests received wide publicity in the local media, few cases made it to the courts. Those arrested were required to pay around 2 million baht to avoid going to jail One of those was Russian Israeli Boris Klimov who was part of the surveillance team watching Cook's house. 'I paid my money and it gave me protection.' said Klimov.
Boris was the first to complain about the Cook operation, specifically about the falsification of statements and 'phoney' witness testimony which was being rehearsed in the safe house. He said Shoebridge hated Cook, whose wife had allegedly cheated him about the pharmacy company he wanted to set up.
Other members were recruited for their Thai language skills.
But during the Cook investigation there was a major rift within the TCCC. Joshua Pate had initially contacted the U.S. DEA not the local Australian Embassy based Federal Police office over the Luke allegations.
The U,S, DEA it was considered would be the greater financial benefactor.
But while DEA officers attended meetings in the 'safe house' and offered international surveillance services, they pulled out without giving any reason, but possibly because of what they discovered.
Pate's activity and the DEA withdrawal was a loss of face to Colonel Dullayapat. But the DEA, if nothing else, did create a 'watch list' for Customs services for certain type of packages arriving from Thailand which would contain steroids. Joshua Pate resigned and begged the DEA to help him relocate back home to the United States. As he had felonies in the United States he received no help.
Pate was subsequently arrested with his Thai wife in Chiang Mai. Pate was charged relating to the cannabis and the 100,000 Dianabal DS (A Schedule IV drug and part of the Diazapam group of sedatives).
Boris Klimov was arrested by Thai Immigration Police for overstaying his visa. He claims that while in the lock up he was visited by Perenon who promised to sort out his legal status.
Speaking from Israel Klimov said Perenon took his Visa card and pin so the police could be paid off and that was the last he said he hard of Perenon.