'HOPE IN THEIR HEARTS' FADES FOR LIVERPOOL DRUGS BROTHERS
BUT THAILAND'S FRENCH 'FLIC' THIERRY PERENON
WAITS IN THE WINGS
Liverpool brothers Joseph and Gregory Mulhane have understandably been in a tizzy this week since they were arrested in Thailand on a warrant issued by the North West Regional Crime Unit in the United Kingdom on drugs dealing allegations.
The two likely lads actually from Birkenhead, on the Wirral, were followed for several days and put under surveillance in Pattaya at the Link Hotel, Unique Blue Sports Bar, and the Loft on Pratumnak Hill, before fleeing to the Pannee Lodge in the Khao San Road, Bangkok.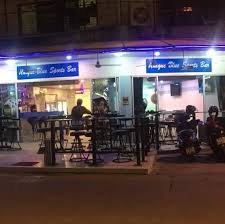 They had obviously rumbled that they were under investigation and took a taxi to Bangkok's Suvarnabhumi airport, changed vehicles and headed back to the Sukhumvit Suites in Bangkok – an old favourite for boiler room fraudsters.
The following day however they checked out and headed for the Panda Resort in Don Hua Lor in Chonburi.
They had not noticed that police had also tapped in to their mobile phones and those were active all weekend with SMSs' flying seeking help to stop deportation, getting funds for to pay off officials etc.
Unfortunately, their requests were a bit loud and the Immigration Detention Centre in Bangkok is a leaky place.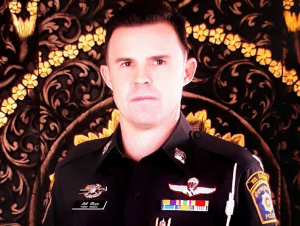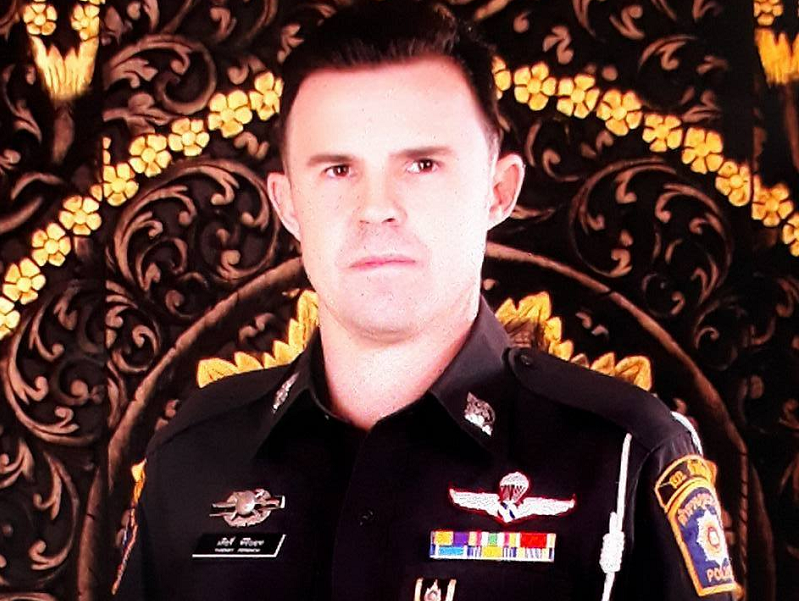 But they did not need to be that loud for our famous French Police assistant Monsieur Thierry Perenon who has a nose for money.
Thierry, who adorns his designer uniform with multiple police badges is now a bit of a legend in Thailand.
He puts up a front of being fanatically pro-Thai police and recently in an email to this site described the young British woman who claimed she was raped on the island of Koh Tao as a 'whore'.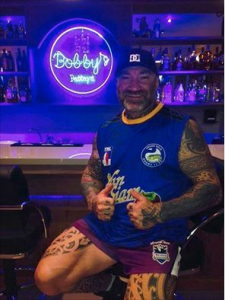 Thierry duly sent along his aide, another Frenchman, 'Laz' to demand a deposit of 1.2 million baht. He told them something like: 'hold your head up high
And don't be afraid of the dark. At the end of the storm, there's a golden sky
And the sweet, silver song of a lark."
And calls went out to Liverpool and from there back to lawyers in Thailand and even a law office in Spain.
However, the arrest of the Mulhanes was a bit too high profile and made much more in the UK press than Thailand, where of course foreign villains are two a penny and, all of whom I know, have evaded the much publicised recent crackdown by Immigration Chief Surachate 'Big Joke' Hakparn (bar, perhaps, a couple of Nigerian romance scammers).
This is not surprising of course because historically the Immigration Department have depended on large payments from foreign criminals and was even described by the current government was the most corrupt unit in the Royal Thai Police.
So, it seems that this is merely a last-minute grab for cash. Usually a few days in the IDC encourages even the hardest to beg for deportation. It seems so far they have not even raised the cash for food in the IDC. 'Walk on. Walk on. With hope in your heart'.
I would say the chances of them paying themselves off are remote, but Britain's satirical magazine Private Eye has recently been having a go at the National Crime Agency in Bangkok which appears to have a very low budget to spend on law enforcement and liaising with foreign police agencies.
Certainly they do not have the budget to bring back a host of villains known to be in Thailand. Let's just hope the i's are dotted and the 'ts' are crossed on the International Arrest Warrant.