'OFFSHORE AUSSIES STITCHED ME UP AFTER SENDING THREE OTHERS TO DEATH ROW'
'THE SAME MEN FRAMED ME FOR THAT FAMOUS ' SEXY BOOZE CRUISE' SO THAT THAI POLICE COULD EXTORT ME FOR MILLIONS'
"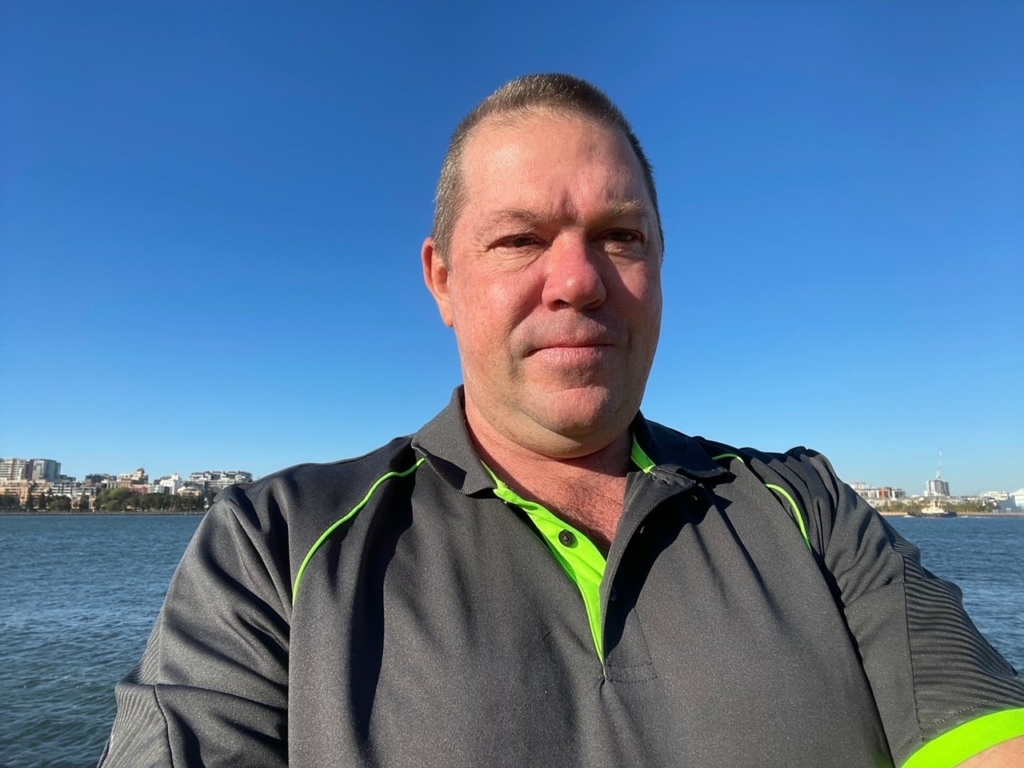 Aussies tricked me into starting a business which had been closed for nine months
From Andrew Drummond,
AN Australian man who hit world headlines when he was arrested in Thailand for running 'Booze Cruises', which included 'obscene' shows by young Thai female sex workers has launched a blistering attack on 'opportunistic FIFO workers' helping Thai police stitch up their fellow countrymen.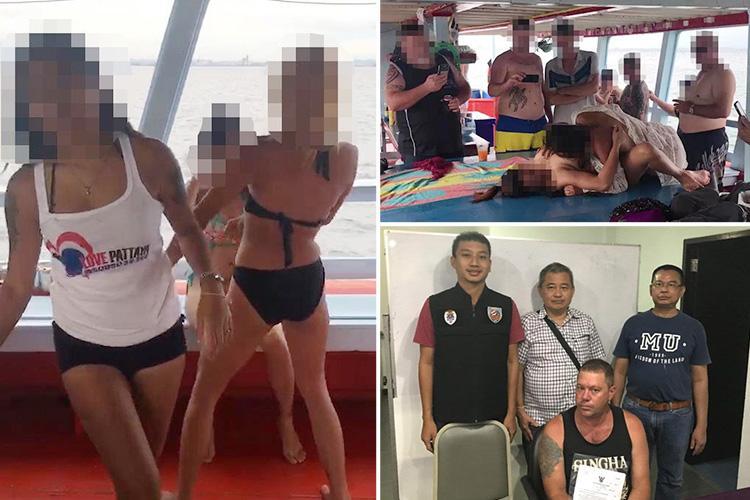 Now back home in Stockton, Newcastle, NSW, after his eight year thee month jail sentence was cut in half twice by Royal Pardons 53-year-old Stephen Carpenter said: "Aussie offshore workers made me start up a business I had closed for a year so police could operate their extortion racket. It was outrageous behaviour.
"It happened to me and I knew the same happened to Luke Cook," added Carpenter who ran a company called AusThai Tours offering tailor made tours in Thailand.
"Thai Police said I would get a life sentence because of the severity of the charges and I had destroyed the image of Thailand but they said I could go free if I paid 2 million Thai baht (A$41,000). I had no money. Even when I was running the business all I was doing was taking offshore what was happening for all to see in the clubs and bars every night onshore in the resort of Pattaya – and mine were private parties."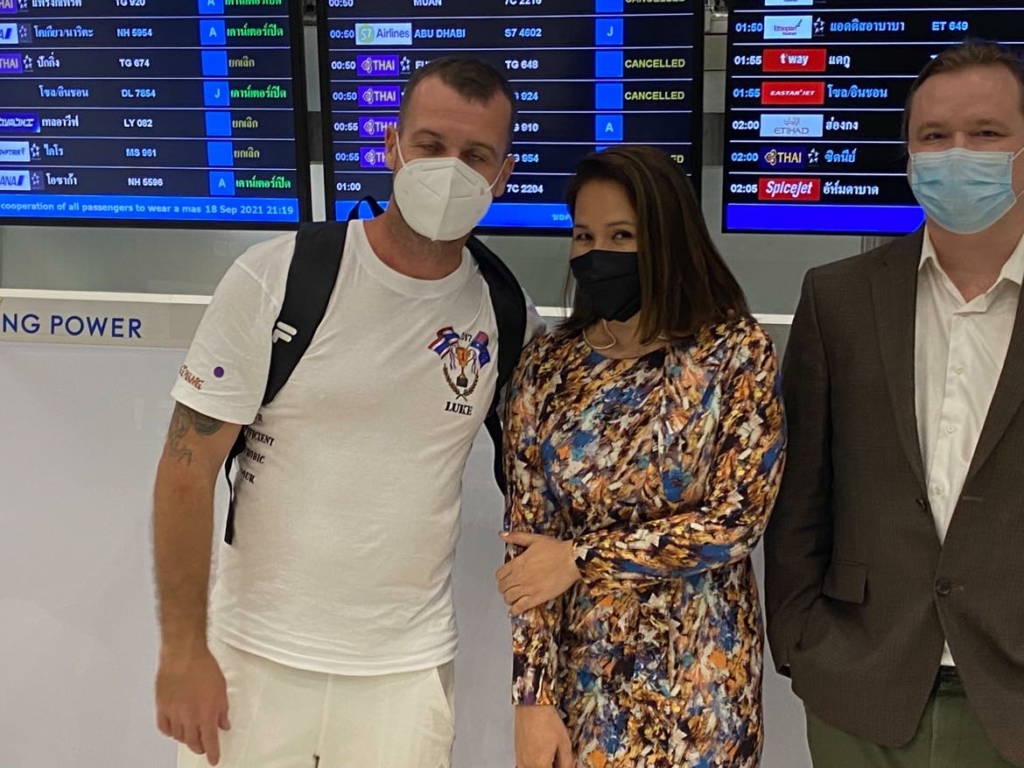 "I was sick to the core to discover that the very same Australians who set me up were the same two Australians who set up Luke Cook, so I contacted the Australian Embassy on my release and was put in contact with Luke's father Paul and Luke's defence lawyers. I subsequently provided a statement for Luke Cook's appeal. As he was waiting to board his flight to Sydney from Bangkok airport last Sunday (Sept 19) Paul thanked me by phone."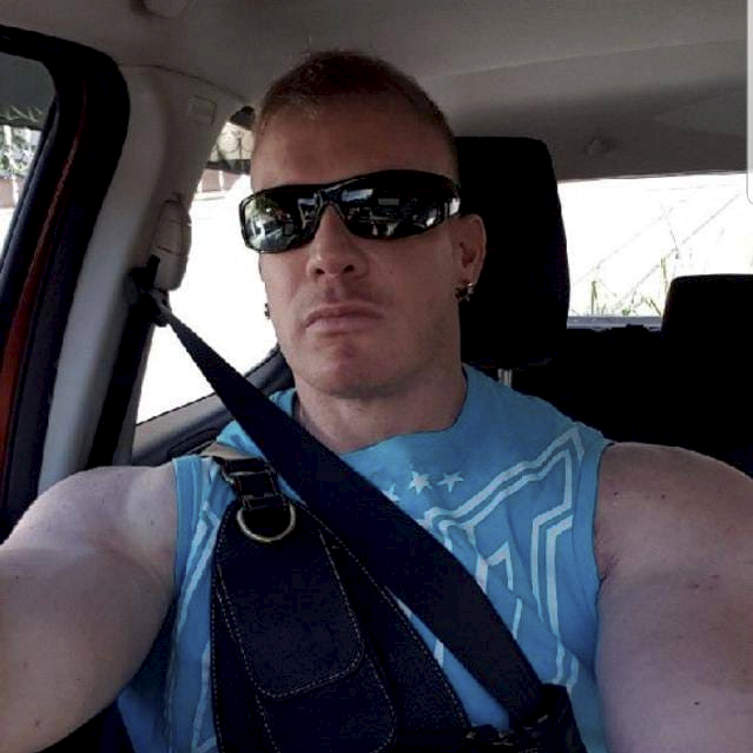 Luke Cook, 38, his Thai wife Kanyarat Wechapitak, and Californian Tyler Gerard, 27, who had been sentenced to death, were cleared of drugs trafficking at the Supreme Court in Bangkok earlier this month after the evidence of police and two offshore workers, Douglas Shoebridge, 39, from Perth and Craig Smith, was discredited.
Shoebridge had said that Luke, who ran a bar in Pattaya called 'Jolly's Piss Stop' had confessed to him that he had brought 'Ice' into Thailand on his yacht Jomandy but had dumped it when a Thai naval vessel approached.
Smith implicated Cook as a friend of the Hells Angels by saying the Cook's wife supplied them with 'young Laotian girls'.
The court was also told that a warrant of arrest had since been issued against Shoebridge by the Bangkok Criminal Court for sex trafficking east African women to Thailand and other Asian countries. Shoebridge's alleged partner Sara Musa Chitanda has since been jailed for four years.
Also presented to the Supreme Court was the official report of the inquest in Sydney on December 7th 2017 into the death of Hells Angels Wayne Schneider in Pattaya found that Shoebridge and his Thai partner had provided two cars used in the initial kidnap of Schneider and in the disposal of his body in a shallow grave in Pattaya. Further he had also put the deposit down to rent the house where Schneider was murdered.
When Luke Cook was originally arrested police said he was running the drugs for Schneider who had paid him $15million.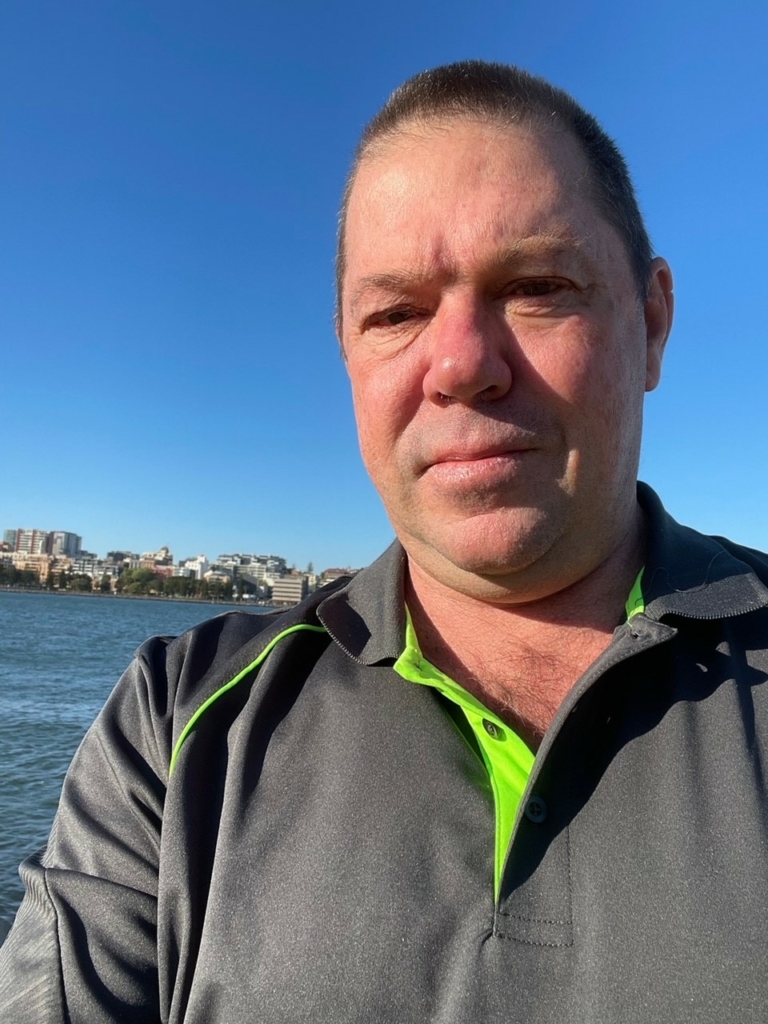 STEPHEN CARPENTER'S STORY……
Stephen Carpenter takes a walk shortly after dawn each morning to a spot in Stockton overlooking Newcastle harbour. Now back home with his mum he has come out of an eight year jail sentence which, to his relief, had been halved twice by Royal pardons and he now enjoys the sun on his cheeks and the sea air with some relish.
But when the conversation turns to his arrest in Thailand back in 2018 his mood changes. He hit the headlines worldwide in June 2018 when police arrested him and released videos and stills from one of his 'booze cruises' in the Thai resort of Pattaya showing sex acts taking place on board his rented party boat.
"I was so angry when police told me I had been turned in by two Aussies and one was supposedly my 'mate'. I felt absolutely sick. I wasn't a pimp. I was just a guy steering Aussies through the pitfalls of Pattaya and making sure they had a good time. Pattaya is known for its girls and tourists can easily fall into traps. On my tours they didn't.
"When I heard of Luke Cook's situation and that the same guys had stitched him up I was sick to the bone. I just had to help. I had to expose these rotten Aussie apples. So I got in touch with the Australian Embassy in Bangkok who put me in touch with his defence team and I signed a statement for them about what the witnesses against Luke did to me."
"When Luke was released last week he thanked me in a voice call from Bangkok airport. It was a quick call so I am hoping he speaks to me again but he is under quarantine and I guess he must have a lot on his mind."
"This was not just about bad Thai police behaviour. It's about dirty opportunists who are not helping Thai police out of the goodness of their hearts. They are doing it to help themselves. And the story had to be told.
"I was not arrested because these guys were shocked that I was running sexy booze cruises. They are off-shore workers and no prudes. I was arrested because Thai police wanted 2 million Thai baht! (AUS$41,000) to share!"
In the lead up to the hearing Carpenter said Shoebridge had called him to say "Shut your mouth or you'll end up in jail again."
His own eight-year sentence was staggering, he said, because: "I was providing no more than what was provided in scores of bars in Pattaya every night except this was on a boat and I was not making monthly payments to police.
"I did not pay the women to have sex with anyone. But clearly that was their evening work, They worked and performed shows in go go bars. I can't deny that. And they were there to make extra money for themselves. But they would have to take their customers back to a hotel. That's how the system works. I never organised any sex shows, but on some trips the punters would pass round the hat for the girls to do one of the acts they did in the bars.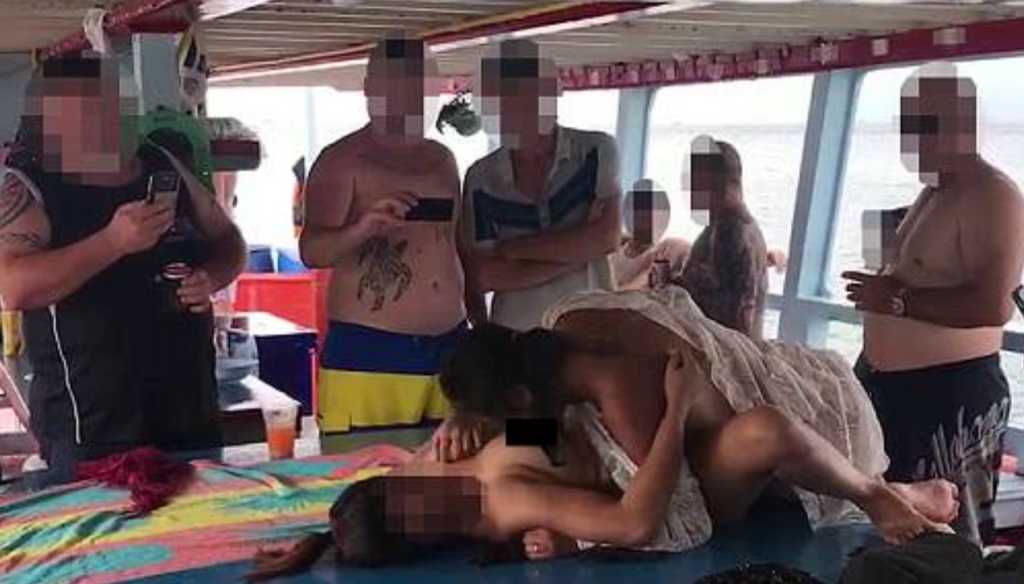 (Police obtained video of lesbian and dildo shows on one of the booze cruises from Carpenter's smart phone which went viral)
Despite his protests, police threw the book at Carpenter charging him with living off the earnings of prostitutes, operating a business for prostitution, bringing people together for the purpose of indecency, working without a visa, uploading obscenity onto social media, and overstaying his visa by two days.
He said that after his arrest he was not taken to Pattaya Police station but to a safe house a few miles out of town.
While I was being interviewed it became clear that two Aussie offshore workers working for the police, Douglas Shoebridge and Craig Smith had set me up. I knew Shoebridge. I was shocked. I thought he was a mate!
"I even rented cars from him, and he let me stay in his pad when I was between homes.
"He even suggested he could take over the Booze cruise business which I had shut down nine months before my arrest. I had even had flyers printed and gave him the company phone so he could run my booze cruise business himself.
"Police wanted access to my mobile phone. I refused. They slapped me around and I gave them the pin. I had the party stuff on my phone. All the image evidence against me came from my mobile phone and related to past parties.
"The police chief, whom I now know to be Police Lt. Colonel Dulayaphat Techaphonchayasin, came in and told me I would not be charged if I could find 2million Thai baht and agree to work with his team. I said I did not have the money. But if they let me go, I could find it.

"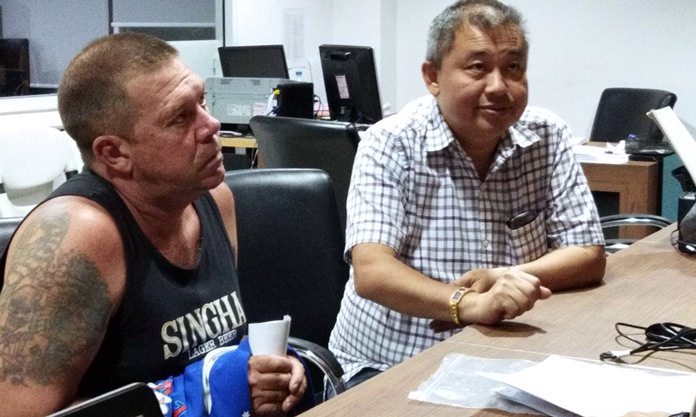 "My offer was not accepted, and I was banged up, sent to court, and sent to jail to await trial.
"But while in prison the Police Colonel came back three times to ask me to ask if I would reconsider his offer. I declined. I just wanted to go to court and get it over with.
"At court I was shocked again. I was jailed for 8 years and three months after pleading guilty after the judge warned me, I could get life if I put in a not guilty plea. There was nothing I could do. I had no proper legal representation just a court appointed lawyer.
"I couldn't fight the case. I did not have access to what the prosecution were saying. I did not put any videos up on the internet. They were put after I was arrested! I have not seen my phone since."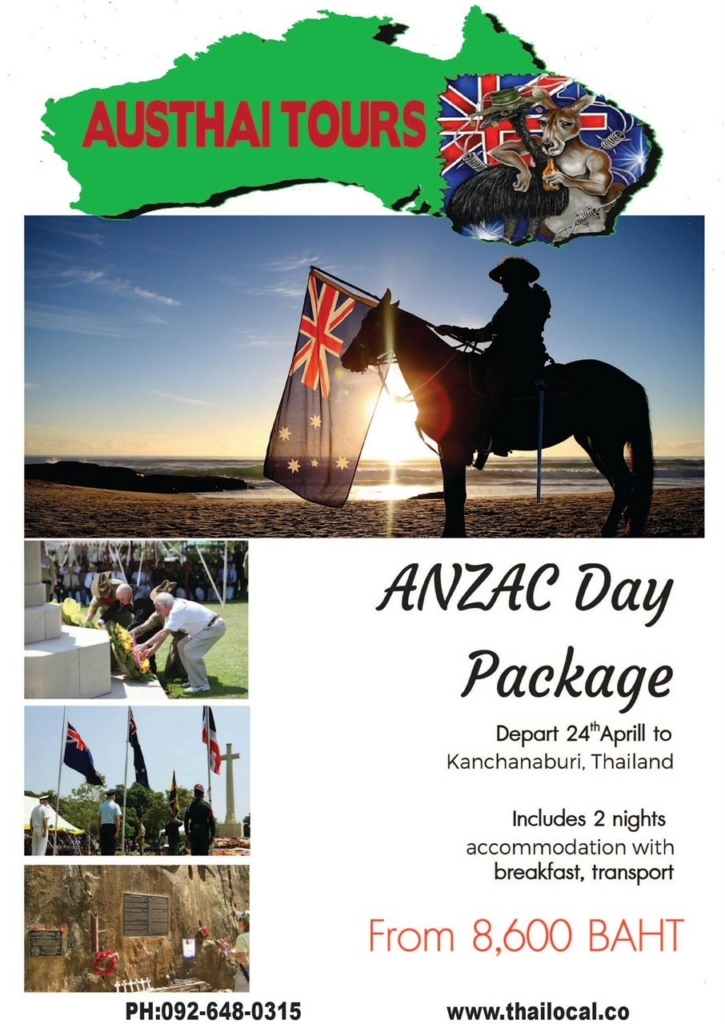 "My business was an Australia based company AusThai Tours and I did specialist tours in Thailand some for big companies including Caterpillar Australia. I took relatives of World War II veterans to the ANZAC Day Memorial in Hellfire Pass, I organised boat trips, golfing trips, and of course I did bar tours. The booze cruises were promoted, after customers arrived, as something extra.

"They were an illegal part of the business, because undeclared money was being earned in Thailand, but perhaps more so because police were not being paid. The last booze cruise I organised was in September 2017, that was nine months before my arrest, because I had moved from Pattaya to Phuket where I had begun a business making Aussie sausages and bacon.

"I was hundreds of miles away in Koh Samui when police started their sting. I got a phone call from an Aussie called 'Scarpa', who was actually Shoebridge's mate, Craig Smith.
"He wanted a booze cruise with seven girls for his mates. I told him I didn't do them anymore and was no longer in Pattaya.
"He kept pushing and promising good money. So, I eventually agreed and took 19,000 Thai baht deposit because I had to go to Bangkok and thought, well, I could look in on Pattaya for a couple of days and fix a tour.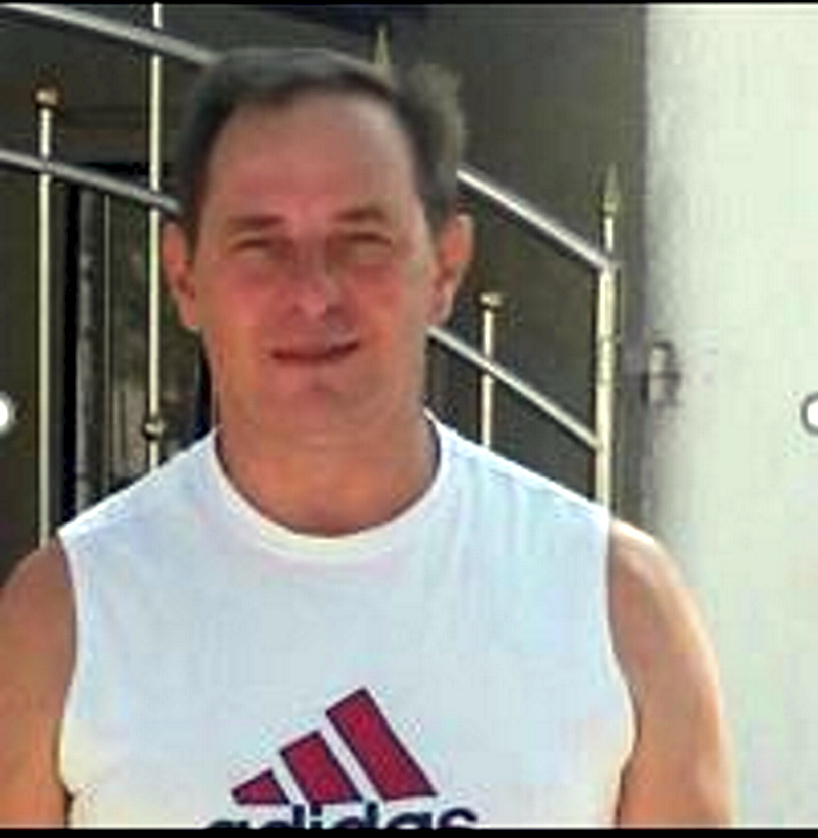 "But as the date of the planned tour approached, I cancelled. I have a Thai son and wanted to take him to see his grandmother in Pak Chong in Thailand's northeast, three hours north of Bangkok. I told Scarpa I would return his deposit.
"We were in Pak Chong out on the waterfalls for the day and then we came home and started having a BBQ. Two guys walked down and asked some questions.
"One of them sat down and took a photo with me. I did not take much notice of it. I thought to myself. 'They probably haven't seen a white guy much. That's probably why they wanted a photo'.
"About an hour to an hour and a half later the same two guys came back with two more guys. It was at this point it became apparent they were police officers.
"They arrested me, put me in cuffs, and drove me to Pattaya. But when we came close, they put a bag over my head. I actually thought they were going to kill me.
The photos taken in Pak Chong were sent to Shoebridge, he later learned, and Shoebridge who confirmed to police in Pak Chong that they had the right guy also showed them to a friend in Pattaya.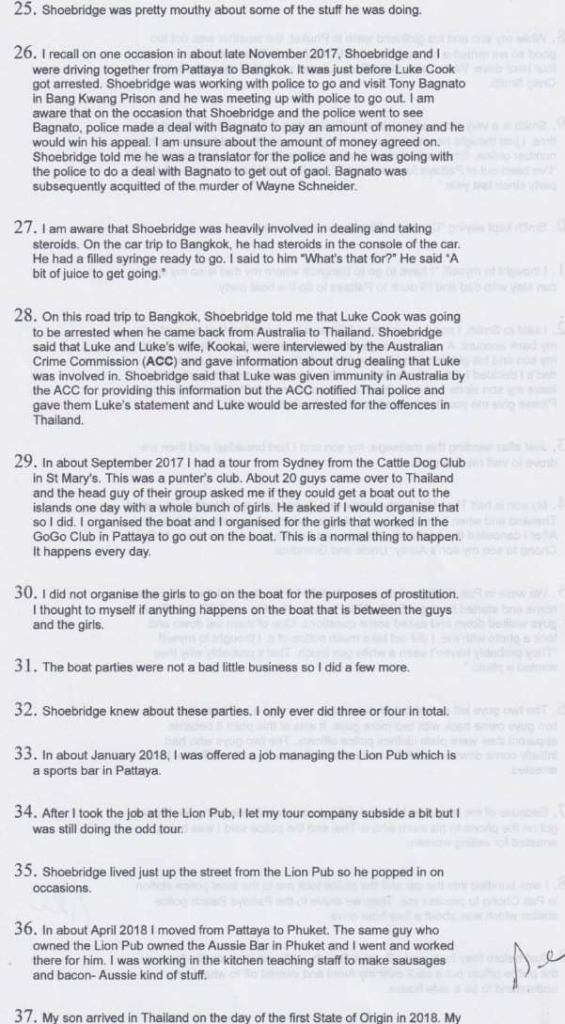 In his court statement Carpenter said: "I recall on one occasion in about late November 2017 Shoebridge and I were driving together from Pattaya to Bangkok. It was just before Luke Cook got arrested. Shoebridge was working for the police to go and visit Bagnato in Bang Kwang Prison and he was meeting up with police to go out.
"I am aware that on the occasion that Shoebridge and police went to see Bagnato police made a deal with Bagnato to pay an amount of money and then he would win his appeal. I am unsure of the amount of money agreed on. Shoebridge said he was the translator. Bagnato was subsequently acquitted,
(Although acquitted of kidnap and murder for which he had been sentenced to death Bagnato was immediately further indicted on arms charges. On his release he should be deported to Australia).
"I am aware that Shoebridge was heavily involved in dealing and taking steroids. On the car to Bangkok he had steroids in the consul of the car. He had filled a syringe ready to go. I said to him "What's that for?" He said:" A bit of juice to get going."
"On this road trip Shoebridge told me that Luke Cook was going to be arrested when he came back from Australia to Thailand. He said that Luke and his wife were interviewed by the Australian Crime Commission and gave information about drug dealing."
The ACC, according to Shoebridge, said Carpenter had given Luke immunity in Australia but had notified Thai police and given them his statement.
But speaking this week Carpenter said: "I now know that what Shoebridge was saying about the Australian Crime Commission was a load of * rubbish.
Carpenter's story of how he was set up was backed up in calls to former TCCC members. Photos of Carpenter were sent to Shoebridge who originated the idea and who confirmed to the officers in Pak Chong that they had the right guy before the arrest was made.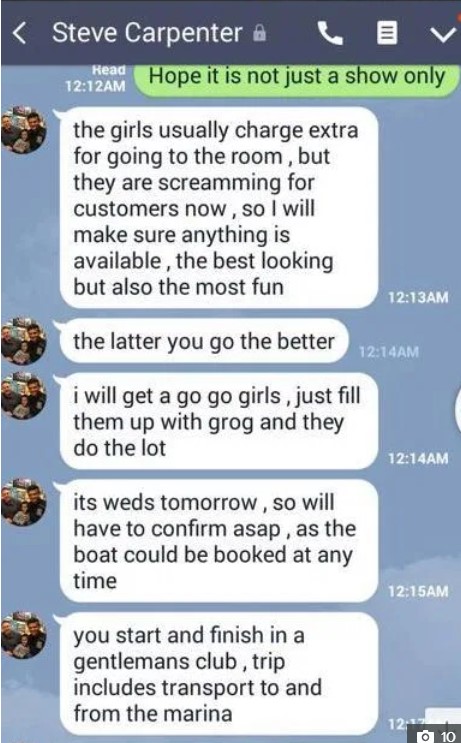 The Crime Coordination Centre presented phone messages from Stephen Carpenter to Craig Smith (who had ordered the booze cruise on behalf of the Thai Police) to convict Carpenter. But from the message screenshots it is clear that the Craig Smith wanted more than just a show. (left)
Screenshots can also come back to bite.
A screen shot message from Shoebridge on the mobile phone to police assistant Joshua Pate, an American national, and assistant to the the Police Colonel (below right) shows Shoebridge complaining about not being paid.
According to Pate, Shoebridge was angry that he was not yet compensated for his help in the arrests of Luke Cook, Kookai, Tyler Gerard, Steve Carpenter and two other Malee Farooqui and Dean Smart who were arrested for selling proscribed drugs under the counter.
The 15,000 Thai baht of his own money he referred to, said Pate, was for a wrap of cocaine which Shoebridge allegedly threw over Cook's Garden before police raided using their search warrant. He later sent photos of the, the wrap, and a map from a snip from Google Earth showing its location using cploured marker pens.
For more on alleged cocaine wrap go here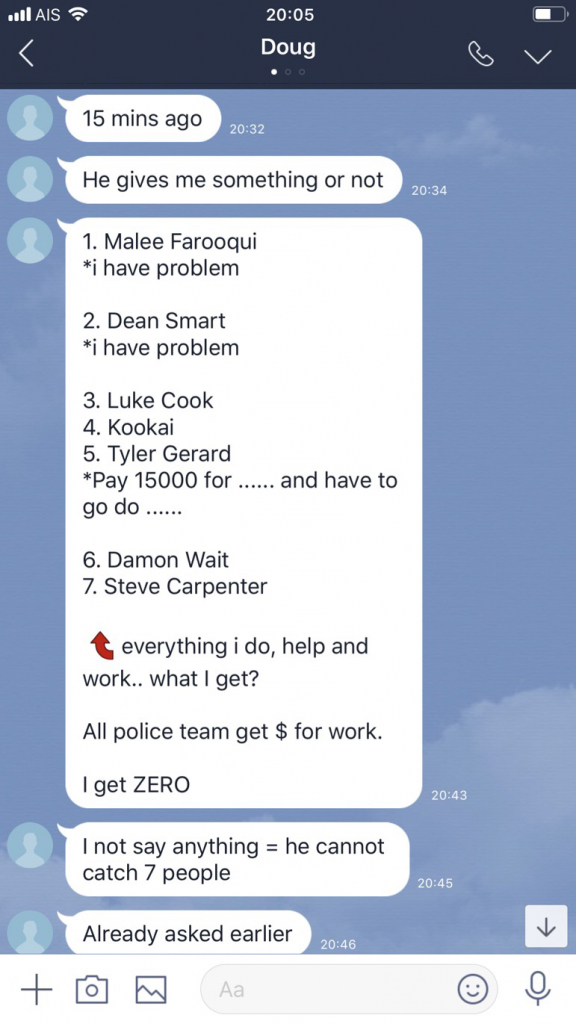 Shoebridge texts "Everything I do, help, work, what I get? All police team get $ for work. I get ZERO,"
In his witness statement for the Supreme Court Carpenter referred to this screenshot.
"There was a reporter called Andrew Drummond in one of Drummond's stories he published a screenshot which is attached to my statement as 'Annexure B'. This is apparently a screenshot sent by Shoebridge to the Thai police. It has the names of people Shoebridge set up and turned over to the police. My name is on there. So is Luke Cook, Luke Cook's wife Kookai and Tyler Gerard."
Russian-Israeli Boris Klimov was a foreign agent of the TCCC who part in the six-month long Luke investigation carrying out surveillance on his house.
Now working in a hotel outside Tel Aviv Klimov said he joined the TCCC after he was arrested for dealing in steroids.
"I took the offer and paid up my 2 million, that meant I got protection for my business and was meant to work for the TCCC."
But Klimov complained about the treatment of Luke Cook and said he was present when other volunteers were rehearsed for their court appearances in the safe house.
'One of the intended Aussie witnesses (name supplied) did not even know what Cook looked like and was given a photograph to study. I worked a lot with Shoebridge. He did not like Luke, but he hated Cook's Thai wife more.
She had taken 150,000 baht of his money to set up a pharmacy company, but it never happened."
RECAP ON THE LUKE COOK SAGA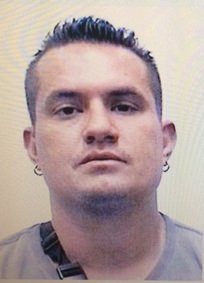 In 2015 50,4 kgs were found washed up on a beach in Thailand not far from the resort of Pattaya and nobody seemed knew where it came from. Then six months later Australian Hell's Angel Wayne Schneider was kidnapped, tortured, and finally buried in a shallow grave in Pattaya.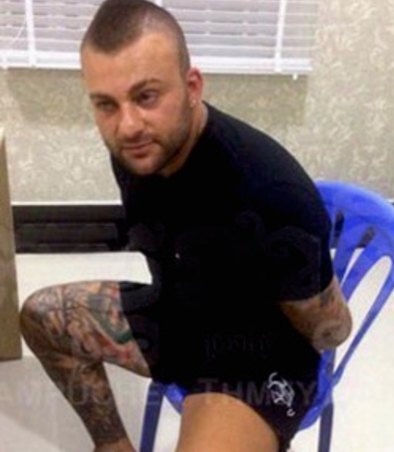 The leader of the murder gang Antonio Bagnato, famous for his involvement in the St. Michael Fight Club in Sydney and wanted in connection with another murder in Sydney, was arrested. Bagnato had been identified by two witnesses, but notably by a security guard on the gated estate where Schneider had lived, because he was not wearing a mask and the guard knew him as a frequent visitor.
Also arrested was an American Tyler Gerard who trained at a local gym with Bagnato and claimed Bagnato had asked him to come along to help him 'recover a debt'. Other members of the gang got away but Luke Cook, an offshore caterer, who ran a pub-hotel in Pattaya called 'Jolly Piss Stop' was arrested for aiding and abetting Bagnato's escape to Cambodia.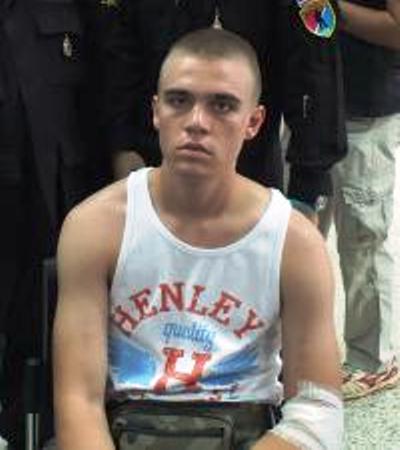 After the subsequent trial in February 2017 Bagnato was sentenced to death, Tyler got 3 years for aiding and abetting in the kidnap, and Cook got just a three-month sentence which was suspended. He had told the court that Bagnato had turned up at his guest house demanding to be driven to Cambodia. 'He had a gun,' said Cook and he told me: 'I don't want to use it, but I will.'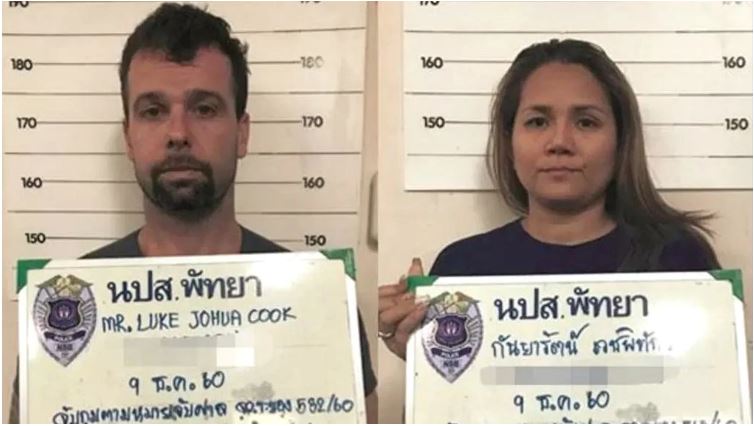 Nothing was heard about the drugs which had been washed on the beach for two and a half years. Then in December 2017 Thailand's Narcotics Suppression Bureau announced the arrest of Luke Cook, and his Thai wife, and charged them with trafficking in over half a tonne of 'Ice' destined for Australia.
Cook his wife, and Gerard Tyler (who allegedly was part of Bagnato's gang) were said to be working for the late Hell's Angel Wayne Schneider.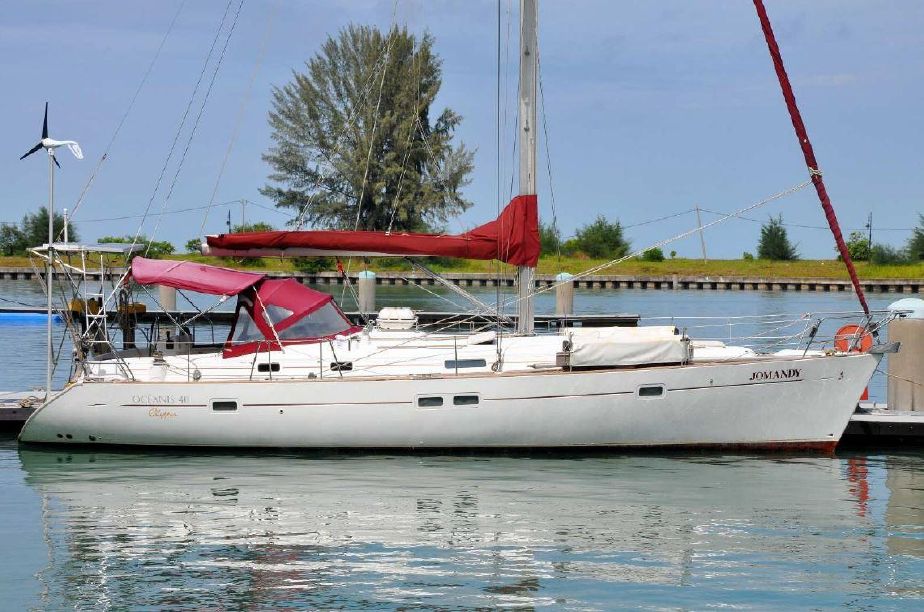 Reading from a script NSB Police Lt. Gen. Sommai Kongwisaisuk said Cook and his crew, working for Schneider had offloaded 500 kgs from a Chinese supplier in international waters but dumped it at sea when his yacht 'Jomandy' was caught in the in the lights of a Thai naval vessel. Cook lived well above his means and police had seized luxury cars, big bikes, houses, and condos. Exciting stuff. The media swallowed it all verbatim. But then again it was official police press conference.
But very little was true. Cook's house was mortgaged. His BMW was leased. He did have bikes, but none that any Hells Angel would ride. But this was not an NSB case. It was an investigation carried out by a unit calling itself the Transnational Crime Co-ordination Centre which kept an office and a detention cell in a house two miles outside Pattaya.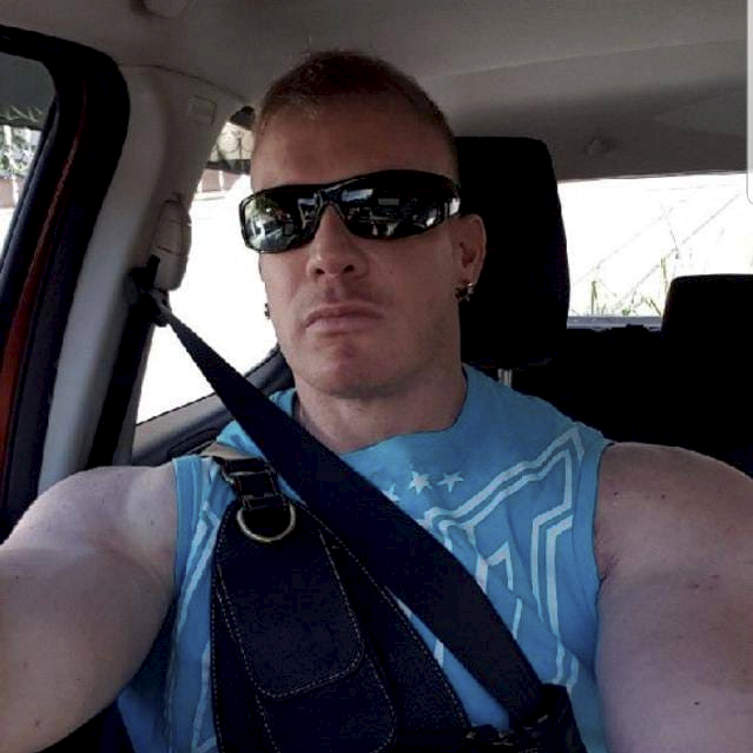 Its team comprised a Colonel half a dozen Thai officers and a bunch of foreigners several of whom had been arrested selling illegal drugs, paid a fee and joined the team. There was also a core of Australian offshore workers. The vital evidence against Luke and Gerard Tyler came from a compass adjuster from Perth named Douglas Shoebridge, who had taken part in several dubious arrests, who insisted that Cook had confessed his crime to him.


However, on the very day the NSB announced Cook's arrest, an inquest in Sydney heard from Det. Sgt Roe of the New South Wales Gang Squad that Shoebridge and his Thai partner supplied the cars used in the kidnapping of Wayne Schneider and the disposal of his body and rented the house in which Schneider was tortured and murdered. The Australian Federal Police had no dealings with the Thais over Luke Cook's arrest.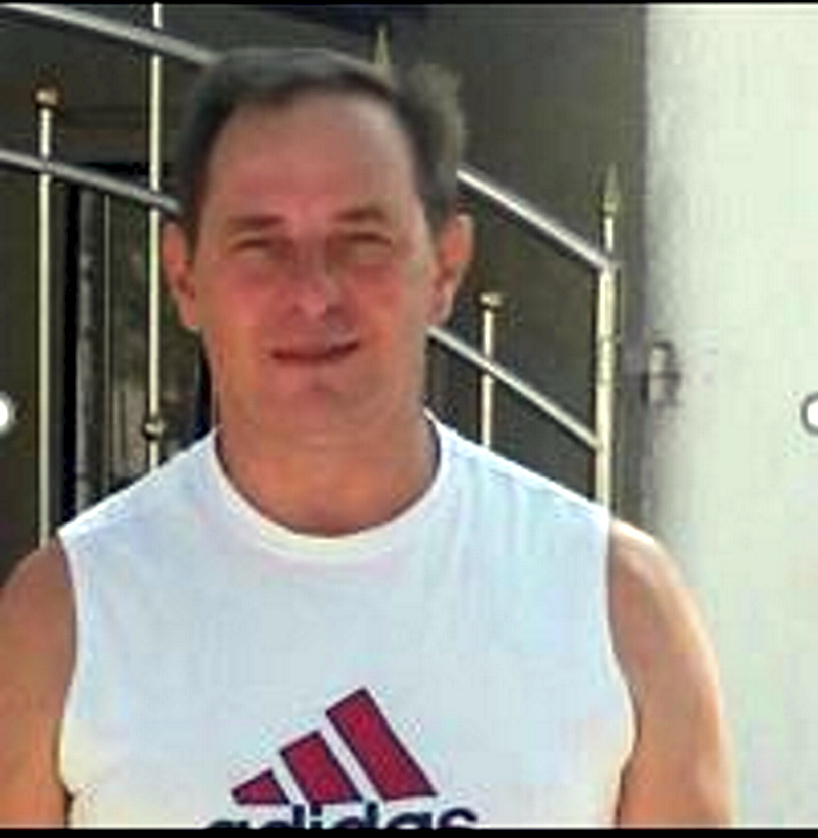 Cook, his wife Kanyarat Wechapitak, and Tyler Gerard were duly sentenced to death on the primary evidence of Shoebridge and other evidence from Craig Smith another offshore worker and TCCC assistant who provided links to the Hells Angels by giving testimony that Kanyarat supplied Laotian women to the bikers.
The pleas by Luke's father Paul Cook, a New Zealander, that his son was innocent, was not a Hell's Angel, and would not associate with such, got lukewarm reception in the Australian media.

But then the story began to unravel. Defecting members of the TCCC were quick to point out that the case against Cook was indeed a fit-up. They were no strangers to fit ups, but thought it was going too far doing so in a death penalty case. In Luke's case they thought he had lots of cash and houses, but he didn't. They also claimed, and they were dealers themselves, that Shoebridge was active in trafficking and selling steroids.
Moreover both Shoebridge and Smith were livid at losing money to Cook's Thai wife who offered quasi legal services. In court they denied they had any grudges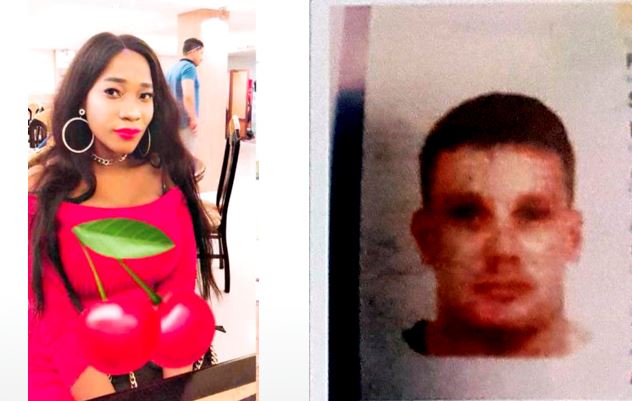 But the bombshell came when the Thai Police Anti-Human Trafficking Unit issued an arrest warrant granted by Bangkok Criminal Court for Shoebridge for trafficking in women from East Africa to Asia. Shoebridge's alleged partner Sara Musa Chitanda, a Tanzanian national was subsequently jailed for four years. However, Shoebridge was able to leave Thailand and return to Australia. And no extradition has been sought.