SCANDAL OF THE BLACK SLAVE TRADE IN THAILAND
THAILAND HID WARRANTS FOR ALLEGED AUSSIE SEX TRAFFICKER AS AUSTRALIA SLAPPED IT ON THE BACK FOR ITS EXCELLENCE IN COMBATTING HUMAN TRAFFICKING.
MEANWHILE BABY BOY WAS DROWNED IN BUCKET IN BECAUSE HE STOPPED MUM FROM WORKING THE STREETS – says victim
Part 1: 'WHY DID THEY LET 'BIG DADDY' GO?'
Thai Police withheld the warrant of arrest for the alleged Australian boss of a sex-trafficking syndicate from their computer, while Australia congratulated Thailand on its role in combatting human trafficking.
As a result, the syndicate's 'Big Daddy', an Australian offshore worker, doubling as a Thai police informant, was quietly allowed to flee charges of trafficking African women to the sex trade in Bangkok.
And once free, claims the principal witness against him, he was able to orchestrate agents to harass her in Kenya to get her to change her evidence. She refused.
'Why did they let Big Daddy go?' she asked, referring to the British born Australian. But she never got any answers.
The decision by Thai police, not only put the woman in a fear for her life, but infuriated the detectives who investigated the case. For, they claimed, they had been harassed by rogue police, who had tried to interfere while they were protecting the principal witness in Bangkok.
It also raised questions over the international treaties Thailand and Australia have signed together to cooperate in the policing of human trafficking and left both countries exposed to accusations of racism. The only person pursued and prosecuted was the Australian's partner and lover – a Tanzanian national – who was jailed for four years.
The 'Big Daddy' was named as Douglas Shoebridge, 39, from Perth, Western Australia, and was a favoured informant for an 'ad hoc' and rogue 'Combatting Foreign Crime Unit' operated by a former Thai Special Branch officer. The unit had a private house outside the Thai resort of Pattaya from where it targeted foreigners.
Central to the issue of his escape may have been that his evidence as the primary witness in a high profile Hell's Angels drugs trafficking trial, had led to the death sentence of an Australian fellow offshore worker and 'mate'.
But the case was being appealed and revelations, which had been withheld from the court could result in the case being dismissed – as it eventually was.
This 'Combatting Foreign Crime unit, it is claimed, was created as a money making operation and even touted its services around Embassies in Bangkok. The U.S. DEA was one of the agencies that had been convinced to co-operate, but it withdrew its support after discovering matters relating to 'foreign informants' with which it was 'uncomfortable'.
Shoebridge's evidence had led to the death sentences being passed on his former 'mate' Australian Luke Cook, Cook's Thai wife, Kanyarat Wedphitak, and a young American. 23-year-old Tyler Gerard. All were acquitted after four years in custody by the Supreme Court. I had passed on the original arrest warrant which the court had known nothing about. But in any case the judgement described Shoebridge as described as 'not an honest man' and his evidence was 'inadmissible' and 'had no preponderance'. This case was ongoing when the sex trafficking arrest warrant for Shoebridge's was first issued.
Shoebridge's tip-off led to the jailing for eight years of an Australian 'mate' Stephen Carpenter, who had been arrested on charges relating to supplying boat parties with Thai hostesses in resort of Pattaya. The case was ludicrous in comparison to exploitative acts taking place in the venues onshore, where police take payments from all sex venues to turn a blind eye.
Shoebridge also provided 'muscle' for the dubious arrest at the request of the Russian Embassy of Russian escort Anastasia Vashukevich aka Nastya Rybka and a group of Russians accused of running a 'sex seminar' in Pattaya . (Vashukevich said she had evidence incriminating Russian collusion in the 2016 election of President Trump through her relationship with sanctioned oligarch Oleg Deripaska)
But before all that he and his Thai wife acting on his instructions had supplied the vehicles and venue for the homicide of Australian Hell's Angel Wayne Schneider in 2015. Specifically, he and his wife Siriphat Saimat supplied two vehicles used in the kidnap (one hired in her name, the other their registered to her). And they had rented the house, Shoebridge himself putting down the 100,000 baht deposit, where Schneider was tortured to death before being buried in a shallow grave. This was all recorded at a New South Wales inquest in December 2017.
The Thai Police Anti-Trafficking in Persons division (ATIP) closed down the trafficking ring for which Shoebridge was the alleged 'Big Daddy' in 2019 with the help of New Zealand police volunteers.
But a media blackout was imposed on the event. And after Shoebridge's partner and lover, Tanzanian national, Sara Musa Chitanda, was jailed, the issue quietly faded away.
Scared for her life
No compensation was paid to the victims, as per the treaties, because neither police or courts pressed the perpetrators to pay, and the women involved were quietly repatriated to Kenya and Tanzania.
The victims had been granted visas to Thailand without even having to sign documents or make an appearance at the Thai Embassy in Nairobi, it is claimed, indicating corruption in Thai diplomatic circles.
The repatriated principal witness, a 34-year-old Kenyan woman, who courageously went to police and testified in court, this week claimed she was still in fear for her life. The woman, whom I am calling 'Jenny'* said:
"I was told that nothing would happen to the boss if I went to police – because he worked with police. But Thai police said he would be punished, and I would be protected. Instead, Douglas Shoebridge got protected. Why has 'Big Daddy' never been arrested?"
And a New Zealand detective, a team leader, involved in the original investigation describe the Shoebridge case as a 'disgrace'.
According to the International Labour Organisation, Thailand supports a US$12 billion business in the trafficking of people – more than the drugs trade.
Both Thailand and Australia are signatory to two treaties, the Bali Process and ASEAN Act and have committed themselves to fully cooperating in law enforcement to stamp out human trafficking and assist the victims.
Australia flatters but Africans suffer
And in recent years, far from expressing concern, Australia has repeatedly congratulated Thailand for its actions in stamping out the trade.
Its most recent pat on the back for Thailand was last November in Bangkok when Australian Foreign Minister Penny Wong praised Thailand's Prime Minister General Prayuth Chan-ocha and Deputy Prime Minister Prawit Wongsuwan on their country's newly created 'Centre of Excellence' against human traffickers.
And also in November Deputy Prime Minister Prawit Wongsawarn stated that the government would not tolerate any involvement in human trafficking by state officials, stressing that operations against human trafficking must take into consideration the mental health of the victims, adding that government agencies must work more collectively with NGOs and international organizations.

Thailand has been internationally condemned for its treatment of Rohingya fleeing Myanmar. Australia is fully aware of Thailand's history in human trafficking and itself has given refuge to Major General Paween Pongsirin, who led the investigation into Thai army Lt.-General Manas Kongpan, and numerous politicians and lower ranking army and police officers, who were also complicit in the human trafficking of the refugees.
But Thailand has now allowed itself to become both a destination and a transit country for a 21st century black slave trade from Africa to southeast Asia, while local police run a thriving business in 'instant fines'.
Kenya Warns Citizens Be Wary of Accepting Jobs in Thailand
Both the Kenyan Foreign Ministry and its Ambassador in Bangkok have issued warnings to citizens to be wary of accepting jobs in Thailand, Myanmar, Laos, and Cambodia, where hundreds, fleeing the combination of a drought, a post Covid recession and and spiralling inflation, have been been tricked or forced into slavery, in either cyber scamming, or prostitution.**
Jenny, who thought she was being employed in a chain of beauty salons, had complained to both the Thai and Australian authorities. But when she raised her plight with Australia's previous Minister of Foreign Affairs and Trade (Marise Payne) last year, she did not even get a reply – just an acknowledgement of receipt of her letter. Questions for the current minister Penny Wong have also gone unanswered.
Jenny had asked for justice adding:
"If it were white Australian women who were trafficked would you do nothing?"

Jenny
'Here's your cab fare'
After giving evidence in court, 'Jenny' said she was given just 3000 Kenya shillings (US$24) for a taxi home after being escorted to Nairobi by an official of the International Office for Migration. (IOM).
Douglas Peter Shoebridge, is by profession a FIFO (Fly in Fly Out) ship's compass adjuster. The unorthodox 'Combatting Foreign Crime' was run by a Lt. Colonel Dullayapat Dechapornyasin, a former Special Branch staff officer in Bangkok.
Dullayapat reported to a general in the Crime Suppression Division in Bangkok. But to all intents and purposes he was a free agent running a lucrative business provided he passed some of the rewards up the line as is traditional. He has since been transferred to an 'inactive post' in Wiang Sa, Nan, in northern Thailand.
Victim 'Jenny' said a visa had been arranged for her as well as her ticket and had been given Shoebridge's number to contact on arrival in Bangkok.
Detectives said that Shoebridge's name and telephone number had been provided to most sex trafficking victims before their flight departures and they were coached to say Douglas was their boyfriend and were instructed to provide that telephone number to any immigration officer if they were stopped and questioned.
The investigation by the NZ detectives had also found that the victims were not required to attend the Royal Thai Embassy or even sign a visa application document as all visa application formalities were carried out at a cost by a fixer or middleman.
In most cases, victims would not even have a passport or visa until they were provided with both at Nairobi airport as well as an electronic ticket in their names.
The trafficked women were also provided with a sum of money, between US$500 and US$1,000, to show, if requested, as proof of funds to support themselves, and sometimes also US$100 to US$200 to pay corrupt officials on departure. These sums of money, if used, were added to the victims' debts which varied between US$6,500 to US$25,000.
Prior to departure some had often undergone a tribal type ritual organised by the trafficker designed to leave them in mortal fear for their families should they not pay all their 'debts' back.
On arrival in Bangkok Jenny successfully passed through Thai Immigration and when she got to a taxi she said she called Shoebridge and let him speak to the driver. After arrival at M.D. Place apartments in Din Daeng, Bangkok, where she was to share a room with four other women, she soon found out that she had been trafficked. The chain of beauty salons did not exist. She would have to sell herself on the streets. And there was little she could do about it.
"I was shocked. There was nothing I could do. I didn't know anybody in Bangkok. I did not have a ticket. And Sara said I would be wasting my time going to police. They made money from it too. Besides, she said, 'Big Daddy' WAS police. He worked with them and knew them all. I would just be put in jail she said."

'Jenny'
Baby drowned in bucket
Horrifically, she said she had witnessed the drowning of the baby boy in an apartment she shared with four others in a M.D. Place.
The mother had been forced to work the streets until she was eight months pregnant. But the baby now interfered with business.
The Australian's Tanzanian partner had told the woman, also Kenyan, to get rid of it, said Jenny. And, after bringing along medication, the birth was induced.
Speaking from a Middle Eastern country* Jenny said:
"The baby came out alive and screaming. He was a perfect little baby boy. I will never forget his cries. Never! The boy was then taken to the bathroom and drowned in a bucket. Afterwards the baby was taken to a local clinic where he was reported as still-born."

Jenny
Enquiries showed that the young victim who had given birth was put back to work on the streets in Bangkok and shortly afterwards transferred to Bali in Indonesia by her traffickers, where it was reported she was suffering psychologically and was repeatedly begging her traffickers for a flight back home.
The traffickers refused to provide her with a ticket as she still had a 'bill' to pay. It is thought by the team, but not confirmed, that to save ticket money and trouble Shoebridge's and Sara's representative in Bali tipped off local police. But in any case she was arrested and deported back to Kenya by Indonesian immigration officials, who had been provided her accommodation address.
Jenny' said that she had figuratively been fed to the lions when Thai police allowed the syndicate's Australian 'Big Daddy' to go free to track her down.
Shoebridge she said was the 'Big Boss'. He organised the ticketing and in Bangkok would drive women in his Ford Ranger, to some venues. Alternatively he would accompany women by taxi in to 'posher' venues, such as Spasso nightclub in the city's Grand Hyatt Erawan Hotel, where single black women, unless guests of the hotel, would normally not gain entry.
Another part of the business, said Jenny, was for the women to offer to sell cocaine to 'punters' which was provided by Sara. But she, personally, had refused to do this.
"I am scared for my life. 'Big Daddy' said he would find me 'no matter how long it took.' He employed agents and one was sent to Nairobi to get me to change my evidence, but I refused," she said.
"Why was this allowed to happen? There were other Kenyans involved I am still in fear for my life. I am African. I am black. but are we not all the same under God?
"Thai police promised I would be looked after. They did the opposite. They looked after the trafficker. All I want is justice. I appealed to Thailand. They said nothing. I also appealed to the Australians, but they too did not reply. Nobody cares."
'A disgrace' says New Zealand detective
Back on duty in Canterbury, New Zealand, the investigation co-ordinator Detective Sergeant Daneil Isherwood described what happened in the Shoebridge case as 'a disgrace'.
"There were clearly back door deals being done by more powerful authorities."
His team, working for the anti-human trafficking Ngo 'Lift International' had handed control over their investigation to ATIP after discovering they themselves were under police surveillance.
This happened when they were escorting 'Jenny' and noticed that they themselves were being followed and photographed. And the episode became a 'Keystone cops' farce as cops chased cops on express boats for miles along the city's Saen Saeb canal in Bangkok and through the Mall and food court at Bangkapi.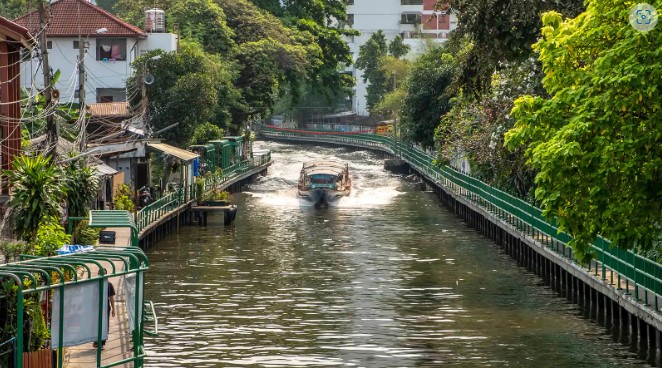 They later identified two of their followers from photos of members of Dullayapat's Combatting Foreign Crime unit, including Dullayapat himself. The NZ team complained to ATIP leaving the case fully in ATIPs hands.
There was a confrontation between ATIP and the Narcotics Suppression Bureau, which had the Luke Cook drugs trafficking case under its umbrella. The outcome of this meeting the NZ detectives, mistakenly perhaps, believed was in their favour.
Isherwood, who has a background investigating organised crime, stressed that the ATIP team (the Thai Police Anti Trafficking in Persons Division) to his knowledge had acted properly throughout.
"It's been incredibly disappointing that this man Shoebridge not been apprehended under the arrest warrant and held accountable for his part in the human trafficking of women," added Isherwood.
The active and former New Zealand police investigators as well as civilian staff now say they would be willing to also give evidence outside Thailand as did Jenny.
Three warrants issued but none found in police computer
Of three successive warrants issued against Shoebridge by Bangkok Criminal Court, none were entered into the police national computer until he had left Thailand. And none have been elevated to an international level.
The first warrant was issued by Judge Chutipan Atikiat at Bangkok Criminal Court on February 15th, 2019, after Sara Musa Chitanda, who faced the same charges, was arrested.
The second warrant was issued on May 29, 2019, and the third was issued on February 15th 2022, said Police Colonel Nalinee Chiawnoy of the Anti-Trafficking in Persons police.
Unnamed Prosecutor blamed
Lt. Colonel Nalinee admitted that the first warrant had not been entered into the police national computer because she had been ordered not to by the prosecutor, who said he wanted to add Shoebridge's British passport details. (Shoebridge had dual nationality but little recent connection with the UK).
But there was only a token hunt for Shoebridge, even though police knew he was working for Colonel Dullayapat in Pattaya, where Shoebridge, through proxies. also had two properties.
He was allowed a leisurely three months to tidy up his affairs and gather his belongings in Pattaya, where he also had a Thai wife and young daughter and exit the country alone in April through normal channels leaving them, and Sara Chitanda, behind.
Shoebridge then, say the New Zealand team members who kept contact with Jenny, set about trying to reverse the evidence in Sara Chitanda's trial, while they followed all his moves. This was backed by phone recordings.
'It was corrupt cops and evangelists' says Shoebridge
From Australia, Shoebridge clearly thought that his agents had got 'Jenny' to change her evidence in his favour. When the first 2019 warrant was leaked to the media Shoebridge's initial response was to announce that evidence had been reversed. In a media complaint about 'MailOnline', which had understandably but mistakenly, claimed he was an 'international fugitive' he said:
"My arrest warrant was issued for human trafficking, of one Kenyan woman claiming to be the only victim, who has retracted her initial statement and accusations, saying she lied, claiming she was offered benefits by a corrupt Evangelist NGO and Human Trafficking Police. I'd answer yes, and confirm the warrant was truthful to being only a "human trafficking warrant" at the time of publication. The "sex trafficking ring" is untrue."
(NB Shoebridge was accused of trafficking in three or more persons for prostitution. See translation below)).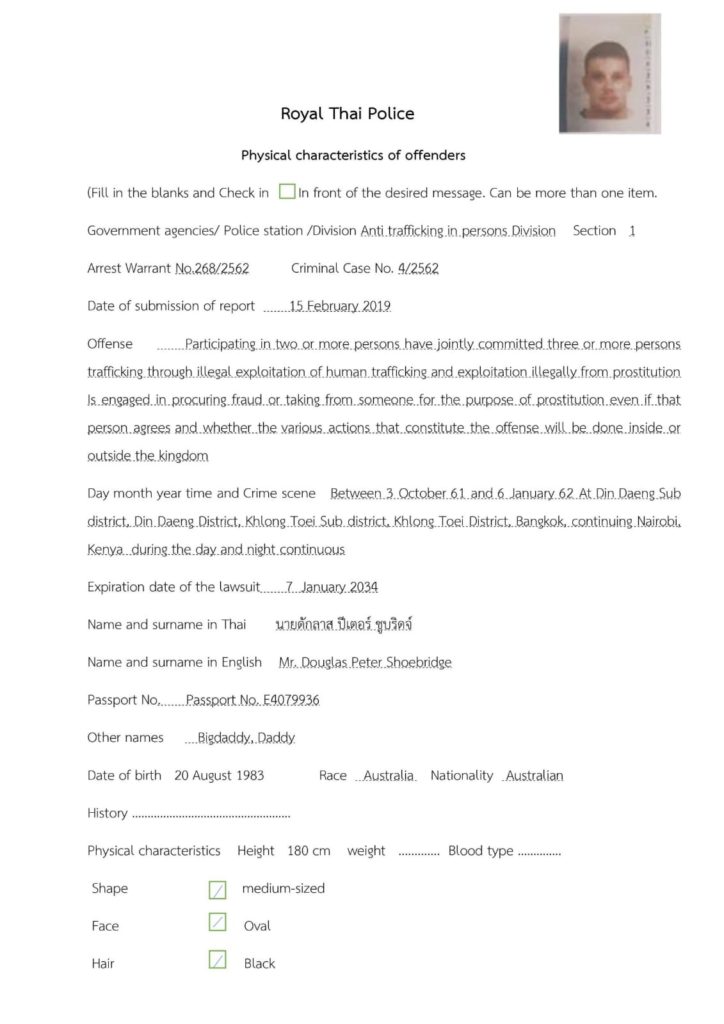 The hard-bitten New Zealand detectives would have laughed at their description as corrupt evangelists, but what Shoebridge did not know when he gave that statement was that in their investigations, they had already blocked that expensive attempt to pervert the course of justice.
They had identified as a facilitator a Tanzanian national Florean Rwehumbiza Laurean, who used to meet up with Shoebridge at Spasso in Bangkok's Grand Hyatt Erawan Hotel.
Sign or she dies?
Jenny had told the New Zealand detectives from Nairobi that she had received a call from Douglas Shoebridge, who said he would find her 'no matter how long it took'.
Shortly afterwards she had begun receiving calls from Laurean, (he drops his last name on Facebook – right) using the name Jeff, identifying himself as being in the employ of Shoebridge, and asking her to change her evidence.
According to the recordings, copies of which I have obtained, which Jenny had passed on to detectives, Laurean, first pleaded: 'Sara could even die in a Thai jail if you don't sign.". But he later took a different tack reminding her 'how dangerous Douglas is,' before finally getting around to offering cash.
The only 'benefits' being offered were being offered on behalf of Shoebridge – not by a 'corrupt Evangelist Ngo and human trafficking police' – and as the figures got higher, and it was perhaps sensed Jenny might be on the brink of agreeing, Lauren sent his Thai 'legal secretary' to Nairobi to complete the negotiation.
"I spoke to this woman on the phone. I have her name. But I refused to go and see her at the Gracehouse Resort Hotel where she was staying. They were offering US$10,000. They wanted me to go to the Thai Embassy to sign a statement saying I had lied in my evidence. I refused," Jenny said.
Second Aussie turns up for sex trafficking case
Florean Rwehumbiza Laurean was in court on the last day of Sara's trial in May 2020. As he had no qualifications to represent clients in a Thai court, he was there with a Thai lawyer from JP Law, whom he had engaged through his alleged 'international law and investment company' McWalden & Bailey.
Laurean claimed to be a lawyer representing Sara Chitanda on behalf of the nearest Tanzanian High Commission in Malaysia, which was later denied by the High Commission.
McWalden & Bailey company boasts that its headquarters is at 11 Church Street, Great Bookham, Surrey, England, with offices at One Pacific Place, Bangkok, and also in Singapore, Hong Kong, and Delaware, USA. He had also joined the American Chamber of Commerce in Bangkok.
But McWalden & Bailey was dissolved by the Registrar of Companies House in Britain in 2017 as it had never presented any accounts, and the 'head office' was purely a serviced office of UK Company Secretaries, which features heavily in the 'Panama Papers'. All the other offices are also serviced. In Bangkok he has an answering service. He has not replied to messages.
Curiously also in court to offer Sara support was a friend and colleague of Douglas Shoebridge called Craig Smith, another offshore worker from Fremantle, West Australia and another aide to Colonel Dullayapat. Smith had provided the smoking gun in the 'boat orgy' operation against Stephen Carpenter by convincing him to lay on just one more 'booze cruise' and had been photographed on other police raids.
(Carpenter had cancelled the event and offered to refund the deposit. So, when he was arrested, photographs from an event the previous year were used in evidence and circulated by Thai police worldwide. See Part 2)
Craig Smith was observed greeting and taking a photograph of Sara as well as entering into several conversations with Laurean.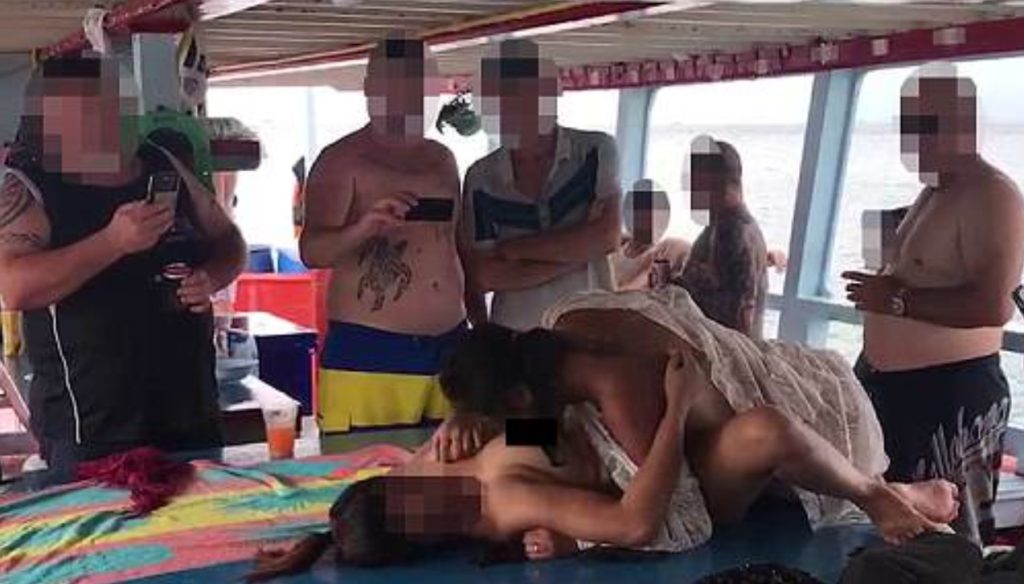 The defence was short. Chitanda's Thai lawyer tried to introduce a document provided by 'Jeff' purporting to be a retraction of evidence from 'Jenny'. But the court had been forewarned.
Plead guilty Sara!
Said a LIFT investigator who was in court**: "Sara's legal team was immediately warned by the judge asked to see the authors of the document. If it was found to be fake, then the authors lawyers and defendant would be in very serious trouble. At this point 'Jeff' turned to Sara and said very loudly: "Plead Guilty Sara!" This she did and Sara Chitanda was jailed for four years."
Added Det Sgt Isherwood: "We scared the hell out of Laurean, the African so called lawyer. I had worked to ensure Sara was imprisoned. Lauren was turning up to court basically lying to the judge, telling him the complainant had retracted her evidence."
With a letter of permission from Jenny, who was entitled to ask, I checked with contacts in Thailand, who were able to check the police national computer on her behalf for the warrants issued on her case. They reported back that the warrants for Shoebridge issued by Bangkok Criminal court were not on the computer.
Something is not right
So, I asked Kanokrat Nimsamooth Booth, a legal assistant who has assisted in high profile cases in Thailand to double check with Nalinee. She also had a letter from 'Jenny'. Kanokrat reported back:
"Colonel Nalinee confirmed that three warrants had been issued giving the dates of each warrant. And she also said she had passed the papers on the case to a named representative of the Australian Federal Police. She said she had also passed the matter on to her Foreign Affairs department.
"There's something wrong. I was looking at the police computer at the same time Nalinee was saying the warrant was up. But it was not. Something was definitely not right.
"I checked three provinces, Chonburi,, Chiang Mai, and Petchaburi. Nobody could find the warrants.
"It looks like something is not right at both the Australian and Thai ends."
So, what could have gone wrong? Thailand has a history of not supporting victims of the sex trade; most recently last November when a Kyrgyzstani women fell to her death from the 7th floor of a hotel block in Pattaya after being trafficked first for a cyber crime operation and then to prostitution. She had gone to police for help but never got it.
Calls to both the current and last Commanding Generals of ATIP have gone unreturned. Calls and questions put to the Press Spokesman for the Royal Thai Police went unanswered.
A DFAT spokesman referred the matter to the Australian Federal Police. An AFP spokesman said:
"As this matter relates to a Royal Thai Police investigation it would not be appropriate to provide comment."
And so, yet another case of sex trafficking has disappeared into the ether, while in the meantime the number of African women on the streets of Bangkok has multiplied.
Douglas Shoebridge has denied he was involved in sex trafficking and claims the warrant for his arrest has been cancelled. He said he was the victim of 'malicious clandestine missions executed by wanted fugitives, and dubious individuals and organisations.'
Lift International declined to comment, perhaps because it still operates raising money on projects in Thailand, but at a much lower level. Among its declared values it states:
"We believe we have a responsibility to uphold human rights and ensure all people – staff, survivors and partners – are treated with dignity and respect. The greatest of care and the very best human resource support will be provided to the staff and survivors we support."

Lift International
* Jenny's real identity and location are being protected as is the country in compliance with established rules in dealing with trafficked persons. ** In all, three people in the investigating team were interviewed. Two preferred to remain anonymous.
Comment
Could Thai police have allowed Shoebridge to flee, fearful that a major 'Hells Angels' drugs case would would collapse if Shoebridge's other business was exposed? (The warrant for Shoebridge's arrest was presented in court after I supplied it to the defence).
On the one hand police hiding warrants from their computer is not new. They can be used as bargaining chips to up the cost of freedom.
Yesterday Daryl Cai Yonghui, the alleged mastermind of a massive Ponzi scheme through the Forex-3D brokerage company was finally arrested at Phuket airport on his way out of the country. He had left Thailand and returned and was leaving again when he was arrested. It was brought to the attention of police that his arrest warrant had also not been placed into the computer.
Could Shoebridge, who was Bagnato's gym partner, have also had an ear to to Australian police? In Part 2 we find an affidavit in which Shoebridge suggests as much, but no evidence to back up his claim.
Australia has made its views on banned biker gangs very plainly and police have been treating them as a high priority. Although AFP have denied being involved in the Luke Cook investigation, it has a big stake in Australian Hell's Angels hiding out in Thailand and the NSW gang squad had sent to Pattaya to investigate Hell's Angels activities there.
If AFP believed Luke Cook was a guilty Hell's Angel, as was suggested in whispers given to at least one West Australian journalist the late Tony Barrass (the first journo in Australia to go to jail for refusing to reveal his sources) then, possibly, it may not have wanted the case to go awry as it did.***
The NSW Gangs Squad certainly knew about Shoebridge's involvement with Bagnato long before Cook's trial had started. But AFP will not have wanted to upset the apple cart particularly the Thai Narcotics Suppression Bureau (NSB) with which they have had the long-standing and closest relationship of all Thai police units.. (The NSB had taken the credit and media presentation of the Luke Cook case.)
But this is mere speculation. This is what we do know.
Australian officials have made no attempt to contact 'Jenny', or the original investigators, and there is no current intention to prosecute Shoebridge in Australia under the Commonwealth Act, or return him for trial in Thailand.
So the answer to the question – Does either Thailand or Australia care about the black African victims? – is currently clearly – No!
* Jenny's name, and whereabout are being protected according to international agreements reached on treatment of victims involved in international sex trafficking.
** Some have entered the trade willingly, or at least will not give evidence against their traffickers.
*** Cook has denied ever being a Hells Angels or taking part in any drugs trafficking operation. I have no personal knowledge of Luke Cook's guilt or innocence and the matter is still hotly debated, only that Shoebridge's evidence against him was scarcely credible, and, as is often the case in Thailand, no major players were ever prosecuted. Luke Cook's silence on his return to Australia has naturally provoked speculation that he has matters to hide. His wife has cooperated. She says her husband has kept silent because of his worries for her well-being in Thailand and his desire to keep their son out of the public glare. He no longer works offshore and works on freelance projects.
**** The Mailonline lifts a large amount of stories from other publications and to avoid copyright laws re-writes them. Invariably mistakes are made and Mail online has the largest number of complaints to regulatory authorities, in this case IPSO. Their article also reported that "Shoebridge had been on a boat with the man who had been convicted during a "drug operation," suggesting Shoebridge had been involved in the drugs operation. The case ended when they took the story off the net, A common practice which cost them nothing.
*******
The Hollywood narrative that never made the grade
Wanted fugitives, dubious individuals, a rogue Thai police squad and sex trafficking!